Romeo and Juliet
Krzyztof Pastor, music by Sergei Prokofiev
Polish National Ballet
Teatr Wielki, Warsaw, Poland
–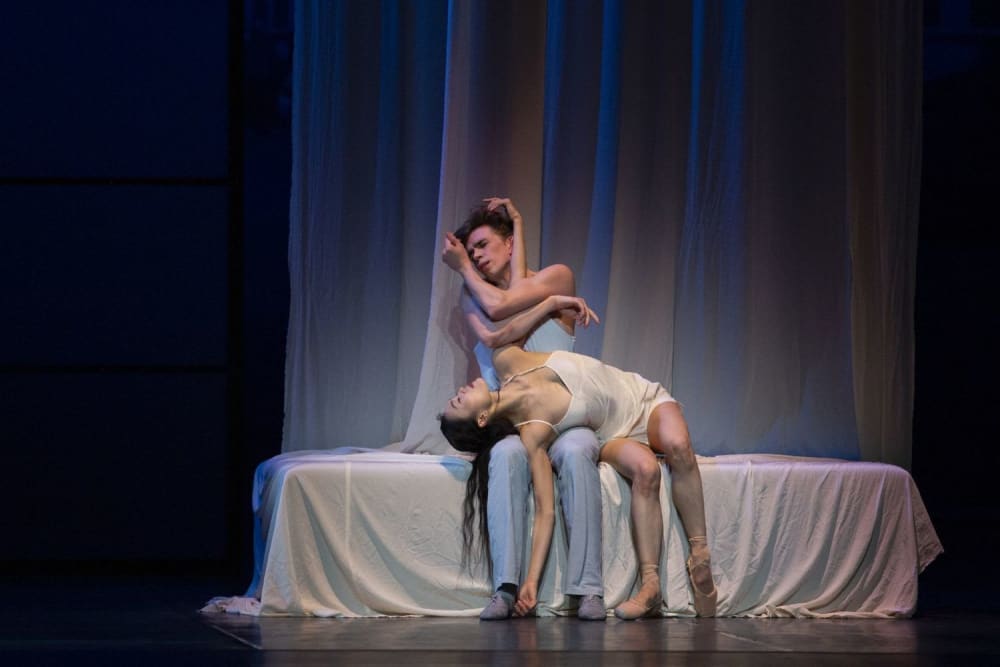 Shakespeare's Romeo and Juliet has inspired many choreographers. The first ballet was in 1785. The story is timeless and can be set in any era and in any place. Recently, Matthew Bourne set his version in a psychiatric hospital for young people.
Any time I hear Prokofiev's music, and especially the "Dance of the Knights", I immediately think of Kenneth Macmillan and Nicolas Geordias and all the Renaissance grandeur they brought to their ballet, the richest of rich pageants.
Krzyztof Pastor is artistic director of Polish National Ballet. His production, conducted by Andriy Yurkevych and filmed in March this year, takes the doomed young lovers out of Renaissance Italy and, with the help of video street scenes, relocates them in the 1930s,1950s and 1990s. The dancers do not change their clothes or age throughout the different timescales.
Prokofiev's music doesn't sound right for Mussolini's Italy. Initially, I wished Pastor had chosen a different and less familiar composer. But Prokofiev brings so much urgency and so much emotional feeling to the story that any other composer quickly becomes unthinkable.
The Montagues wear summery clothes. The Capulets wear military uniforms and boots and are played as Fascists. The brownest of Brown Shirts is Tybalt. Maksim Woitiul, a ferocious, angry presence, an Oswald Mosley lookalike, dominates the stage.
Tybalt is constantly provoked by David Trzensimiec's Mercutio, a cheeky, irritatingly puerile troublemaker. The fight (without swords) is one of the most exciting I have seen. It is Lord Capulet (Marco Esposito) who gives Tybalt a knife to kill Mercutio and it is the same knife Romeo uses to kill Tybalt.
There's no Nurse; instead, Juliet has two girlfriends. Ana Kipshidze is an elegant Lady Capulet, clearly in love with Tybalt. Carlos Martin Perez's Friar Lawrence, with his bald head and severe face, is not your usual kindly figure.
Patryk Walczak and Yuka Ebihara are utterly believable as the young lovers. Their chemistry is instant. He is very boyish, very natural, very modest, not showy at all. Their duets are beautiful. Walczak's big moment, extraordinarily powerful, physically and mentally, comes when he finds Juliet dead and is completely traumatised.
Pastor's surprising innovation is to end the ballet with Juliet taking Friar Lawrence's sleeping potion. There is no majestic vault and tomb for the finale; but the lovers' deaths are not any the less overwhelming for being played out in Juliet's bedroom. The Polish dancers are excellent actors.
Also, there is no reconciliation between the Montagues and Capulets in the final moments, a more convincing climax, Pastor believes, for the divisive times in which we ourselves live today.
Reviewer: Robert Tanitch