Romeo and Juliet
William Shakespeare
Victor Harvey Productions in association with The Union Theatre
Union Theatre
–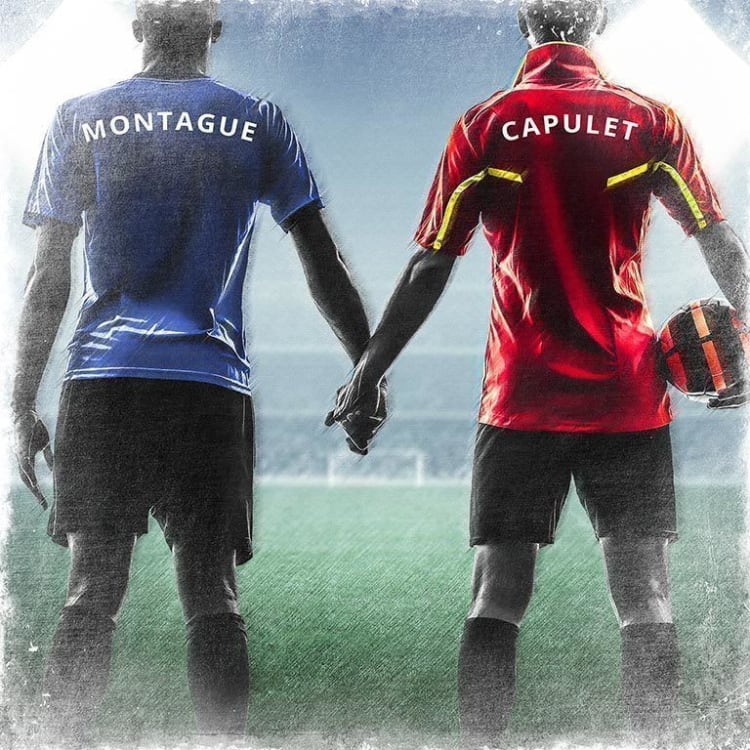 Auditioning actors these days must be multi-skilled: actor, singer, dancer, instrumentalist and—for this show—having footie feet. Director Andy Bewley and dramaturge Joe M Mackenzie have made the feuding families, the Montagues and Capulets, supporters of two different football teams, divided like the rest of football mad Verona.
Is that a first? Perhaps not, but I think they are breaking new ground in making Juliet male. This is not gender-blind casting, the character is not the Capulets' 14-year-old daughter but their 18-year-old son. He handles a ball so deftly that he's playing with AC Verona's youth team. It's at a match between AC Verona and local rivals Verona FC that Romeo Montague (who is with their juniors) first sees him.
Sam Perry's Juliet is still very youthful, naïve in some ways. Abram Rooney's Romeo seems more mature, not much older but more sexually experienced.
There is good reason offered for the football setting and the gender change. This production is a response to the homophobia still prevalent in football, though that isn't what drives the plot. This is a Verona where same-sex marriages are acceptable to both Church and State and the only direct homophobic abuse is burly bully Tybalt (Sam Wilson) calling Romeo a "faggot".
This Romeo certainly seems out to all his friends. References to his former lover Rosaline make him also male. Juliet's parents (Sarah Barron and Steven Rodgers) are in the dark but his nurse is definitely complicit: she is very young to have nursed him as a baby and rather odd that she still has him in her charge, but Gabrielle Nellis-Pain makes her devoted, if trying a little too hard for laughs.
Although the football rivalries make sense, the "gaying" of the plot is not thought through. It's difficult to believe a modern couple who get together with such ease would rush into sudden marriage. Juliet does have a romantic innocence, an almost girlish streak that might explain it but, apart from a ranting father, what are the social pressures that make her fake death necessary?
Maybe it is enough to make a statement by changing two of the world's most famous lovers into a footballer pair. Is that why he stays called Juliet rather than Julio? But how many of those on the terraces are going to be aware of it?
As a way of helping the play communicate, the football framing, complete with ref and whistle, encourages speed and harnesses energy but it needs clarity, not shouting. The skill here is in ball manipulation rather than in delivering verse, but Jack J Fairley handles Mercutio's Queen Mab speech with dexterity.
The action is played out on a traverse laid with AstroTurf, cast lined up on benches as at the sides, as facing teams. Verona seems Northern: Manchester and Scouse with incomers from Scotland and Essex. Blurring accents and attacking text as though charging downfield delivers more emotion than meaning.
In a version that, despite big cuts, still plays for well over 2 hours plus an interval, Friar Laurence keeps much more than usual. It's a pivotal role that Henri Merriam delivers clearly.
This production doesn't show the play in a new light but it is done with conviction and the intentions behind its staging must be applauded. It isn't going to convert the louts who are still afraid for them to reveal their orientation.
Reviewer: Howard Loxton