Romeo and Juliet
William Shakespeare
Home Manchester
Victoria Baths, Manchester
–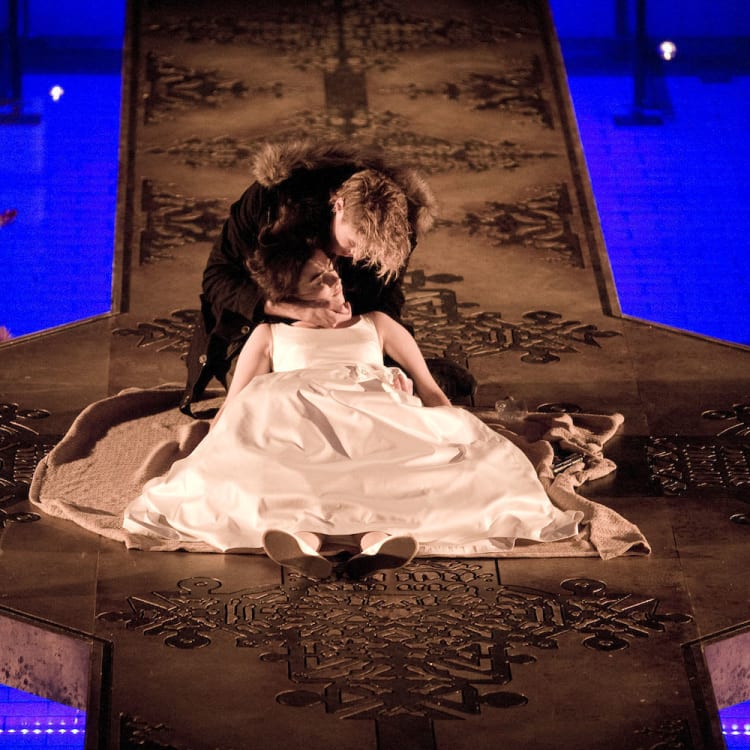 Walter Meierjohann's directorial debut since taking over as artistic director of theatre for Home sold out all 5,500 tickets two weeks before it opened and closed its waiting list for returns before press night.
The location for this young and lively production is Manchester's well-loved Victoria Baths, a swimming baths very much in the Victorian style with its ironworks and glass but actually post-Victorian as it opened in 1906.
It's a production that doesn't treat the text with reverence but tries to stick closely to its intentions. It does jar a bit when Romeo starts quoting modern pop songs to Juliet in the balcony scene, but for the most part it works well.
Romeo is a character given to obsessions for which he is prepared to die, but the subjects of these can change at the drop of a hat. This translates well to a moody teenager (Alex Felton) who tries to set his flowery verse lines to mournful rock music as though he were writing songs.
Juliet, despite her youth, comes out of the play as the more sensible, but she starts here as a shy teen facing her parents moodily and hiding her face behind her hair. Sara Vickers's Juliet grows in stature, always convincing as a 14-year-old in love against deadly forces.
This is very much a post-Luhrmann production, with elements that are almost straight from his hit film of this play. Ncuti Gatwa's Mercutio, superbly played and with excellent clarity of speech, is the same camp, black character who wears a dress for the Capulet ball, and Rachel Atkins as the nurse, often very funny but with an accent that can sometimes be difficult to understand, is an echo of Miriam Margoyles in the film.
You have to feel sorry for Damian Myerscough's Friar Laurence, who has a succession of hot-headed young people he has to talk out of doing themselves in. Raj Bajaj is a comically naïve Paris, Ruth Everett is the middle class hostess as Lady Capulet opposite Mark Jax's genial but occasionally intimidating Capulet, Wil Coban is a fiery Tybalt, Lewis Goody a benevolent Benvolio and Christopher Knott looks like an old gangster as Montague.
The building presents a few problems, which Meierjohann and his team have confronted bravely. Ti Green's design blends huge staircases seamlessly into the existing fabric of the building to look as though they had always been there. However some parts of the fixed set do get in the way of some scenes, depending on where you are stood or sat.
The main issue is the sound in an echoic swimming baths. Sound designer Paul Gregory has given everyone a mic and used lots of little speakers scattered around the room, which works up to a point; the words are massively clearer than at the media launch a couple of weeks ago, but the reverberation still swamps the voices a bit when voices are raised or speech is too quick.
For a promenade production, there isn't a great deal of promenading until the last couple of scenes, but walking into the huge filled pool with an enormous crucifix as a walkway, beautifully lit by Mike Gunning, to represent Juliet's tomb just takes the breath away.
While not everything works perfectly, there are some moments that are quite stunning. While this is a fast-paced, youthful production, Meierjohann allows some parts to build very slowly, such as the fight scene where Mercutio is killed and the initial meeting of the title characters, which works beautifully.
The fights, staged by Renny Krupinski, are messy and ugly, just as they should be, and very well realised. Nikola Kodjabashia's eastern European feel to the music works well for the celebrations, but he also adds very subtle touches behind the dialogue, such as a single drum beat or a haunting but quiet stroke of a bow on a glockenspiel.
The spectacle, the ambition and the ideas make this production worth seeing, but there is much to enjoy here as well. Meierjohann has certainly announced his arrival loudly in Manchester and we are all looking forward to seeing what he gives to us next.
Reviewer: David Chadderton