Roméo et Juliette
Gounod
Grange Park Opera
Theatre in the Woods, West Horsley Place
–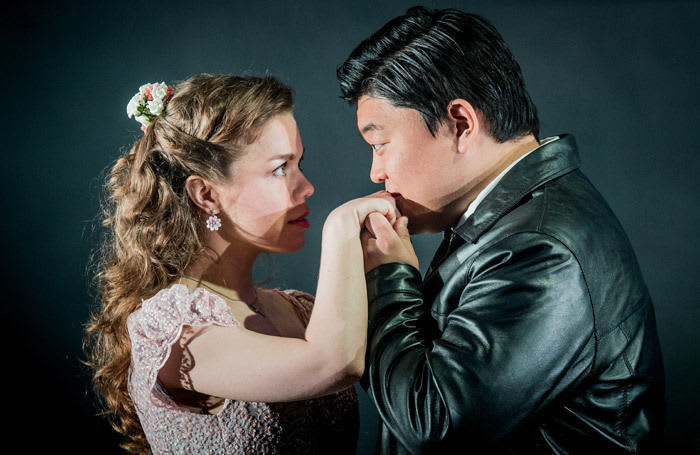 Grange Park'a third opera of the season finds us in 1930s Italy. Gounod's Grand Opera feels like an extended love duet, Romeo and Juliet rarely leaving the stage. It's a pleasure then to find two exciting young singers in the lead roles, Olena Tokar and David Junghoon Kim, who deliver great chemistry and fresh-faced romance.
Gounod's Grand 5-act opera can be off-putting by it's sheer length alone, but this new production directed by Patrick Mason is well paced and the ENO orchestra (conducted by Stephen Barlow) bring out the magic and beauty of this romantic score.
Francis O'Connor's (designer) set is moody and strong, black panels clad the walls and clean vertical lines dominate. This colour scheme continues through the costumes: the men clad in dark military garb and donned with jackboots or found with leather jackets. The ladies wear elegant black dresses, dripping with jewels.
Juliet appears in the ball as the exception in a beautiful sparkling pink dress and Olena Tokar imbues her character with youth and vitality. Her voice is light and nimble in the famous "Ah, Je Veux Vivre" and she sings with great musicality and a beautiful rendering of the French language. After the interval, Tokar seems to slip a little vocally with her high notes feeling less free, but she remains an enchanting actress.
When we arrive in act 3 for the street brawl, there is an addition of golfing type sweaters for the Montagues—these may be accurate for the period but feel incongruous with the otherwise very carefully styled noir set and costumes. Luckily, this doesn't tarnish Anna Grevelius's buoyant performance of Stephano's aria. The following violence is well crafted, and Anthony Flaum as Tybalt adds a nice touch, appearing at once remorseful for Mercutio's death whilst trying to maintain his outer bravado.
The highlight of the night is David Junghoon Kim's singing. He is an outstanding tenor—his voice soaring to the higher notes, the sound filling the auditoriums like a billowing sail. He makes this onerously long role look easy throughout. After taking act 1 to settle in, he takes on the mantle of Romeo and makes us believe in his stricken fate. This is a less suave and confident Romeo than usually seen, but Junghoon Kim brings out the uncertainty and more introspective qualities of the young man. After his unplanned murder of Tybalt, the despair which imbued his following aria gave me goosebumps.
As Capulet, Clive Bayley is less severe and imposing than others but his voice is always a pleasure to hear. The other father figure, Frère Laurent, makes an impressive sound but it's a shame that his obscures the majority of vowels and consonants. He maintaines a forceful bass sound throughout, finding no variation to match his change of heart when marrying the pair.
Olivia Ray is a force as Gertrude, holding her ground as she snaps at the Capulet bullies. Her glamourous styling and a lack of tenderness towards Juliette does unfortunately feel at odds with the idea of the Nurse.
The set changes are subtle and effective: revolving panels become cut glass for Friar Lawrence Cell, the balcony extends for the garden scene and throughout the furniture is swiftly realigned for each location.
This is a well-paced and visually appealing new production. As always accompanied by hearty singing from the chorus, Mason directs a moving portrayal of the most famous love story of all time.
Reviewer: Louise Lewis