Romeo and Juliet

English National Ballet
Palace Theatre
–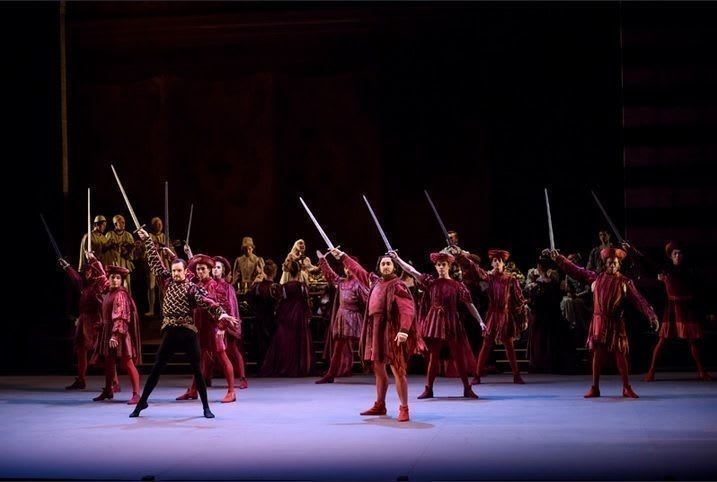 Rudolf Nureyev choreographed this production of Shakespeare's tragedy for the English National Ballet in 1977.
Using Prokofiev's famous score, this dark and passionate version focusses on the external forces that control the characters—the inherited hatred between the two families, the magnetic connection between Romeo and Juliet, the bonds of friendship and the unfortunate miscommunication that leads to the lovers' deaths.
These external forces are physically embodied with the appearance of several menacing caped figures at the opening and closing of the ballet, rolling dice across the stage in a game of fate.
A large cart piled high with dead bodies rolls on at the start of act I, creating a sinister tableau that forebodes violence (audibly squeaky wheel notwithstanding). This soon appears in the form of a street brawl between Montague and Capulet gangs, who mock and insult each other before coming to blows.
Swords are drawn by higher status characters, but both forms of fighting make no pretence at realism—the choreography for these scenes includes lifts and floor work, creating a stylised effect that never looks convincingly aggressive.
Juliet's growth from child to woman over the course of the ballet is highlighted by a stunning performance from Alina Cojocaru, who manages to combine girlish fragility with determined strength.
Juliet first appears playing energetic games of hide and seek with her friends, tearing about the stage to Prokofiev's lively theme. Later, Cojocaru appears so giddy at the touch of Romeo's hand it's a wonder she can balance en pointe, while her reaction to Lady Capulet's disciplining slap when she refuses to marry Paris is heartbreaking.
Isaac Hernandez is a suitably boyish Romeo—he opens act I's market square scene with a light and nimble solo, and maintains excellent chemistry with Cojocaru throughout.
This is most apparent in their duets, the longest and most famous being the balcony pas de deux. Nureyev's choreography is exhausting to watch—endless leaps, turns and lifts plus a gruelling amount of movement over the whole stage turn this dance into a marathon. Considering that it marks Romeo and Juliet's avowal of their love, some moments of still contemplation would have been effective. However, the frantic quality of their movement shows us how overwhelmed they are by their emotions.
It's not all gloomy however. Romeo, Mercutio and Benvolio make an exuberant and entertaining trio, whether teasing Juliet's nurse or donning disguises for the Capulet ball. Fernando Bufala steals every scene he's in, embracing Mercutio's mischievous character with glee, executing the steps with flair and getting plenty of laughs from the audience. Mercutio's role as the joker has unfortunate consequences however—when he is fatally stabbed, everyone thinks he's pretending, adding an extra poignancy to his death.
Bawdy Shakespearean humour abounds in this production—Nurse is preoccupied by an amorous gentleman when she should be watching Juliet, and the gestures that the warring Montague and Capulet clans make at each other leave very little to the imagination. The acrobats in act II also provide some light relief, performing routines with flags and tricky balances.
The biggest obstacles in the way of Romeo and Juliet's happiness are Lord and Lady Capulet, and, given Nureyev's emphasis on the lovers being star-crossed, it seems odd that they don't have more of a presence in the production. Juliet's argument with her father about marrying Paris is one of the most dramatic and upsetting scenes in the play, and yet in this ballet it is short—the Capulets force Juliet into a dress for her wedding and then leave her. There isn't much space given to their reaction to her faked death, and they don't even appear in the final scene to discover her real one.
Tybalt, however, has an expanded role. As well as seeing the vengeful, sword-brandishing hater of Montagues, we also see a devoted cousin who plays games and treats Juliet with affection. He also helps Lord and Lady Capulet to discipline their daughter.
Of course, everything builds to the dramatic climax as Juliet seeks her escape. A cleverly choreographed pas de trois between Juliet and the ghosts of Tybalt and Mercutio illustrates her dilemma about whether or not to take the friar's drug. Cojocaru's vulnerability here is topped only by her acting in the tomb scene—when she discovers that Romeo is dead, she throws her head back in a silent, terrible scream.
English National Ballet does an excellent job of telling Shakespeare's tragic story, with memorable performances that will make you laugh and cry.
Reviewer: Georgina Wells