Rookery Nook
Ben Travers
Theatre by the Lake
Theatre by the Lake
–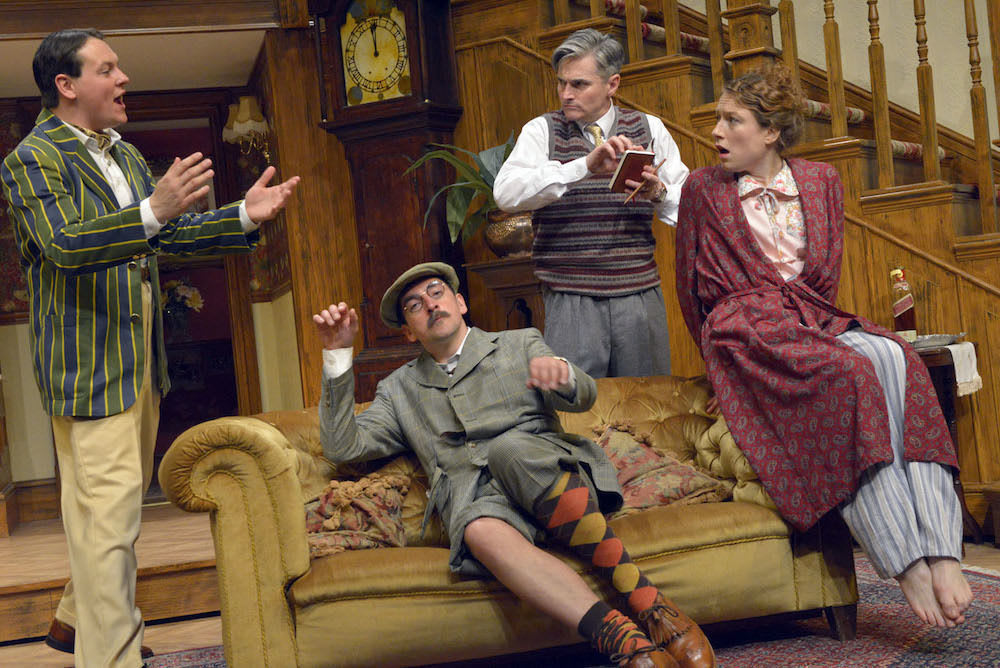 This 1926 Aldwych Farce by Ben Travers fills the popular comedy slot in Theatre by the Lake's summer season for its main house.
Played on a familiar farce set of the wood-panelled interior of an upper class country house with a big staircase and lots of doors, the play centres on Gerald Popkiss, only married for six weeks, who is staying alone in the house. The fearsome Gertrude Twine keeps an eye on him, but his cousin Clive tries to protect him from her.
Gerald gets an unexpected visit in the night from the stepdaughter of a fearsome German neighbour in her pyjamas as she has been thrown out for going against his wishes. Of course there is a danger that she could be seen and her presence misconstrued, and so Clive, who is quite keen on the girl, tries to help, and they both rope Gertrude's timid husband Harold in to reluctantly assist.
There is the kernel of an idea for an old-fashioned bedroom farce, but it doesn't ever really amount to anything substantial. Right from the start, the dialogue sounds as though it should be delivered at a brisk pace, but many of the actors linger over the words, killing the pace and the tiny amount of humour contained in the script.
In fact this never builds up into anything like a farce. The whole play has very little variety in pace, so there is no build-up to a frenetic conclusion and no one is ever in any serious jeopardy.
The actors and director seem to be trying to make up for the lack of laughs in the script by overplaying the characters and introducing unnecessary comic business, which doesn't blend with the rest of the play and further holds up the plot.
Matthew Vaughan as Gerald and Bryn Holding as Clive come out of this the best, as at least their conversations flow reasonably well and they aren't too annoying when they are on stage. Cate Cammack as the girl in the nightwear, Rhoda, is also largely fine, although her childish voice soon becomes a little wearing.
There are a few decent laughs in the production, widely spaced, but after the brilliant productions of such comedies as Noises Off and A Chorus of Disapproval in the past from Theatre by the Lake, this is a huge disappointment.
Reviewer: David Chadderton