Room – A Room of One's Own
Virginia Woolf
Heather Alexander Theatre
Pleasance Courtyard
–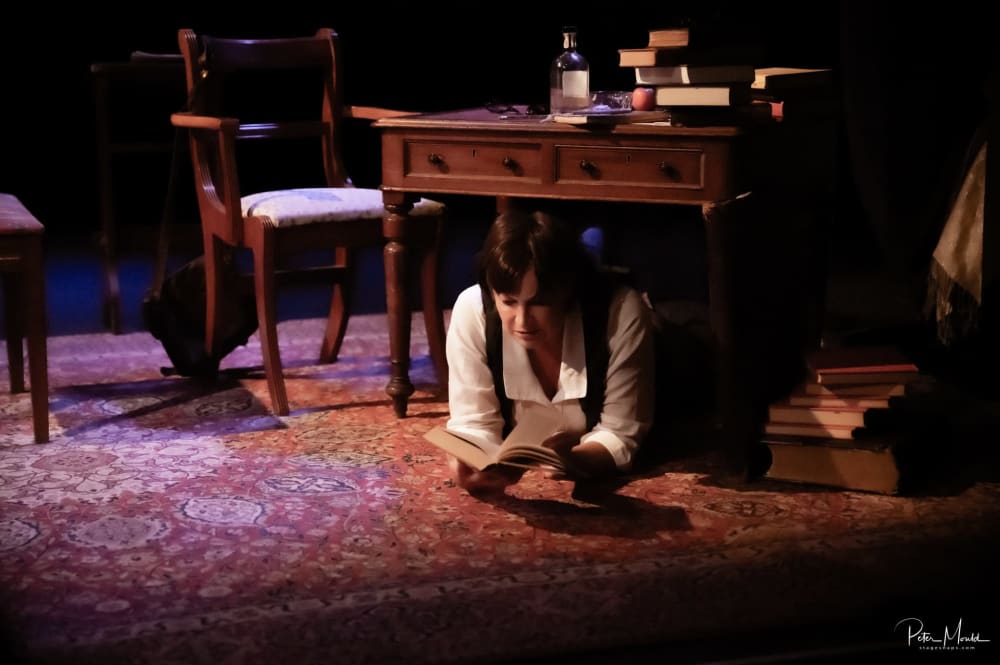 Virginia Woolf is about to give a lecture to the girls at Newham & Girton Colleges. The subject is Women & Fiction. She sits at her desk and ponders the subject. What does it actually mean? Is she to speak about the women represented in fiction? Or the women who write fiction? Or a combination?
And for a woman writer trying to survive in a world dominated by men, what are her most important requirements in order to succeed—apart from talent of course?
Based on Woolf's essay A Room of One's Own, Heather Alexander, in a very androgynous outfit befitting of both the woman and the time, spends the next hour pondering these questions.
As she sits at her desk, or wanders Oxbridge being thrown off the lawns by the beadle and barred entry to the college library, she experiences the practical problems of being a woman in the 1930s demonstrating to us the subjects she is pondering.
Sometimes there are recorded voice-overs—almost as we dip into her thoughts—before she launches into another branch of the subject covering women's poverty, forgotten voices and the struggles of writers like the Brontës who had to take a male name in order to get published, Shakespeare's (fictional?) sister who may have been as clever but had no educational or life chances, and the forerunner and pioneer of all women writers, Aphra Behn, who let none of these problems stand in her way.
This is a measured, intelligent and watchable performance, bringing to life the qualities and thought processes of a very clever and well educated woman ahead of her time.
The conclusion Woolf reaches is that the most important necessities for a woman who wants to write fiction are £500 (i.e. an income) and a room of her own to write in (i.e. independence). I can't say I had either when I started as a writer but I take her point.
If you don't know much about Virginia Woolf, this play will give you a good insight into her style of writing, her feminist views and her own struggles to be heard.
A beautiful portrayal by an accomplished actor at the top of her game.
Reviewer: Suzanne Hawkes