Room To Panic
Conceived and created by Federico Restrepo and Denise Greber
Directed, designed and choreographed by Frederico Restrepo
LOCO7 presented by La MaMa ETC The Annex, La MaMa ETC, New York City
(2008)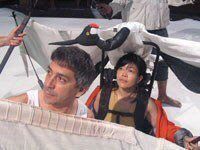 This loose collection of scenes, each with a haunting title that one wishes was made clearer during the performance (as it is, it's difficult to attach the names to the visuals presented, which detracts from Room to Panic's ability to link concrete ideas with its evocative images), is the third and final segment in Frederico Restrepo's "urban oddessy" about immigration and America.
Having missed the first two segments (2002's 9 Windows and 2006's Open Door), it's difficult to place or compare Room to Panic within the world he has already created.
La MaMa's Annex space is open and inviting; the audience sits in rows along one edge to watch the production unfold with puppets, song, dance, and video.
Puppets and narratives leave the strongest impression. Denise Greber's turn as the Memory Machine, wheeling in and out of the spaces, or Restrepo as the small child faced down by giant puppet people; it isn't often that a piece which is so movement-based has such unremarkable human components. The dancers are competent, but it is the one- and two- person scenes which are most memorable rather than the company numbers. Then again, the puppets are used in unexpected ways (for someone not accustomed to this type of performance), with the company creating towering giants that look down on the company members. The bubble the company creates is inviting; so much so that one wishes they had found a way to make the action take place around the audience rather than in front of it - Fuerza Bruta (now playing in Union Square after a turn at the Edinburgh Fringe in 2007) might be a good example of how they could attempt to draw us in further.
Room to Panic feels like a deeply personal story, but because of the language's extreme poetry some may find it difficult to determine exactly what their final impression should be. Sadness, loneliness and nostalgia all find their way into the mix, but one thing missing - which I have found in immigrant cultures both in America and abroad - was humor. The piece would have been stronger had the company found some way to make us laugh, as well as make us long for lands we've left behind, and, as anyone who has spent time outside their own culture will know, without laughter the experience of existing in another culture is a strenuous and unrewarding one.
But this is a minor quibble. Greber's puppet design is both eerie and beautiful, nightmare and dream at the same time. Finally, Tim Schellenbaum's sound design and the technical sound manipulation add a great deal to the atmosphere, allowing actors' voices to engulf their listeners and giving the audience the keenest sense of immersion possible without actually walking down to the performance area and sitting among the performers.
Reviewer: Rachel Lynn Brody