Rose
Martin Sherman
Thomas Hopkins, Michael Quinn, Guy Chapman, Park Theatre and Hope Mill Theatre in association with Creative House Productions, Ruthie Henshall & Paul Schofield
Park Theatre
–

Listing details and ticket info...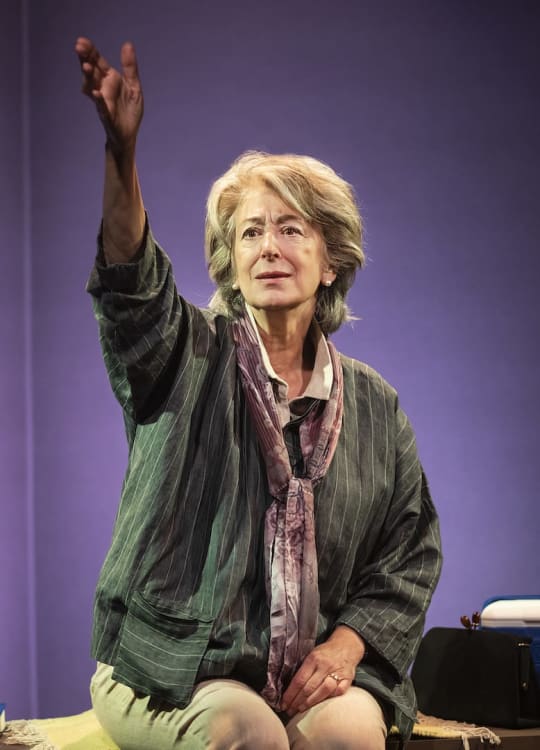 Martin Sherman's monologue presenting an 80-year-old Jewish woman sitting Shiva premièred in what was then the National's Cottesloe Theatre back in 1999 with Olympia Dukakis in the title role and was briefly revived in a production streamed during lockdown from Manchester's Hope Mill Theatre with Maureen Lipman. Now, two years later, Dame Maureen returns to the role with the same director, Scott Le Crass, first at the Hope Mill and now at the Park Theatre. It has been worth waiting for.
Designer David Shields's simple setting of a stark stone bench set in front of angled white walls framed in grey, which can be washed with colour by Jane Lalljee's sensitive lighting, places the emphasis on the performer and the opening phrases of Julian Starr's sound score allow her to take up position with a bottle of water and any necessary props beside her.
Rose begins by remembering the girl she sits Shiva for and the moment of her dying: "She laughed. And then she blew her nose. She had a cold. The bullet struck her forehead. It caught her in the middle of a thought. She was nine."
It isn't until two hours later that we discover who this girl was and by then we have heard Rose's whole life story. It begins in 1920 in a shtetl in the Ukraine with a mother whom folk call a saint (though there are no saints in Judaism) and a hypochondriac father who takes to his bed saying he is dying and then stays there finds happiness with a red-haired artist in Warsaw and survives some of the twentieth century's horrors before marriage in Atlantic City and owning a hotel in Miami.
The writing throughout is as direct and as poignant as the opening and frequently very funny. She hides from Nazi killers in the sewers; in 1947, she sails on the Exodus, part of the Hagganah attempt to get Jewish emigrants into British-controlled Palestine. This is a woman who has stopped believing in God but is Jewish by tradition. Did her first love come back as a Dybbuk to haunt her?
She is honest with herself and with her audience: maybe sometimes these aren't her real memories but coloured by cinema versions, but as she takes us through a life that reflects modern Jewish history, she shares both her pain and her Yiddish humour. This is a life that goes from the Old World to the New World and back again spread across most of the last century, an effervescent mixture of the political and the private.
Dame Maureen embodies it with true feeling, making an intimate connection with her audience delivering a sustained performance with exquisite timing. This is remarkable playing of a fine piece of writing.
Reviewer: Howard Loxton