Rosencrantz & Guildenstern Are Dead
Tom Stoppard
Library Theatre, Manchester
(2007)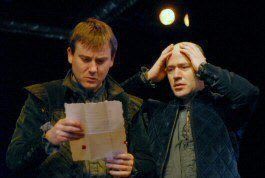 Artistic Director Chris Honer has revived the play that made Tom Stoppard famous in the 1960s when he made the principal characters of Hamlet into bit-parts and gave some of Shakespeare's smallest characters a huge number of lines to learn.
Rosencrantz & Guildenstern Are Dead is Stoppard's answer to Waiting For Godot, as he puts together two people who are just waiting around and shows them trying desperately to find things to do and talk about to pass the time until the thing they are waiting for happens; Pinter did a similar thing with The Dumb Waiter. And so we sit and watch them play games, argue, mess about and talk a lot about the nature of death and the futility of life as they wait for their lives to be given a purpose when someone gives them instructions of what to do.
All of this pessimistic existentialism could be very dull and depressing, if it was not for Stoppard's great imagination, sparkling dialogue and almost-too-clever wit and invention, tying the debate over the futility of existence into the angst of one of the greatest-ever dramatic characters. However this is complex, awkward dialogue that needs careful delivery and timing for it to work at all.
This is never a worry in the Library's production, as the two title characters are superb together. Graeme Hawley as Guildenstern (or Rosencrantz) is the dominant one in the double act who keeps them on track, whereas Leigh Symonds as Rosencrantz (or possibly Guildenstern) displays some wonderful comic facial expressions as the 'thick' one of the two. They create a naturally-funny double act together that can only get better as they settle into the run.
The majority of the play is really a two-hander, but in total there is a cast of thirteen actors, mostly playing small or even multiple roles. The next character in terms of amount of dialogue is the player, the main one of the actors who come to Elsinore to perform for Hamlet and the King. Michael Jenn seems absolutely at home in this role, giving a very confident performance that is convincing and larger-than-life without ever being over-the-top.
The other members of the band of players speak very little, but work brilliantly together using movement as they demonstrate the elements of their art and give a preview of their performance in dumb show. The movement pieces are extremely slick and very funny, presumably created with movement director Peta Lily. If anyone stands out from this great ensemble playing, it is probably Cameron Slater as Alfred, the young boy who plays all the female roles, who has some great expressions.
The weakest parts of the production by far are those taken directly from Hamlet, but then it must be difficult to cast a play where you want people to perform some of Shakespeare's greatest and most difficult dramatic roles but only as bit-part actors. These sections are often a little dull, and there are a few irritating 'Shakespearean' voices and a Hamlet (Phil Rowson) who never looks or sounds at all confident on stage in this role.
However this does not spoil the sheer entertainment of this production as a whole, which has plenty of laughs even for those whose knowledge of Hamlet is a little lacking. Director Chris Honer throws everything at the ending of the play in terms of stage effects, which very effectively brings out the powerful philosophical debate at the heart of the play, ties together visually the fates of the heroes of both Stoppard's and Shakespeare's plays and raises the whole thing above what could on the surface be a witty but very wordy comedy about nothing - the Seinfeld of the Shakespearean stage.
Running until 10th March
Reviewer: David Chadderton