Rosie's Magic Horse
Russell Hoban & Quentin Blake
Peaceful Lion Productions
Southwark Playhouse (The Large)
–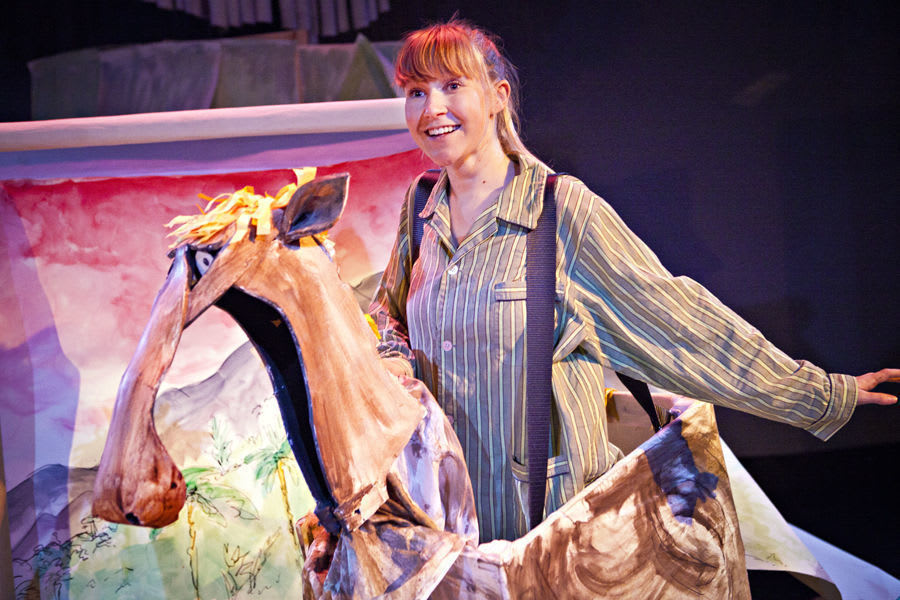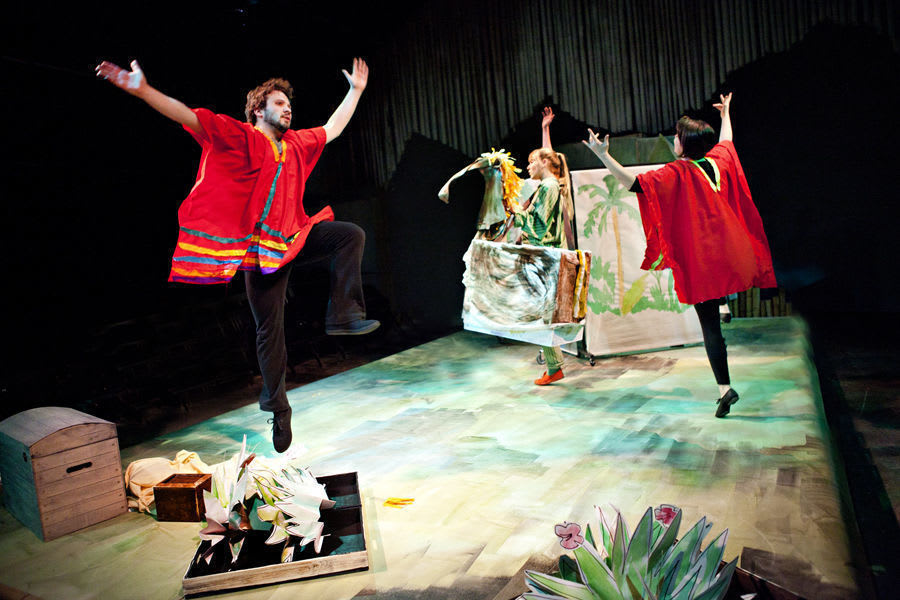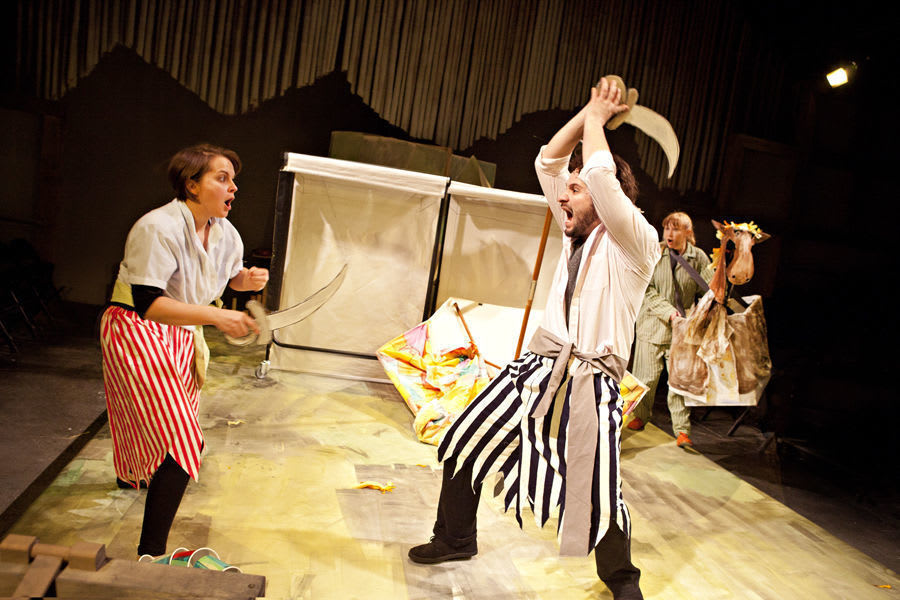 Based on the book by Russell Hoban illustrated by Quentin Blake, this is a show aimed at youngsters aged 3 to 8 years old.
It doesn't play down to them. "Financial difficulties" might challenge understanding but it's explained that mum and dad can't pay the bills. They won't have any difficulty in following this story in which Rosie sets off on her magic horse in search of treasure to help her hard-up parents.
If you have a brood of brats who are always demanding something because their friends have got one, this might be just the show for you. Rosie doesn't have computer games or electronic toys, so she collects ice-lolly sticks and makes things from them in her imagination and ends up having adventures much more exciting than game toys could give her.
It's Tim Gutteridge's Italian ice-cream vendor whom they meet first to give them a friendly welcome and present a lolly to Rosie, then her parents (that's Tim again and Anita Creed as Mum).
Rosie is played by Katie Arnstein. She makes her more than three but very girlish (you'd never guess she's really grown up). It is when Rosie's asleep and dreaming that her adventures happen.
Her horse—she calls it Stickerino—materialises in stylized puppet form, for this is a chance for everyone to use their imagination and go on a journey with her that takes her round the world to Inca Eldorado, Ali Baba's cave in an Arabian desert and a Caribbean pirate hideaway. Anita and Tim become Incas and Pirates and Tim also makes a mournful Ali Baba missing his missus.
The cast make the scenes change as Stickeroo takes Rosie around the world. There are flowers that sprout out of pop-up books, scenes they unroll that could be Quentin Blake's own drawings, whirling umbrellas that turn into clouds or an ice-lolly mountain and shadow images of Stickerino galloping in front of the moon.
There are songs too, written by John Chambers, and sometimes the audience gets the chance to join in with them and there's a jiggly dance they get to do as well. That's fun. They seem to make the scenery happen too.
You do have to play along with Rosie and add a bit of your own magic to make Stickeroo into a real horse. (This is a simple show done on a budget that would make sense to Rosie's hard-up parents, who've even had to sell their TV. It isn't tryng to be the National Theatre's War Horse.) It makes imagination work that little bit harder.
It helps that he can talk, with Christopher Hogben (whom you can't see) giving him a voice, but it is a pity that his eyes are not more noticeable and that Rosie often has to control him herself for it makes it more difficult for her to have eye contact with him and that would make him seem much more alive.
Ollie Fielding is the director who keeps the action always happening and at 45 minutes long this is just about the right length for its audience.
It is good to see so many theatres now presenting work for very young audiences on stages where other shows are happening in the evening. I hope success will encourage them to do it all year round, not just at Christmas.
Reviewer: Howard Loxton