Rossini: Fireworks!
Rossini
English Touring Opera
G Live
–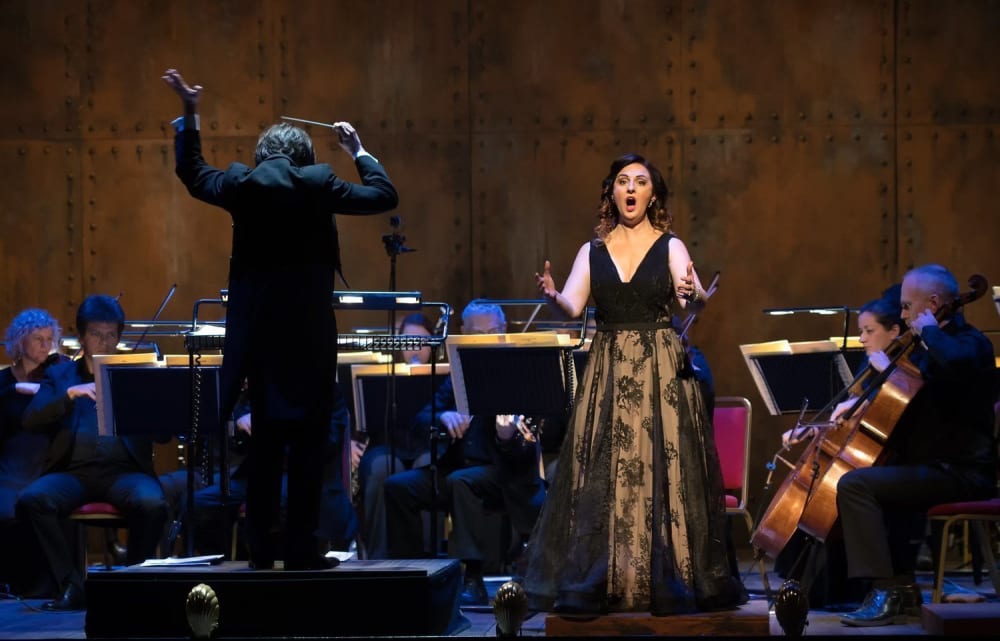 When you think of Rossini, is it Ermione that springs to mind? Or Maometto II? I thought not. ETO uses this years tighter funding as an opportunity to display some of Rossini's less famous operas in a concert performance of Fireworks.
Budget cuts continue to hit the arts, felt this year by English Touring Opera. Their solution is a tour of just two fully staged operas this spring, and the third project is a concert of dramatic Rossini arias. No comedy here, instead a 7-course tasting menu of Rossini's serious works of which he was said to be most proud. We encounter Otello, Guillaume Tell, Maometto II, Ermione, La Donna del Lago, Elisabetta, Regina d'Inghilterra and Semiramide.
The excerpts are performed with orchestra, under the baton of John Andrews. Opening with the overture from Semiramide, the orchestra literally takes centre-stage for a change so we can watch the strings shredding their violins in Rossini's famously devilish accelerandos.
Having the orchestra onstage is no problem for Catherine Carby who starts the singing off with Desdomona's "Willow Song". It is Verdi's opera of the same name which has more fame, but Carby shows off Rossini's beautiful if melancholy score. Her mellifluous, free tone is a pleasure and her coloratura became more secure as the evening progressed and she really wows as Elisabetta in act 2.
Elena Xanthoudakis (soprano) gives brilliant performances throughout the evening but it is in the french Guilliame Tell that her voice is most expressive. "Sombre forêt" is delivered tenderly with a beautiful vulnerability, before dazzling with the coloratura we expect from Rossini. William Tell was the latest of Rossini's operas performed this evening and it's easy to hear his development in compositional style.
Both ladies have formidable technical ability, and resonant carrying voices. The two tenors which compete the ensemble have lovely voices but were outsung by their female co-stars.
John-Colyn Gyeantey proves himself to be a real actor, bringing to life the Elisabetta duet with Luciano Botelho. Betelho shows off with his agile and secure coloratura, which never wavers through Rossini's rapid machine gun fire demands. Unfortunately, his higher register loses it's brilliance and the big tenor top note stand off in Otello and Rodrigo's duet "Ah Vieni" felt hard work for both involved.
The most explosive fireworks of the evening come in the final number: a long scene from Elisabetta, Regina d'Inghilterra. There is a divine duet from Carby and Xanthoudakis, who beautifully shape the barely accompanied sections.
Some exhilarating performances of rarely seen Rossini, I will certainly by searching for recordings.
ETO is touring around the UK with Puccini: Il tabarro & Gianni Schicchi, Mozart: The Marriage of Figaro and Rossini: Fireworks! until June 2018.
Reviewer: Louise Lewis