Rothschild & Sons
Music by Jerry Bock, lyrics by Sheldon Harnick, book by Sherman Yellen, based on The Rothschilds by Frederic Morton)
Arnold Mittelman in association with Park Theatre
Park Theatre (Park 200)
–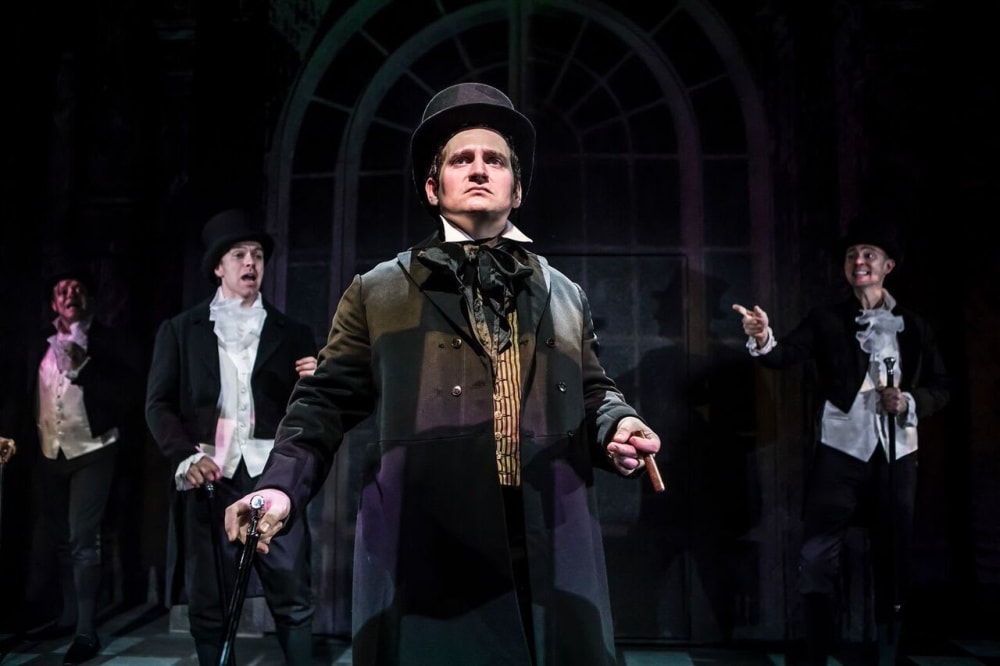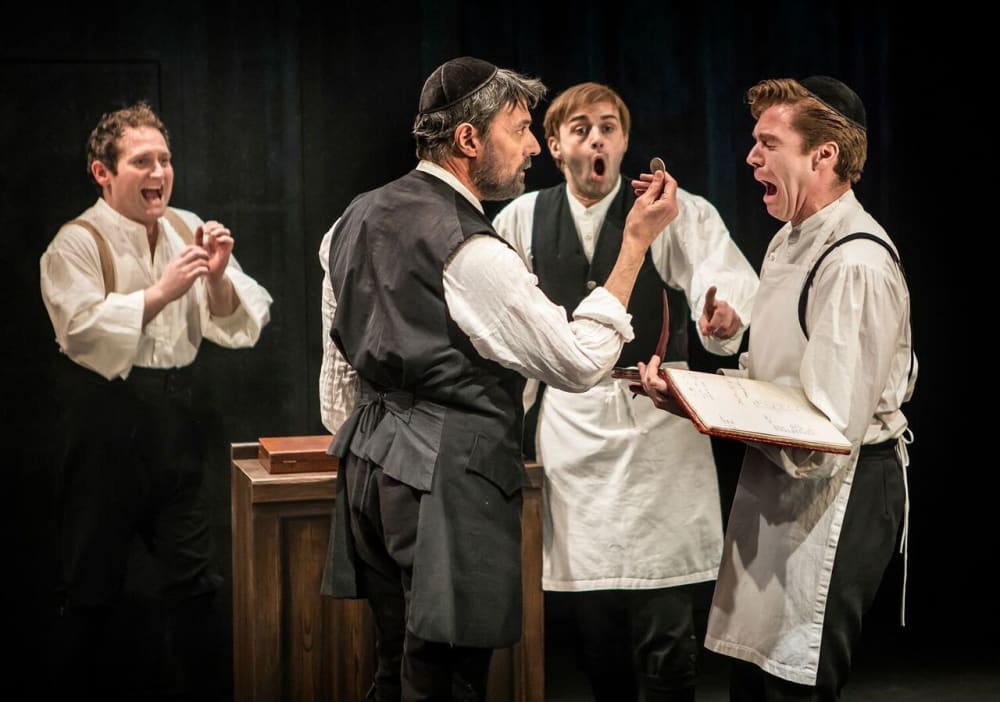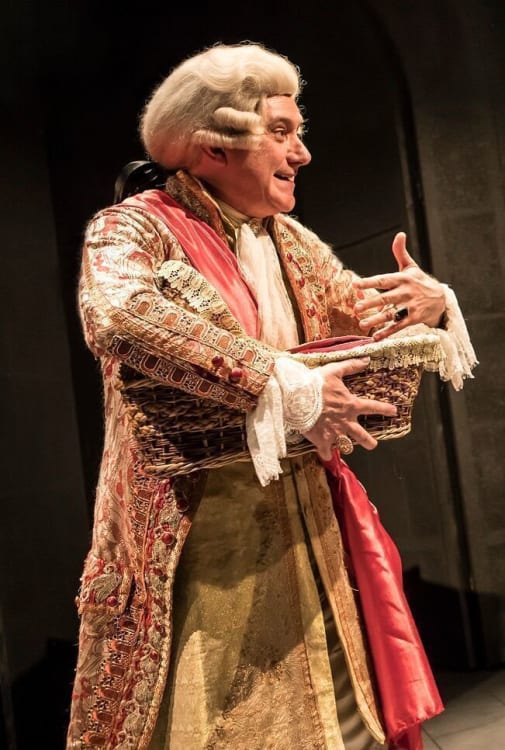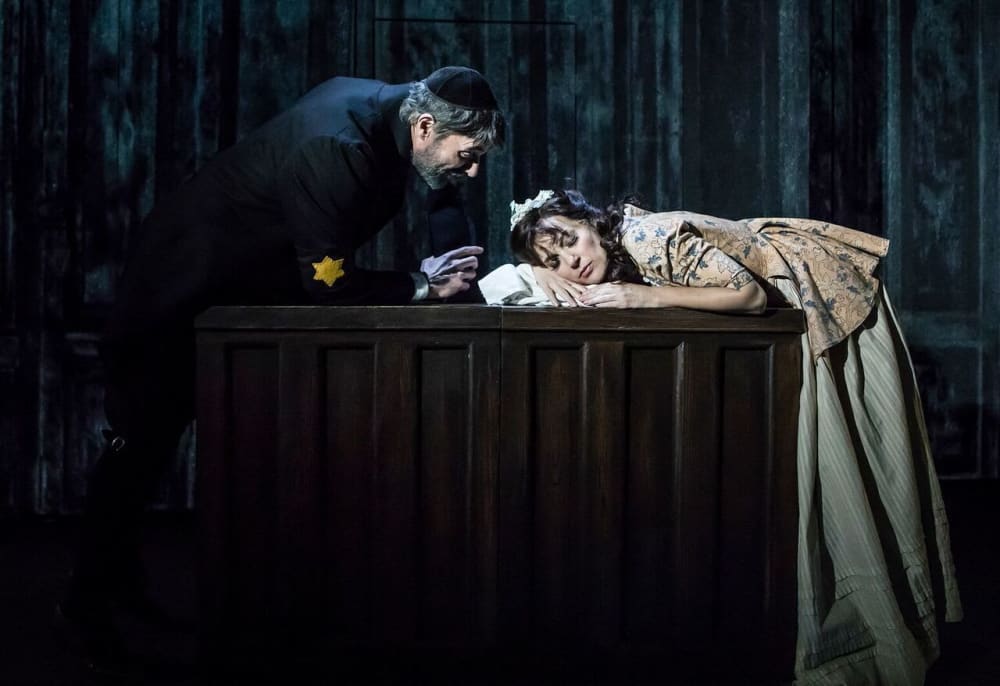 This is the story of how a family from the Jewish Ghetto in Frankfurt became Europe's biggest bankers. It is a reworking of the 1970 Broadway musical that compacts it into a single act, which here has its European première following a 2015 Off-Broadway production by the York Theatre Company that had the same director and leading performers.
Mayer Rothschild has a dream, of tearing down the walls of the ghetto and freeing his people from repressive laws they live under, but this isn't a portrait of an heroic figure, a Moses leading his people to freedom, but a family story of father who hands that hope on to his five sons. Success comes not from rebellion but money as within one generation the Rothschilds build a bank that can put pressure on those who want its support.
In 1772, Mayer, frustrated by prospects for an apprentice banker in Hanover, joins his future bride in Frankfurt. The law limits ghetto weddings to just twelve a year: they will have to wait. Then as a dealer in coins, including rare ancient ones he smuggled into the ghetto, he manages to make direct contact with Prince William of Hesse. By the gift of a coin he gets permission to marry and later gets himself made the Prince's banker.
Things move quickly in the drama: wife Gutele has a succession of five sons in the length of just one song. For Gutele, happy family life is enough despite the laws they live under, she doesn't at first share her husband's determination. The grown-up sons are sent abroad to establish branches, Napoleon's advance into Hesse nearly wrecks things, son Nathan in England loans money to the government for the fight against Napoleon in a deal to get restriction of Jews removed in Germany and Austria on which Metternich later reneges. Mayer dies disappointed but son Nathan has a scheme to put pressure on Metternich, though it is so risky it could ruin them.
There is a continuing reminder of the anti-Jewish law in the curfew call closing the ghetto gates, but the presentation lacks dramatic incident and gives no explanation for their financial successes. How money is made gets little mention.
Robert Cuccioli brings a gentle authority to Mayer Rothschild and an intensity of feeling to "In My Own Lifetime", his yearning for change, but an underwritten Gutele gives Glory Crampton little opportunity to shine. Little is made of either their love or their differences.
The emphasis is on family as a group without much differentiation between the sons, though Gary Trainor makes the most of more prominent Nathan: he may disagree with his dad but he's a chip off the old block. The more colourful performances come from David Delve as a camp court official and Tony Timberlake doubling a flashy Prince William, Metternich and Chancellor Herries.
There is just a hint of Klezmer music in the scoring of a couple of numbers but this is very different score from Bock and Harnick's previous musical, Fiddler on the Roof. It is a much gentler piece with pleasant songs but it doesn't set the feet stamping (there are no dance numbers) or send you out humming.
It's a simple production, smoothly and elegantly staged by Jeffrey B Moss, dazzling court dress adding a splash of colour among the sober black of most of Pam Tait's costumes, projections making restrained changes to Rebecca Brower's setting.
This version lasts nearly two hours in one sitting. That it can hold the attention for that long certainly speaks in its favour but, pleasant though it is, it is lacking in theatrical excitement.
Reviewer: Howard Loxton