Roundelay
Sonja Linden
Visible
Southwark Playhouse (The Large)
–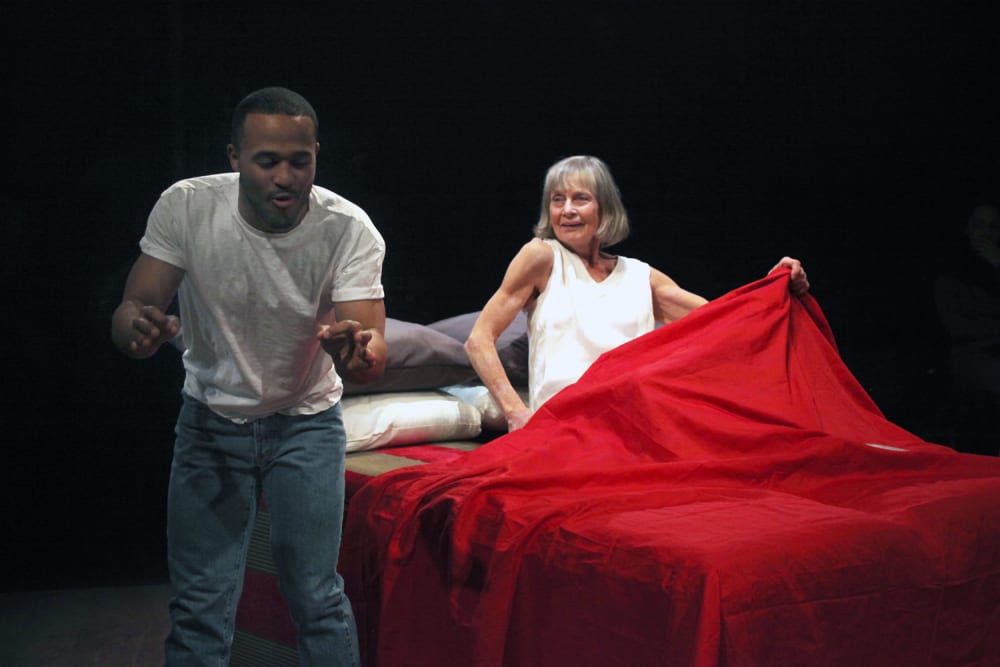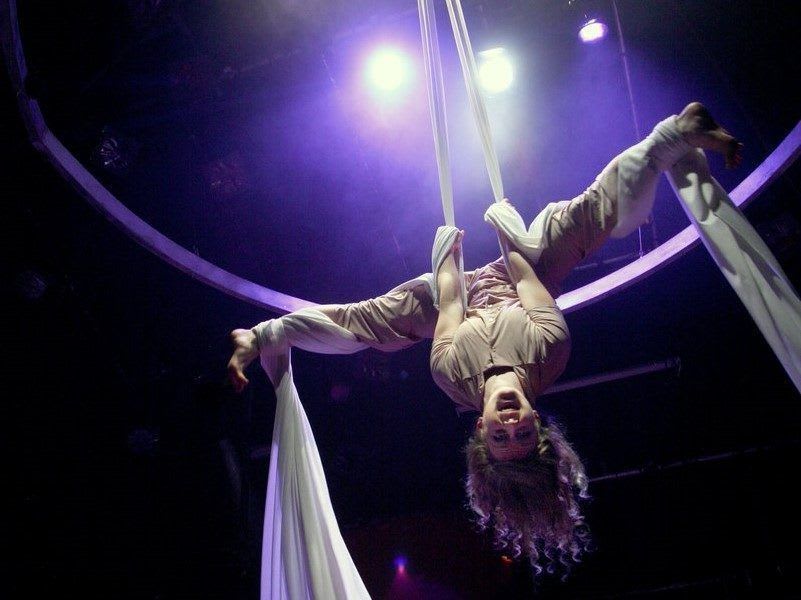 A roundelay was a medieval circle dance, the literal meaning of Reigen, the German title of Arthur Schnitzler's play more widely known as La Ronde. This isn't a version of that play but yet another inspired by its form and its exploration of different erotic combinations that are sequentially linked by overlapping participants.
Visible is a theatre company that was set up to draw attention to the older generation, both as still excellent actors and through the subjects it chooses to handle. This is its look at love and sex in the third age. It doesn't go in for shock values and titillation but presents the problems posed by emotional needs and sexual natures.
Taking the circle of life form a step further, writer Sonja Linden frames her play as acts in a circus and director Anna Ledwich stages it in-the-round with collaboration of movement director Diane Alison-Mitchell.
Clare Perkins starts things off as a whip-cracking Ring Mistress in red hot pants and topper and more than a touch of the dominatrix, threatening the audience with appropriate punishment should their attention ever wander but deviously slipping into sometimes a chic French accent, sometimes an American purr as she turns on playful seduction (though it is spoilt by some surely unnecessary miking that muddies her diction).
The whole company is colourfully arrayed as jokey jugglers, clowns and acrobats who dive through hoops and a real aerialist whose corde lisse act comes between scenes. A pierrot-clad musician adds greatly to the atmosphere: Ru Hamilton, an actor who seems equally as fluent on flute, clarinet, cello or saxophone.
Circus incursions bridge the links between the scenes, sometimes helping the transitions, often playing a significant role, especially in comparing old bodies to the two young ones in the company, but seem too extended when separating scenes are often quite short: seven packed into 90 minutes, run straight through without interval.
After the lively introduction, the Ring Mistress calls and end to what she terms "this foreplay" and announces the first playlet: "Tiger Cub". It is a scene between a couple, long divorced and married to others meeting at their daughter's wedding. John Maraitis is the ex-husband, whose current marriage is crumbling, afraid his wife will leave him. He now seeks to restoke old fires and initiate some hanky panky.
The ex-wife (Holly de Jong), still happily married, isn't interested; she's concerned that she will soon have to stop teaching history. In the next episode, we'll discover why, and played with great understanding, while the ex-husband returns at the completion of the cycle, subtly changed by a new relationship.
The various episodes aren't necessarily time sequential: one may be a dream or a flashback. They embrace aspects of love from fidelity to loneliness, from coping with Alzheimer's to facing the truth about one's sexuality, from the awful absence of intimacy to the repercussions of finding new love, even a challenge to expectations about gender and income.
Roger Alborough, as Chris, gives great sincerity to a loving husband awakening to innate homosexuality. Elan James is moving as Daniel, a gentle and caring gay refugee under threat of deportation to a homeland where his life would be in danger. Annie Fairbank touches the heartstrings as Evelyn, recalling her last great lover, who died five years ago, and blissfully responding to a young man's uninhibited attentions.
Vincenzo Nicoli, playing Frank, brings a kind of honesty to the dilemma of a husband who claims to love both wife and mistress: but differently. Doreen Blackstock, as Gina, is a woman facing the reality of an unsatisfactory liaison who finds late love is real love while Anna Simpson, as Hattie, is a daughter forced to rethink her attitudes.
These brief scenes give only a glimpse into these situations. Too perfect form makes them seem formulaic. That whip doesn't have to be used: they hold the attention. There is truth in this mixture of pathos and humour but it needs more depth, more exploration, to allow these fine characterisations to flower fully.
The problems that Roundelay presents don't just apply to the elderly but they can become especially poignant as the years add up. In a world so surrounded by sex in media and advertising, do youngsters still find it hard to imagine their parents as sexually active? There is nothing shocking today in reminding us that age doesn't extinguish sexual and emotional feelings but perhaps there is still a need for real understanding.
As one character says in this play, "old bodies and old faces have a beauty that requires a different kind of seeing." Perhaps Roundelay will help open eyes to it.
Reviewer: Howard Loxton