Roundelay
Alan Ayckbourn
The Stephen Joseph Theatre Company
Stephen Joseph Theatre
–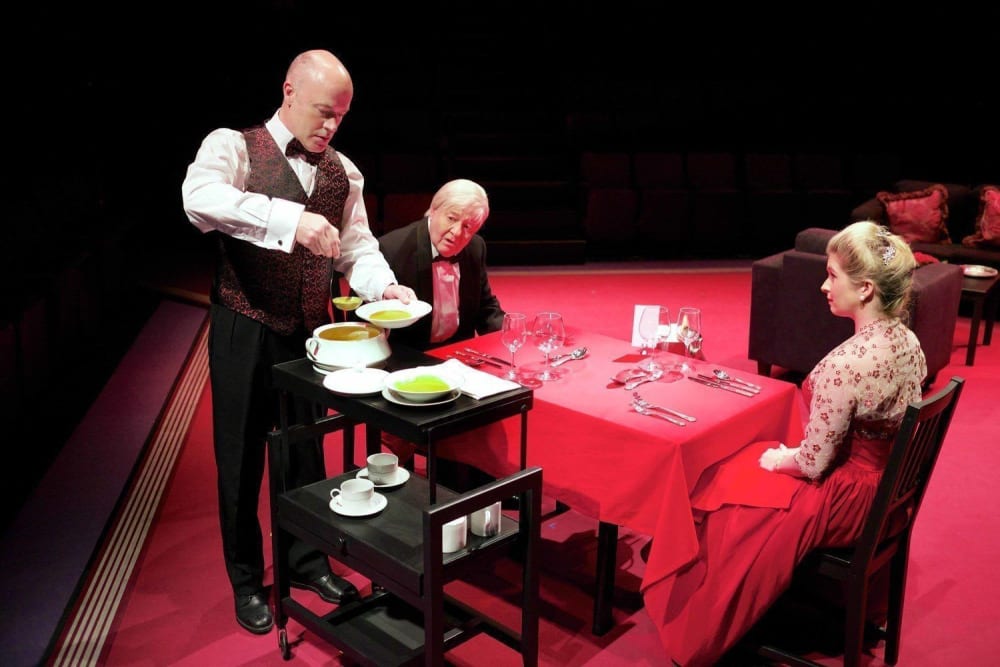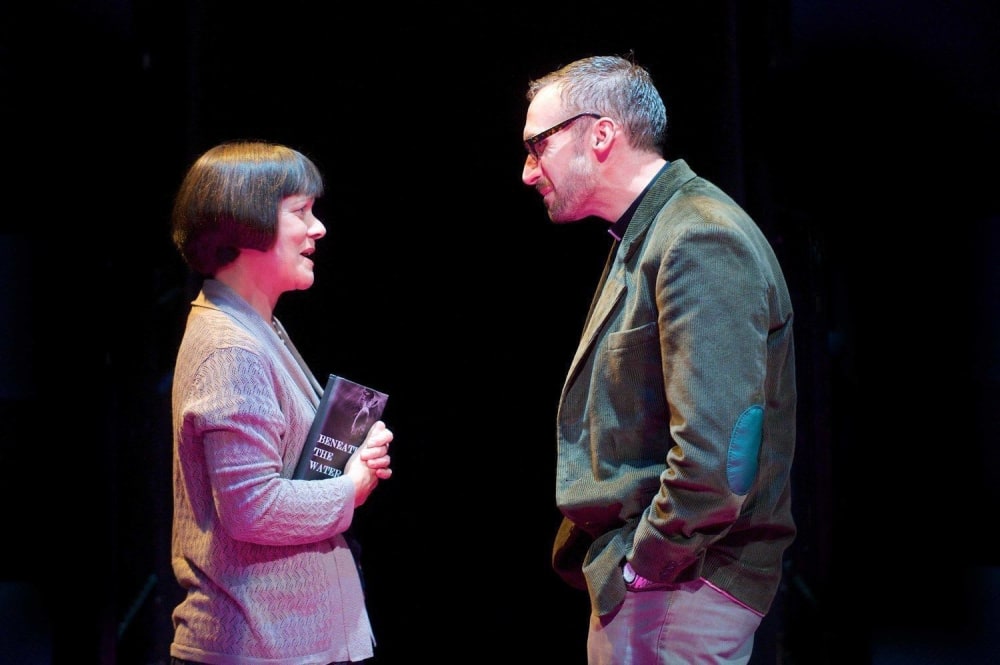 Alan Ayckbourn's latest production is named after a simple circular dance, and much has been made of the games the eminent playwright is playing here: the five short plays that compose the piece will be performed in a random order each time, thus in all probability creating a unique experience for each audience.
These plays are linked by certain recurring characters and by occasional references to the events of the other segments, though they are designed as separate stories. Thus the order in which any one audience witnesses them will certainly shade their perception of the characters differently, though I have reservations about how integral this is to the experience.
More crucial to the audience experience is the fact that some of the plays are more successfully realised than others. The performance I witnessed provided a satisfying sequence which opened with the frothiest piece, The Politician.
In this scene, a clearly Tory politician (Nigel Hastings) is seen brushing off an elderly complainant in his local constituency clinic, before becoming embroiled in a compromising situation with a BBC film crew and a wide-eyed (but feisty) young schoolgirl (Krystle Hylton). Ayckbourn crafts a classic farce set-up of double mistaken identity, and Alexandra Mathie as the politician's long-suffering secretary Blanche also provides an excellent comic foil.
But there is an odd sense of imprecision to the satirical element—this is an unreconstructed 1970s cliché politician rather than the more media savvy, albeit still incompetent, politicos portrayed in The Thick of It, for instance.
This scene provides the most laughs of the evening, however, and Ayckbourn demonstrates that he still writes with feeling and an acute ear for dialogue from a range of characters of all ages and backgrounds. Hylton, portraying Roz in this scene and The Star, provides an endearing and energetic sketch of the sixteen-year-old.
From here, though, the sequence suffered one of several missteps, with a meandering scene, The Novelist, featuring the previously seen Blanche in her home life with elderly father Tom (Russell Dixon). The juxtaposition here did few favours, as the mood lurched to darker tones in a rather heavy-handed (pastiche?) thriller, in which the twist was, unfortunately, signposted from several miles down the storm-lashed country lane.
Richard Stacey was introduced here as likeable but ineffectual vicar Russ, though it wasn't until his later appearance in The Star that he hit his stride. Stacey gives a balanced, endearing and believable portrayal, though he is lumbered in this latter scene with some implausible swings of character development.
Sophie Roberts likewise appears in two scenes, one of which (The Agent) gives her greater prominence and brings out a decent performance of comic hysteria, whereas in The Star she is burdened with a weight of exposition.
The Judge rounded off the roundelay I witnessed, and was by far the most interesting of the pieces. This is mostly due to its hinging on the most unusual scenario of the production. The ageing retired judge Sir Tom (Russell Dixon) has been invited by a shadowy, unseen character to dine with a call girl, Lindy (Brooke Kinsella). So far, so seedy. But the odd, and satisfying, twist on the situation is created by the fact that Lindy is being paid not for sexual acts but merely to dress and act as Sir Tom's recently deceased wife.
In this scenario, Ayckbourn opens up a range of questions on ageing, memory loss, and the transactional nature of relationships. It's helped, too, by a strong performance by Leigh Symonds as the begrudging minder, Lance. He wrenches comedy and pathos from the subtlest business, even the slightest of hesitations on one of his exits providing a worthy punchline. Here the writing, too, is at its finest—intriguing as well as masterfully comic.
Ayckbourn himself directs with his usual seeming ease, and the performers are all well up to the task. It's just a shame that the scenes are more overlong sketches than short plays, with each feeling as though it could have been slimmed by at least five minutes. There are laughs, but also longueurs.
Michael Holt's design is naturalistic and effective, with a different dominant colour employed in each setting. But the lengthy scene changes between each playlet feel burdensome to an already long show, and are to minimal effect in some cases: some of the set dressing could have been foregone, without any detraction from the overall impression created.
Ultimately, the lightly experimental format feels like more of a gimmick than a truly enriching experience, though it is interesting, post-show, to speculate on the different impression an audience would get from watching the scenes in a different sequence.
Reviewer: Mark Smith