Round the Horne ...Revisited 2
Barry Took, Marty Feldman, Brian Cooke and Johnny Mortimer; adapted for the stage by Brian Cooke
Theatre Royal, Newcastle, and touring
(2005)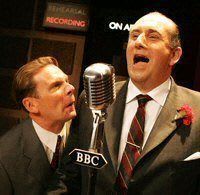 You don't have to be a fan of the original radio show to enjoy this but it ceertainly helps: not only do you understand why everyone cheers when "Kenneth Williams" says "Hello, me dearios", but you actually join in!
I confess I expected the house to be filled with wrinklies of my generation, but there was a goodly sprinkling of younger audience members who had tethered their nadgers and seemed to find it just as funny as we did, discovering, perhaps, what we were remembering.
I found myself asking the same question as I did when listening to the originals: how did they get away with it? They made Max Miller seem clean and wholesome! Or, at least, they did if you listened to the sub-text and not the words themselves. Superficially the words were completely innocuous, but when performed by the wonderful cast of Kenneth Horne himself, Kenneth Williams, Hugh Paddick, Betty Marsden and Douglas Smith...
I'm sure there's a PhD thesis for somebody there.
It does, however, seem odd that an audience is prepared to go to a theatre and sit and watch a recreation of something that happened forty years ago in a radio studio. Surely watching people walking up to one of five microphones set across the stage, saying their words and then sitting down again would begin to pall after a time, no matter how funny what they were saying? But pall it definitely did not, mainly because the cast treated their characters and the show itself as any actor would any part in any play. We really felt we were watching Kenneth Horne et al, for not only were the voices right, but so were the facial expressions, the looks which were exchanged, even the dress.
The ensemble cast - Stephen Critchlow (Horne), Robin Sebastian (Williams), David Rumelle (Paddick), Julia Webber (Marsden) and Charles Armstrong (Smith), not forgetting Sound Effects Woman Lucy Sullivan - were terrific, capturing the real essence of the originals as well as delivering the much loved lines with impeccable timing. It is an uncomplicated, undemanding and thoroughly enjoyable night at the theatre.
Reviewer: Peter Lathan