Rouse, Ye Women!
Neil Gore with songs by John Kirkpatrick
Townsend Theatre production
Greenwich Theatre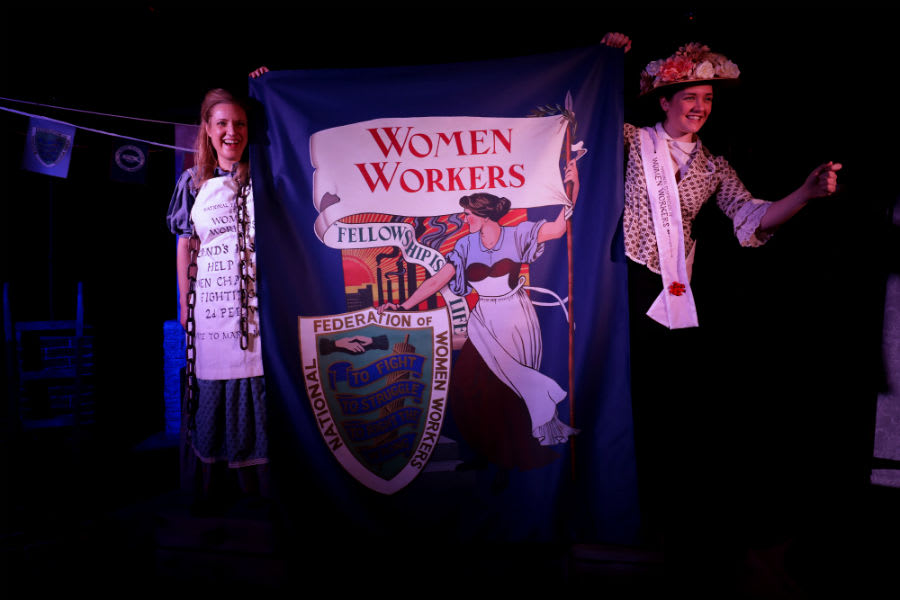 Rouse, Ye Women! takes us to the nineteenth century chainmakers of Cradley Heath in the West Midlands.
On a darkened stage, lit by the set's street lights, a woman behind the window of an outhouse is hammering a heated rod into a light chain. The heavier chains are made by men in factories, the light chains are the work of women and children employed as outworkers. Their work is unregulated, hidden and dangerous. They are paid only a fraction of the wage men receive, with the foggers, that is the middlemen, taking a hefty chunk for organising the subcontracted work.
In what the writers refer to as a "folk ballad opera" that mixes some traditional songs with others by John Kirkpatrick, the show traces the struggle of these women led by Mary Macarthur (Bryony Purdue), an organiser of the National Federation of Women Workers, to win a minimum wage and regulate what came to be referred to as sweated labour.
It is mostly a story in song from Bryony Purdue and Rowan Godel who are both very fine singers. However there are a few brief scenes of dialogue and the occasional short extract from the public speeches of Mary Macarthur.
Early in the show, we see an argument between Albert (Neil Gore), a fogger, bringing rods to Bird (Rowan Godel), who works from home. But his casual cheek in that scene later shifts to something a lot more nervous as a national agreement and new laws start to insist on basic standards. That doesn't stop him trying to con Bird into signing away those rights in a scene which had the large audience vocally urging her not to sign.
The show takes other opportunities to involve the audience including getting them to wave flags from their seats in solidarity with a demonstration on stage and sometimes following a speech by Mary Macarthur, encouraging them to join in the singing of a chorus of "We are the Union."
It is a vivid, upbeat performance celebrating a very important struggle that was to feed into the upsurge of strikes that marked the period before the 1914 war.
Reviewer: Keith Mckenna