Royal Ballet School Summer Performance

Royal Ballet School
Royal Opera House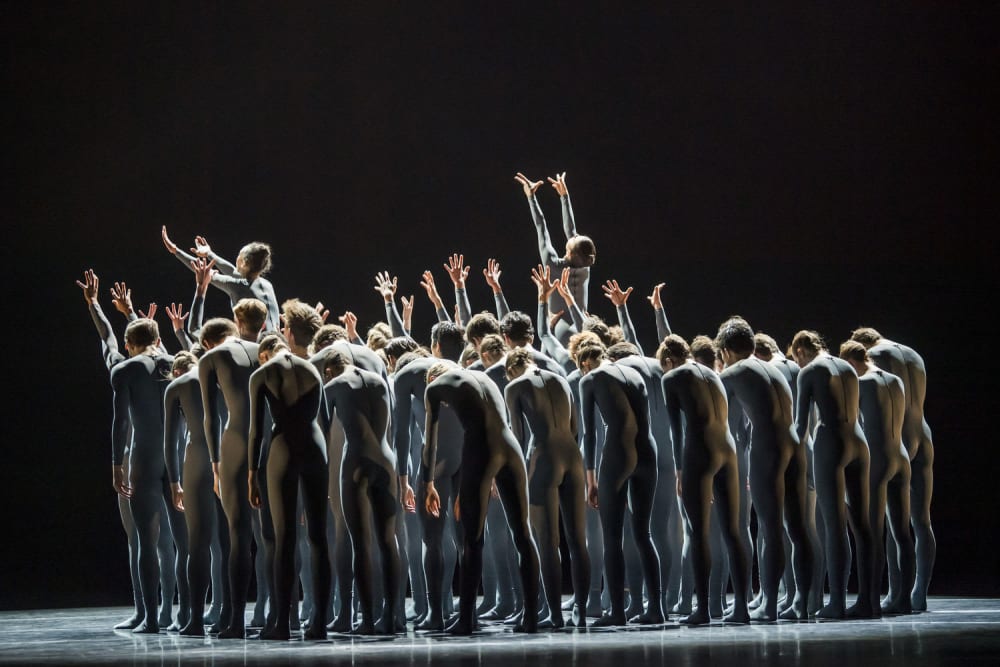 There's something poignant about seeing hordes of incredibly talented young dancers fill the Royal Opera House stage. After years of intense training and slog, third year students performing today are on the eve of their careers. Shiny and brilliant, some graduate to international companies, others offered places with the Royal Ballet. The younger dancers, a few years behind will soon be snapping at their heels. This feels an honour to witness, like watching history in the making.
Today's matinée programme offers plenty of works for the ensemble, sprinkled with a few individual showpieces as well as solos to properly pay tribute to the variety of talent within the school. The afternoon opens with Frederick Ashton's La Valse, an ideal showcase for a large ensemble of dancers from the Upper School's first, second and third years, who move gracefully and in perfect time to the waltz melodies of Ravel's score, like a flight of birds migrating to warmer climes.
Throughout, the school benefits from the production values of the Royal Opera House and no better than here as slick youngsters, dreamily lit in violet, parade out, all tailcoats and tutus, waltzing and swooping in amongst elegant drapes, backed by the ROH orchestra, conducted by Tim Murray.
Worth noting is the corps dancing in beautiful synchronicity, especially the section in which I counted at least 10 couples on stage, no easy feat, but these dancers must have rehearsed within an inch of their lives to create such beautifully timed, swirling visions.
Such classicism is followed by Petal Miller Ashmole's Bottega, created for White Lodge pupils from the junior school between the ages of ten and eleven. Miller Ashmole wanted to draw out the potential of the young dancers and this happens on multiple occasions. First, there's the charming pas de deux in which the principal couple, Ella Newton and Luc Foskett, revel in each other's company; like young playmates, there's something so assured yet wonderfully naïve in their execution of steps and expressions.Then there are some gorgeous vignettes highlighting multiple perfectly executed turns from the boys and neat, dainty footwork from the girls, while retaining a fresh and bright stage presence throughout.
Meanwhile, the voiceover of a little boy talking about his experiences as a student embarking on training at White Lodge, the Royal Ballet School's junior school, had me welling up in tears as a stark reminder that ballet training comes with a price tag. We hear of this boy packing his trunk, waving goodbye to his mother, swapping teddies for dance shoes and parents for ballet teachers.
Next, the refreshingly light of touch "Scottish Dances" from Flowers of the Forest, choreographed by David Bintley, changes the mood significantly, offering the Upper School third year students the perfect vehicle to display agile, nimble footwork of traditional Scottish dancing, along with much hair-flicking bravado. While the boys are busy kilt flinging, the three female dancers, Sarah Keaveny, Ginevra Zambon and Xinyue Zhao, flirt and jeté around their male admirers, Damen Axtens, Matthew Bates and Liam Boswell, with the playfulness and spirited elevation of young fauns.
Kele Roberson, an American scholarship winner, stands streamlined and radiant against the tutus and tiaras in a jaw-dropping solo which he performs and choreographs. In Start Again, Roberson's audition piece for Nederlands Dans Theater, the dancer displays serpent-like bendiness, elevation and sprightliness of an Olympic gymnast, but moves with a deeply emotive stage presence. It's thrilling to watch him move across the stage, revealing rippling torso as he strips off his t-shirt. He has unsurprisingly been offered a place by NDT II.
The first half ends with Alastair Marriott's Simple Symphony for the Upper School 2nd years, inspired by the elegiac score by Benjamin Britten (of the same name). The students handle the choreography admirably, especially the slickly executed pas de deux from second year students James Large and Maddison Pritchard. Yet, compared to some of the other pieces on the bill, I can't help feeling like I'm watching a ballet exam and with each difficult technical undertaking have that sick feeling that someone might wobble, which doesn't happen as this is the Royal Ballet School and there is no room for error.
After the interval, Pulse sets the pace for an exciting second half. Created for the Prix de Lausanne last year, Goyo Montero's piece is danced by all three Upper School years and showcases the diversity of training perhaps to accommodate a more varied ballet repertoire in the future. Reminiscent of Crystal Pite's Flight Pattern in format, the dancers are equalised in the sense that there are no soloists or stars, more a tightly furled ensemble, an army of grey, drones who unite and ripple in monotone, with the odd dancer slipping away from the mass, only to be quickly swallowed back into the fold like a solider straying out from the line of duty. The piece is refreshingly abstract and free of restrictive narrative demands of many classical ballet pieces and ballet training proves to lend itself to contemporary with its different inflections without missing so much as a beat.
Continuing with the contemporary comes Mat Ek's comic excerpts from Swan Lake —allowing students to flex their comic characterisation muscles, often missing in the more purist technical pieces this afternoon. The Upper School third year students jump on this opportunity brilliantly, sending the audience into peels of laugher.
The last piece, Paquita, proves the ideal choreography to showcase the dancers' technical prowess with some genuine showstopper moments, offering principle roles, soloists and corps de ballet from all three Upper School years the chance to shine. There is also a fresh and breezy Mazurka performed with gusto by White Lodge students. Standout performances from Davi Ramos, flashing white teeth and elegant lines, graduating to the Dutch National Ballet Junior Company, accompanied airily by Hannah Park, make for a harmonious partnership. First Female Soloist Bomin Kim, accepted onto the Royal Ballet Aud Jebsen Young Dancers Programme, shines like a newly polished diamond amongst an already overstocked shop full of semi-precious stones.
Grand Défilé, literally translated as Big Parade, brings the afternoon to an end and the glorious moment where the entire school files onstage. Devised by the school's previous director, Gailene Stock, students grace the stage in their colour-coded year groups, dancing to Czerny's Etudes, until it's heaving with starry-eyed youngsters in attitude, arms in fifth, best arabesques and pirouetting their way towards a glittering future.
It's overwhelming how much talent there is on display today. It's a great sign for the future of ballet and what's especially heartening is to witness the diversity of talent made visible through today's mixed bill of pieces. Hopefully, this indicates that ballet will continue to embrace new repertoire and with it, the dancers who can handle such material.
Reviewer: Rachel Nouchi