Running Wild
Michael Murpurgo adapted by Samuel Adamson
Open Air Theatre with Chichester Festival Theatre
Regent's Park Open Air Theatre
–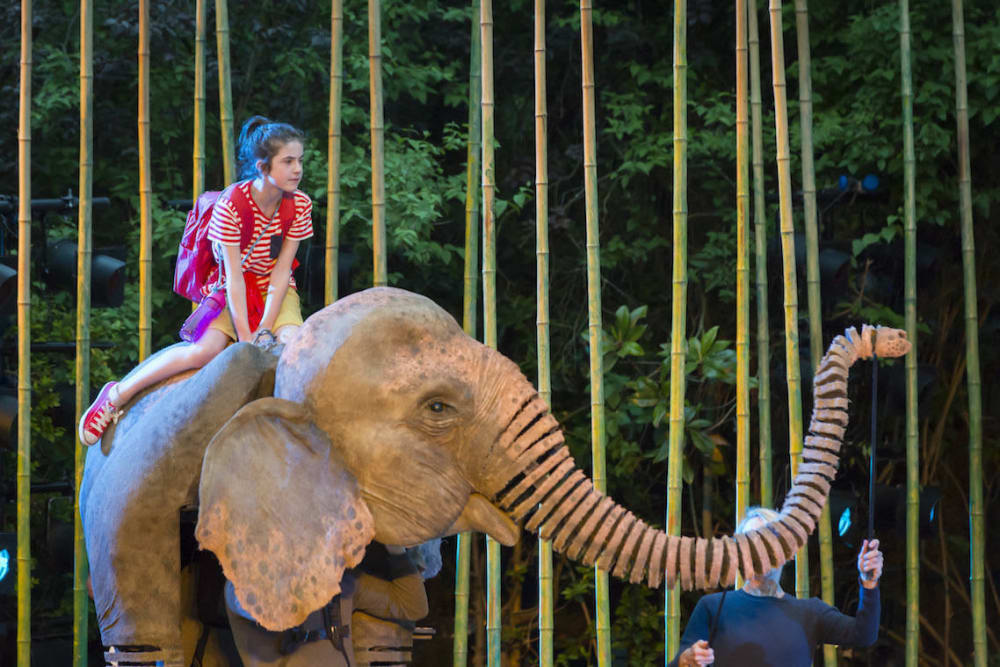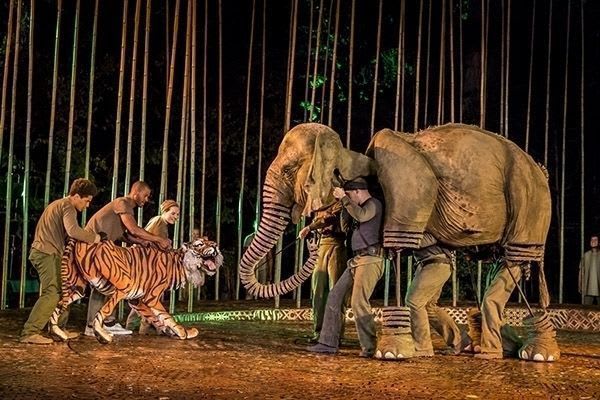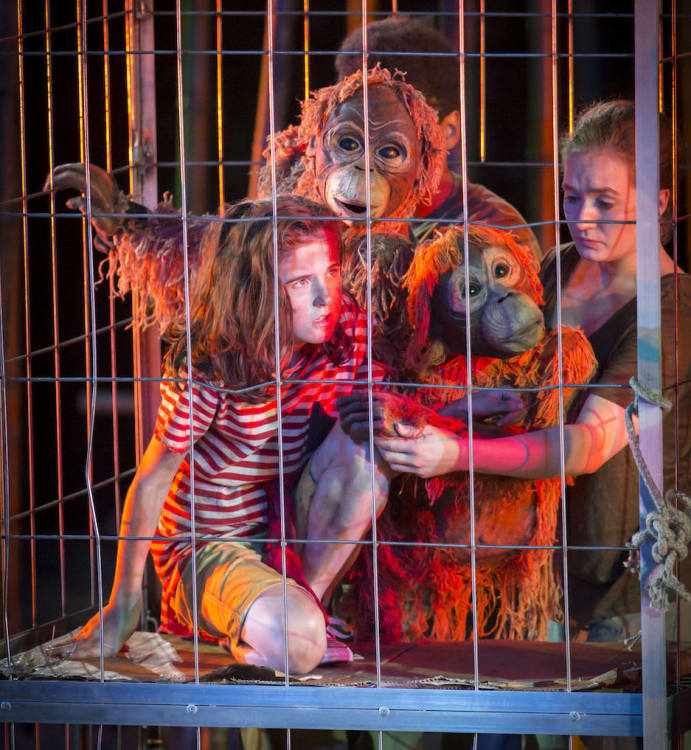 Lilly's favourite stories are about elephants. She shares those stories with her soldier dad, along with a passion for Man United. When he is killed in Iraq, his parents finance a trip for Lilly and her mother to her mother's birthplace: Indonesia, home to real elephants.
There, Lilly (or at other performance Will, for the splendid Ava Potter shares the role with two young male actors) meets elephant Oona and gets to ride her and a bond grows between them. It is 2004 and on Boxing Day the great tsunami sweeps her mother away from her, but Oona has a premonition of danger and bears Lilly to safety into the jungle. Can she survive there in the tropical rain forest?
The first half moves rather slowly, despite the excitement of full-size Oona, dangerous encounters with tiger and crocodile, an encounter with a troupe of orang-utan and the dramatic tsunami that roars over half of the audience, only those on the heights escaping.
It places its emphasis on introducing the animals with fish in the waters, beautiful butterflies and bright coloured birds overhead. It doesn't go into much detail about what Lilly lives on but what at first looks like a minimalist setting becomes a place of theatrical magic.
Co-directors Timothy Sheader and Dale Rooks (who mounted the Chichester original promenade version last year) have provided a spectacular telling of the story. There are gasps when Oona's great bulk first ambles into view and the puppetry throughout is first class (designed and directed by Finn Caldwell and Toby Olié).
Paul Wills's design sets circles of tall green bamboo rising from a turning stage that is covered with indigenous patterns, blue silk rivers stream run through it and thundering waves surge forwards wreaking destruction.
A group of young people from all kinds of backgrounds have been recruited to be part of the show and they often become choreographed part of the setting, sometimes elegantly beautiful, sometimes destructive chaos developed by movement director Georgina Lamb.
The second half becomes more action packed when she is captured by poachers and destroyers of jungle along with now orphaned young orang-utans and fire sweeps through the rainforest of the jungle.
The puppeteers for the elephant (Laura Cubitt, Ben Thompson, Michael Taibi and John Leader) and the leading orang-utans (Sarah Mardell, Stuart Angell, Romina Hytten and Fed Davis) do a marvellous job breathing life into them, part of a strong team of actors including Okorie Chukwu and Stephen Ventura as the worst of the gun-wielding bad men, Joyce Henderson and Eric Mallet as Granny and Granddad, Hattie Ladbury as Lilly's Mum and zoologist Dr Geraldine who runs an animal orphanage and Ira Mandela Siobhan who kicks the show off as Lilly's Dad.
Morpurgo's story isn't just an adventure. It carries a serious message and Samuel Adamson's adaption spells it out clearly, perhaps a little too obviously for liberal minded adults but one that still needs driving home about the destruction of habitat and loss of diversity, themes that will resonate with the young audience Running Wild is particularly aimed at.
Even on a chilly night with rain threatening, it worked its magic, a splendid start to a new season.
Reviewer: Howard Loxton