Rusalka
Antonín Dvořák
Teatro Real, Madrid
Released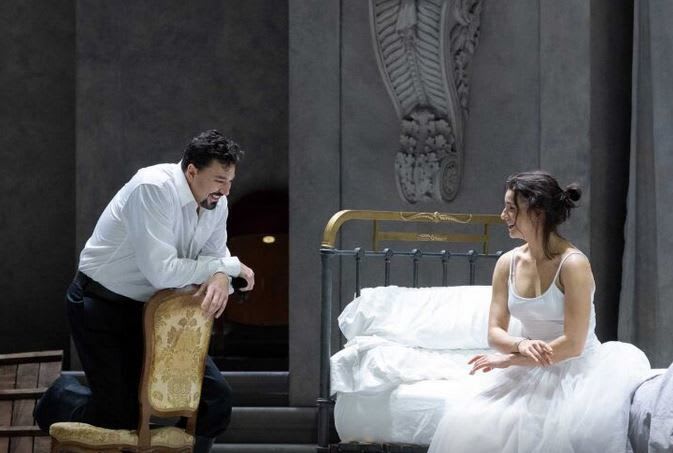 No forest, no pool, no water nymphs—indeed no water at all. Christof Loy's production sets Rusalka in the foyer of a disused opera house and casts its heroine as an injured ballerina enabled to dance again by the spells of the box office manager, who happens to be the witch Ježibaba.
And dance she does, soprano Asmik Grigorian—who trained in ballet—floating across the stage en pointe, to the wonder of Eric Cutler's Prince, who wonders, "are you a woman or a fairy?"
It's a concept that works well, particularly as the spell has rendered the alluring Rusalka mute for her sojourn in the mortal world, provided one is willing to ignore the disjuncture between words and action,
"Neither woman nor nymph," she is however unable to respond to the Prince's ardent embraces. Dressed in housewifely cotton, she witnesses orgiastic scenes and his seduction by Karita Matilla's vampish foreign princess, and returns broken-hearted to her former life.
Thus we have moved from seemingly simple fable to a one of sexual awakening, of a creature halfway between maidenly innocence and adulthood, of adolescent dreams crushed by cruel reality.
The relationship works both ways: while she longs for true romance in the real world, he comes to desire an escape into the only world in which perfect love is possible, that of the fairy tale.
There is a real sense of vulnerability in Grigorian's performance, enhanced by her superb dynamic control, which means she is always clearly heard, the radiance of her voice, not just in the famous "Song of the moon", and by exquisite phrasing such as in "Jina jej krasou jala vraz" ("She has ensnared him with beauty").
Her tearful reunion with the Prince, captured in video close-up, is the poignant summation of an on-stage relationship that works from the off. Cutler was recovering from an ankle operation at the time and there is a moment of seemingly spontaneous amusement when he nearly drops the crutches that allowed him to play the role as scheduled.
It was probably a last-minute adjustment too that allows him a chair on which to conduct a rather intimate embrace of Rusalka, who endures it, needless to say, like a cold fish.
Cutler's top notes ring out pleasantly enough but, possibly as a result of the extra strain of performing on crutches, the voice seems somewhat distant, or one cylinder short in some quieter passages.
Mattila still sounds robust and perhaps more than ever carries the poise to command a stage. Katarina Dalayman plays the witch with gleeful cynicism and cunning. Maxim Kuzmin-Karavaez is excellent as Vodnik, his rich bass bringing out the deep disillusion of Rusalka's father. The three wood nymphs, Julietta Aleksanyan, Rachel Kelly and Alyona Abramova, recast as junior ballerinas, sing charmingly.
The only references in the set design to the natural world outside are the rocks that intrude across the stage and a symbolic, dead doe. No mythology there. So perhaps to establish some kind of link to make-believe, the Forester (Manel Esteve) and Kitchen Boy (the sweet-voiced Juliette Mars) are turned into Laurel and Hardy figures, required to act out a long and not very funny routine with a ladder.
It's one part of the production, a joint one with Dresden, Bologna, Barcelona, and Valencia, that falls flat. Overall, is it worth giving up the magic and colour of more traditional versions for the logic and insight that Loy brings to such a familiar piece? I would say so, but would not recommend it if seeing the opera for the first time.
Reviewer: Colin Davison