Rush
Ashley Driver, Sebastian Ross, Sophie White and Dave Carey with additional material devised by the cast
Chickenshed
Chickenshed Rayne Theatre
–

Listing details and ticket info...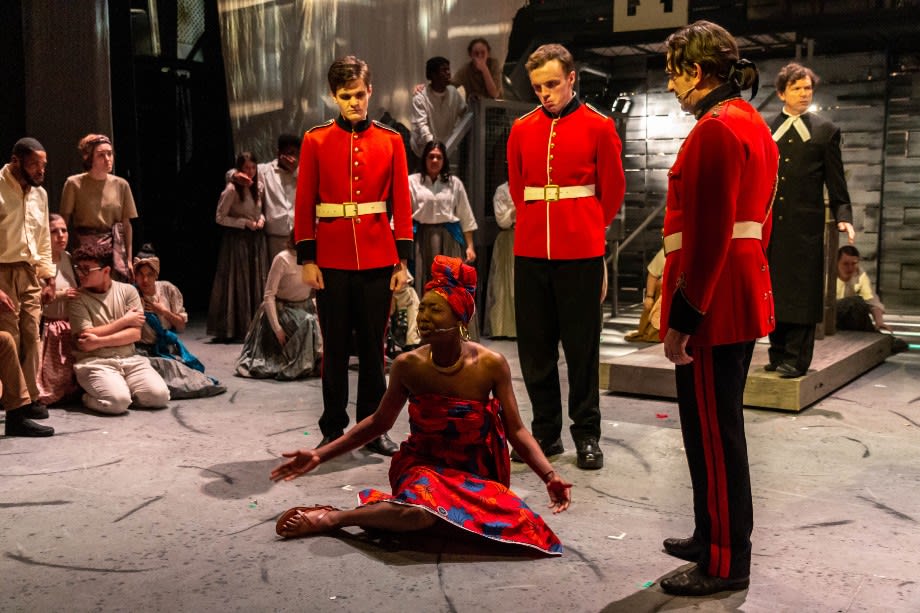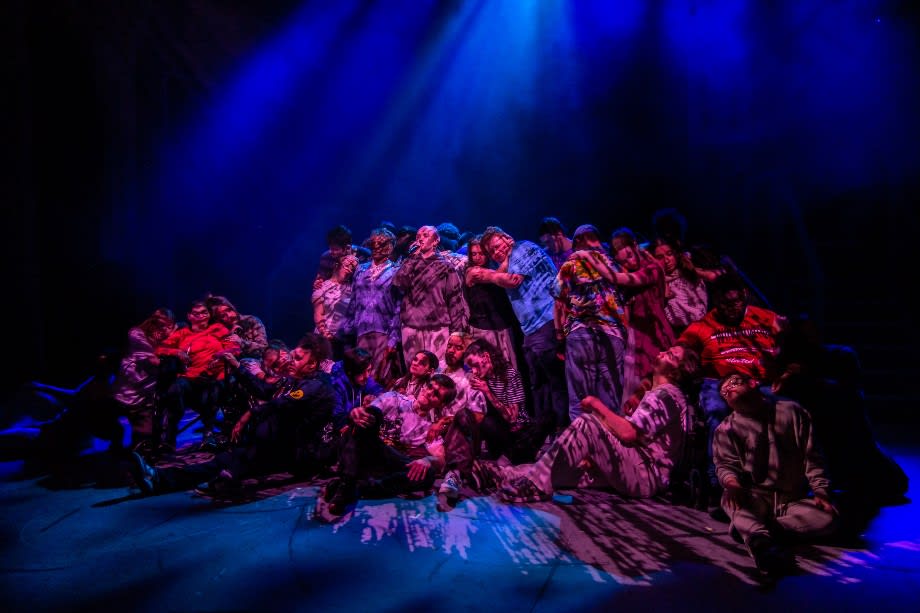 You don't have to look very hard to find a regeneration area in London. We see some of them in the film footage projected onto a back-screen in Chickenshed's Rush, a musical journey through the lives of three women victims of Britain's pursuit of wealth. Houses are being demolished and flash new blocks are being built.
Aya (Cara McInanny) is staying with her grandmother Missy (Natsai Gurupira) in a district of London that is about to be treated to a regeneration that will remove the existing residents and replace them with wonderful investment opportunities.
The problem for the officials working on the scheme is that the local people don't want to move even though they have been offered alternate accommodation miles away. At a big public meeting, Missy points out, "I've lived in this country longer than you. Served it. Nursed it. Paid my taxes and earned my home. You invited me to this country."
But one official privately reminds another they have a solution for such awkwardness. If transportation out of the area isn't appealing then, "I wonder, just for instance, if some of these people even have passports and paperwork in order. A detention here, a deportation there and Hostile Environment Policy making it all legal."
Missy is one of the Windrush generation who receives a letter telling her she needs to prove she has a right to remain, something the Citizens Advice person tells her might be difficult since the government destroyed all the landing cards. Never mind, advises Home Secretary Theresa May, "we can deport first and hear appeals later."
As the threat of eviction of the many and deportation of some increases, Missy recalls the trauma of a relationship she once had in the 1960s with Stephen (Jack Alder), a white man. Although in the flashbacks to the '60s we can see the young Missy (Amber Ogunsaya-William) and Stephen (Jack Alder) are in love, they are driven apart by his family's racism.
Aya begins to see Abeni (Grace Wariola), an ancestor from 1850s West Africa whom the British colonisers transported to the Caribbean.
The scenes from the 1850s are some of the most striking if disturbing from the show. They include a clergyman preaching to a crowd of local people as the sinister figure of a British officer watches from above. Later, women are dragged across the stage screaming by soldiers whom the Colonel (Jonny Morton) claims need their recreation, and, when someone points out they are abusing married women, adds that since "no native has ever been married in the name of our god, they can't be married."
Back in present-day London, we see the figure of Missy, suitcase in her hand, again forced to leave, walking from her home to an unknown future.
The action is emphasised by the fine singing of the hundred-strong vocal group delivering songs by Aswad, the Specials, Jimmy Cliff and many more. Each is accompanied by the remarkable dance sequences of a huge cast. The show is an entertaining, moving and exciting depiction of an important part of our history.
Let's leave the final words to Macka B's song Big Thief which comes towards the end of the show:
"If we see the stolen good as an offence
How come none of the Queens of England have never served any sentence
...What kind of example them set for the youngsters
Benefitting from the crimes of their ancestors"
Reviewer: Keith Mckenna