Rutherford and Son
Githa Sowerby
Sheffield Theatres
Crucible Theatre
–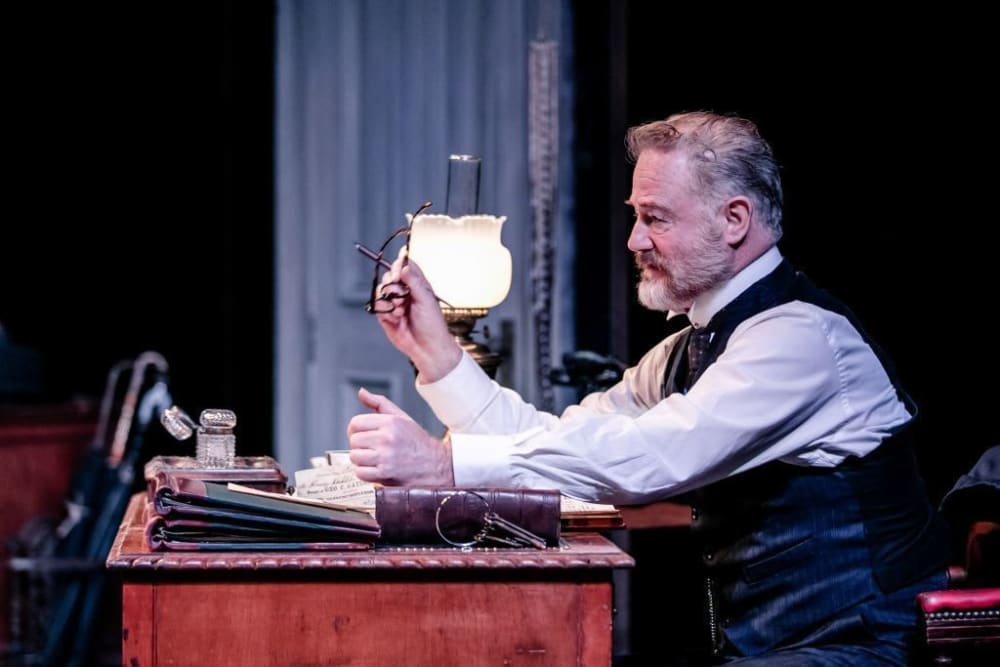 Anyone in London who thinks it's all happening there should get on a train and catch this remarkable revival of a virtually unknown play by Githa Sowerby, an Edwardian writer, currently in performance at the Sheffield Crucible.
In my ignorance, I approached the play without enthusiasm, thinking the set-up was a re-working of Hobson's Choice which has the same dictatorial figure whose children are suppressed and dominated by a selfish and business-obsessed father. I was so wrong!
There are close parallels of course, but the initial 1912 production at The Royal Court was received with extraordinary accolades until reviewers realised that the writer was a woman. This was at a time when the female brain was discovered to be 5 ounces lighter than the male and "Women… represent the most inferior forms of human evolution" (Gustave le Bon). Her later plays were ignored.
Sowerby writes with awareness of economic realities and the huge class divide between the ruthless glass factory owner and his poor and easily manipulated employees. But what distinguishes the play is the strength she gives to female characters who are prepared to challenge Rutherford's values and assert their own at whatever personal cost, and ultimately, when he's alienated everyone close to him, to make him an offer he can't refuse.
Everything about this production is impressive. Lucy Osborne's design gives us a huge and comfortless Victorian room with slate floors and a stifling view onto a solid brick wall. The women's long skirts call up images of Suffragettes.
Under Caroline Steinbeis's inspired direction, every member of the cast finds depth of characterisation, passionate involvement in moments of confrontation and calmness in quieter exchanges. My only caveat is that in the late encounter across the table when Mary was laying down her terms, my view was blocked, though generally I was very impressed by the fluidity of movement and occasional blocking didn't matter.
After the establishing 20 minutes when I wasn't sure I liked the play, I went from "this is Ibsen" to hang on, "this is Chekhov", which reflects both the quality of the writing and the effectiveness of the interpretation. I particularly liked the symbolic movement sequence which divided the first half.
As to the acting, what can I say? Perfect casting. Owen Teale shows his experience in being as threatening through stillness and silence as in verbal outbursts. The end of act I fierce encounter between him and Laura Elphinstone as Janet is mesmerising and there are outstanding performances from every member of the cast. No wonder the performance was received with enthusiastic applause.
I am impressed that, in their programme for the year, Sheffield Theatres has included so many female writers. It helps me to compensate for my missing 5 ounces.
Reviewer: Velda Harris