Rutherford & Son
Githa Sowerby, edited by Blake Morrison
Northern Broadsides
Dukes Theatre, Lancaster
–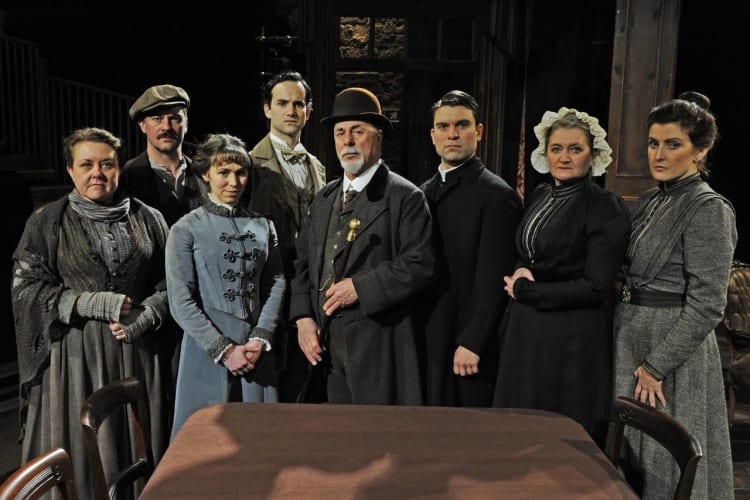 Barrie Rutter and his Northern Broadsides theatre company have spent the last 21 years producing theatre with a 'Northern voice'.
So there's something of a coming-of-age birthday gift about this exceptional production of one of the great plays of the 20th century, written by industrialist's daughter turned Socialist, Githa Sowerby.
With Rutter in the title role (you suspect he would have arm-wrestled anyone else out of the way), Jonathan Miller coaxed into directing and Blake Morrison revising the script, the omens were looking pretty good from the outset.
And by shifting the play slightly south, from Tyneside to the West Riding, it all feels even more at home.
Rutherford and Son has been given three major revivals around the region in eight years, but it really isn't enough for a play now regarded by the National Theatre as one of the Top 100.
With nods, in its darkly domestic drama, towards Chekhov or Ibsen, it was also well ahead of its time in the strength and yet compromised characterisation it affords the female roles.
And in the patriarch Rutherford it pre-dates the unacceptable face of capitalism by several generations. He's a man who demands a return on all his investments, even if those include his children.
Freed up from the directing duties, Barrie Rutter gives full ranting vent to the role turning him into a mad-eyed but calculating monster, while Guy Hoare's splendid lighting design makes his mansion into a grim prison. The dark menace throughout the production is tangible.
In sharp contrast, Sara Poyzer and Catherine Kinsella, as the two women charged with dismantling his Victorian certainties—at the vanguard of women's emancipation—exercise commendable restraint over their characters.
Even if you recall this play's dramatic finale you may still need to re-calibrate the sense of shock created amidst such an astute and authentic production.
Reviewer: David Upton