Rutherford & Son
Githa Sowerby, edited by Blake Morrison
Northern Broadsides
The Lowry, Salford
–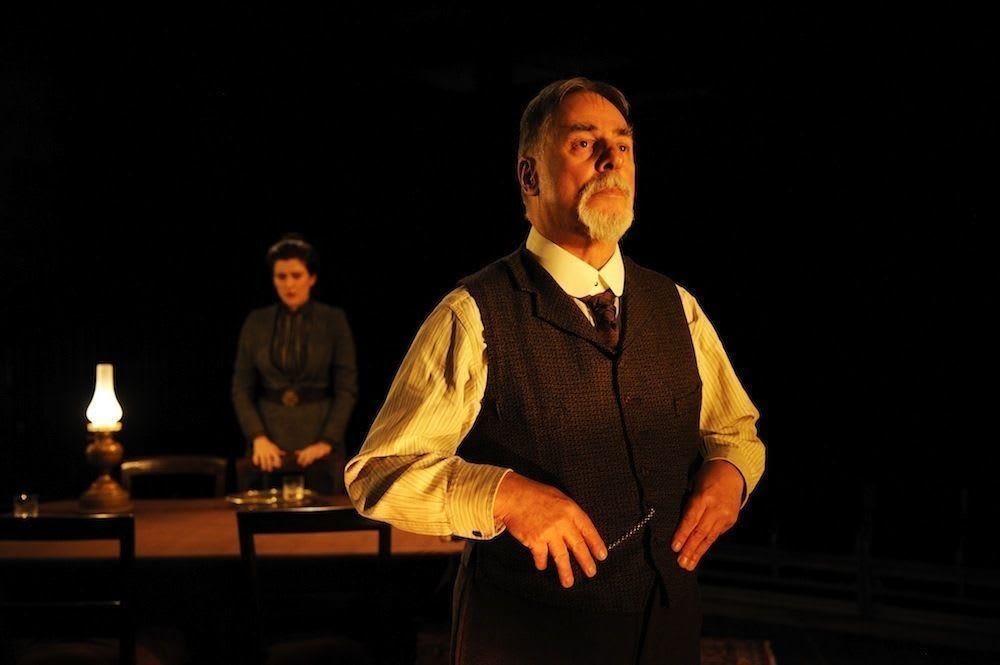 It has to be some measure of the diversity of entertainment available at The Lowry that while a packed Lyric Theatre whoops and whistles at The Full Monty, fellow Yorkshiremen Northern Broadsides play to an equally full but rather more sedate audience next door in the Quays Theatre.
Sowerby's 1912 play was listed in the National Theatre's 100 greatest plays of the twentieth century but, despite being a great success at its Royal Court debut, has rarely been seen on the professional stage since, although we did see it at the Royal Exchange in 2005 and not so far away in the playwright's native Tyneside when Northern Stage revived it in 2009.
Director Jonathan Miller in a programme note compares the play to Chekhov, but I can't see that; this is a very English play and northern English at that with characters familiar from many other plays of and about the time from works by the likes of Shaw, Galsworthy, Lawrence and even J B Priestley.
John Rutherford is a factory owner whose will is law in the family and who has dedicated his life to building up Rutherford's, a glass factory passed down to him and which he intends to pass down to his son John. However his children have ideas of their own and have no intention of dedicating their lives to the business he has built up.
Richard has joined the clergy and has been offered a position in Southport. John junior has hit upon the formula for a new metal that he claims will revolutionise the manufacturing process, but he will only give it to his father at a price. John also has made it clear that he will sell his inheritance at the earliest opportunity as he has no intention of working for a living. Janet is seen largely as an unpaid extra servant and well on the way, at 36, to being an old maid—but secretly she has other ideas.
So far, so familiar, but Sowerby has not created the archetypal family tyrant, a villain who has bullied his family into submission and from whom we will his children to escape. There is an element of that, certainly, but the brilliance of her writing is in the way she makes him sympathetic to audiences. Although we may be frustrated at his stubbornness and his lack of affection, we can also often see his point. His children are naïve dreamers who are unlikely to survive for very long in the real world.
This compelling production revolves around a towering performance from Barrie Rutter as Rutherford. The character is as skilfully rounded in his portrayal as he is in the writing, dominating the stage whenever he is present just as Rutherford dominates the family.
Sara Poyser is also excellent as Janet, wise-cracking and bitter initially but with a major confrontation scene, while Catherine Kinsella as the Londoner wife John married in secret gives some beautifully-measured, tolerant reactions to the verbal abuse she suffers from the family—especially from Kate Anthony as Rutherford's acid-tongued, disapproving sister Ann—but then really comes into her own in the final confrontation with Rutherford, when she shows herself to be as hard-headed and pragmatic as he is.
Richard Standing gives a beautiful performance in the relatively small part of Martin, Rutherford's most trusted factory employee. Andrew Grose is suitably pious as clergyman Richard, and while I wasn't as totally convinced by Nicholas Shaw as John, he certainly puts across the annoying, stubborn naïvety of the pompous dreamer. Wendi Peters also pops up briefly as the slightly drunken mother of a recently-sacked employee.
This is an extremely good production of a play that has more depth and feels less dated than many plays with similar characters and themes from male playwrights of the period that we see more often. Definitely one to grab a ticket for if you get the chance.
Reviewer: David Chadderton