Rutherford and Son
Githa Sowerby, edited by Blake Morrison
Northern Broadsides
Yvonne Arnaud, Guildford
–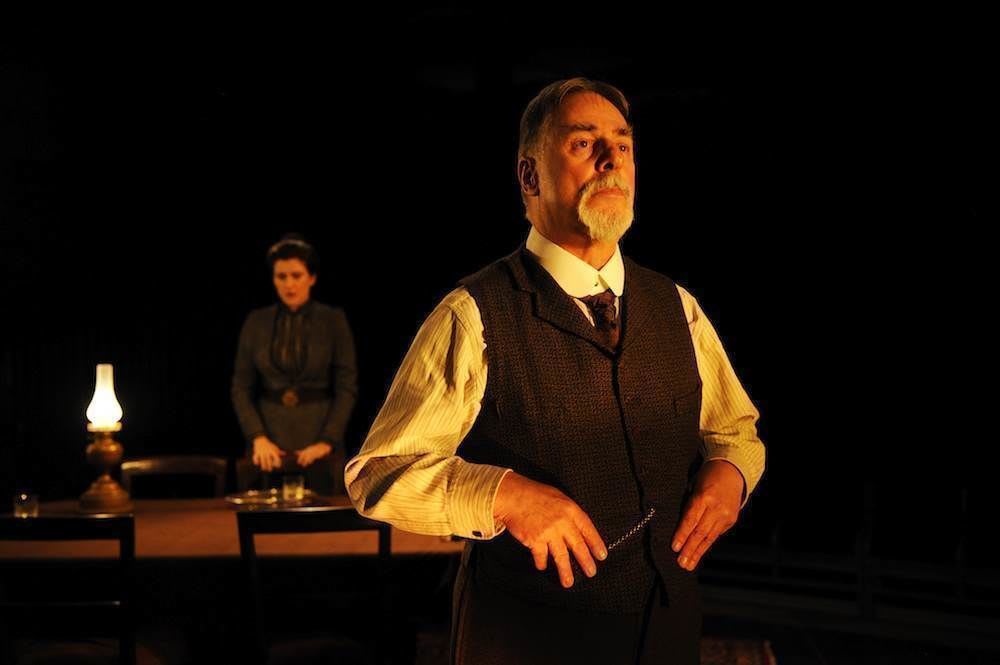 This is a play full of ruthless determination, frustration, anger, disappointment, bitterness, betrayal and deceit, so don't expect a laugh a minute, but it is so involving that at the end we really care about the characters and would like to know how the story continues and whether their lives panned out as expected.
Sadly we will never know, but it leaves us with some hope for their future. There is nothing to entertain and engage like and good story, and this one is based on truth—on Sowerby's grandfather.
The title Rutherford and Son is significant. John Rutherford has built up his previously successful glassworks business from scratch and expects one of his two sons to carry it on and nothing must come in the way of that. Happiness is not an option. "Work, work and more work and six feet of dirt at the end—that's life!"
Son Richard (Andrew Grose) is out of the running. "There are plenty of ways of shirking life and religion's one of them", so hope lies with Nicholas Shaw's John, educated to become a gentleman, but he has ideas of his own and has an invention which could make their fortunes, if only his father would agree.
Written in 1912, it took the world by storm when first produced and caused amazement and disbelief when it was discovered that it had been written by a woman. At a time when women were believed to be inferior beings incapable of anything but child bearing or frivolous chattering, Sowerby's work has been largely overlooked—until now when her talent has finally been recognised.
Isabella Bywater's imposing set design extends right into the wings, showing a large living / dining room, dimly and oppressively lit, with substantially heavy furniture befitting the house of a successful business man, but the atmosphere is not conducive to harmony. Long before the master of the house arrives it is obvious that he is a complete tyrant ruling his family by fear and the three women present are apprehensive and aware of the storm to come when they hear that the maid has ruined the dinner.
Set in Yorkshire, Leeds-born Kate Anthony, as sister Ann, has (naturally) the perfect accent and the most humorous lines, the direct matter-of-fact delivery making them funnier, but daughter Janet (Sara Poyzer) can find no humour in her life of forced domesticity.
The stranger in the camp, John's Cockney wife Mary (Catherine Kinsella), comments, "It's like a prison. There's not a scrap of love in the whole place". Mary seems at first to be deferential and accepting her insignificant place in the family, but she has a son and will do anything to ensure his future. Managing to stand up to the tyrant, causes the response "You've a fair notion of business—for a woman".
This is a play with such powerful and varied emotional content that it tempted Jonathan Miller out of semi-retirement to direct and Northern Broadsides Artistic Director Barrie Rutter to take the lead role, and Rutter takes to the part like a duck to water.
If you want to know his tell-it-as-it-is. no-nonsense style read in the programme notes of his short, impatient encounter with a publicist; this style is heightened to callous, explosive tyranny in a towering performance of anger, frustration and disillusionment, with a slight slip into humanity discussing his beloved fell walking with Gilly Tompkins's distraught Mrs Henderson.
Northern Broadsides has an reputation for excellent, straight-talking, unpretentious productions. They deliver every time.
Reviewer: Sheila Connor