Rutherford and Son
Githa Sowerby, edited by Blake Morrison
Northern Broadsides
West Yorkshire Playhouse, Leeds
–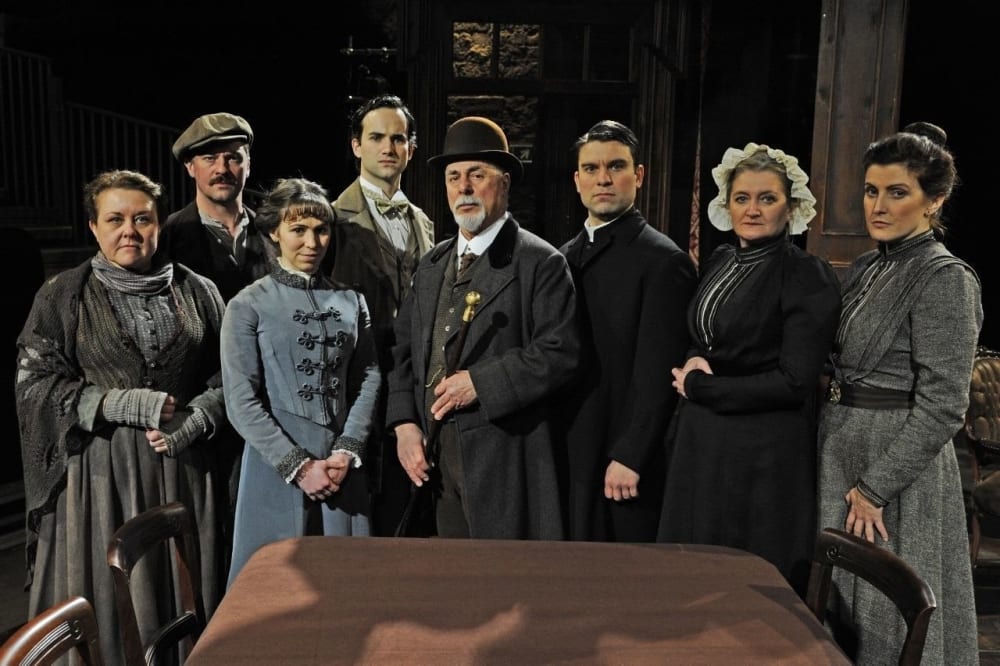 The story is dated. The production is dated. I was expecting better from the collaboration of celebrated director Jonathon Miller and Northern Broadsides.
Blake Morrison has taken Githa Sowerby's 1912 script and tidied it up a little. But only a little. Here are many long speeches and frequent, all too frequent, references to the same concerns.
Jonathon Miller has these speeches given by actors who indicate by their symmetrical, pleading hand movements that they are indeed making long speeches. The stance, of whichever plaintiff of the moment, often approximates to that of crucifixion.
Here can be found stereotypical, late Victorian northerners: John Rutherford, the fierce pater familias and self-made man (Rutter giving full vent to his raucous fury and at times almost camp wheedling tones: a Nnorthern Broadsides tour-de-force); two lightweight sons wi' schoolin' (Harrow) the one a vicar, the other an inventor. Then there is the repressed daughter (now in love with Martin, a 'working man').
There's Martin himself, flat cap, decent, upstanding, servile. There's Mrs Henderson, a stage drunk, working woman of the village, no better than she should be. Rutherford's sister—a bitter, cantankerous 'old maid'. Only daughter-in-law Mary avoids the stamp of the north, 'cos she's a cockney sparrer, gord bless 'er.
Most of them dislike, ignore, or hate most of them. The set and lighting are gloomy. And the story is a familiar one.
Mr Miller's asserts that on reading Rutherford and Son he was impressed by its "unpretentious naturalism, and by the extent to which it resembled the best of Chekhov". If this is true, then something was lost in production. Perhaps he is thinking of another Chekhov.
So what is going on here? Is it an exercise in period reconstruction: here's an old play and this is how it was played a century ago? Or perhaps this extravaganza of theatrical gestures and leaden pauses is a skilful reproduction of the behaviour of the Edwardian nouveau riche. Whatever, it is not to my taste.
To be fair, the Leeds audience loved it. And, it is a night in the theatre which has presence.
Reviewer: Ray Brown