Sabbat
Richard Shannon
The Dukes, Lancaster
The Dukes
–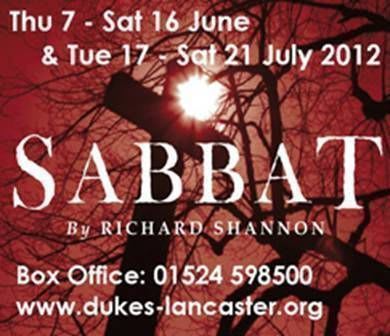 A powerful and moving drama played by an excellent small cast.
Sabbat has been extensively rewritten by Richard Shannon from its original radio format, to a one act play and then in its first Lancaster appearance in January 2009. It is now 400 years since the infamous Pendle Witch Trials were held in Lancaster Castle, ten witches were later hanged on Lancaster Moor.
Sabbat is played in the round, you enter the darkened, foggy, atmospheric space and walk along a thick carpet of aromatic bark. The play opens with Judith Nowell (Hannah Emanuel) heavily pregnant being visited by the wild and wilful Jennet Device (Nisa Cole). Jenny inveigles her way into the house on pretense of wanting a cup of water and proceeds to worry and cajole Judith Nowell into parting with a loaf of bread, money and more, plus she makes a great play of blessing Judith's unborn child.
Jenny Device is part of a poor family living out on Pendle Hill. In 1612 there were still many who held to 'the old religion', Catholicism, belief in witches, spirits and demons was strong. Judith is very disturbed by Jennet's presence. Judith does not tell her husband Roger (Robert Calvert) a much older and pompous man. Roger, is the local magistrate. Roger really wants a son to carry on the family name.
Judith is frequently visited by Alice Nutter (Christine Mackie) a rich widow, herbalist and benefactor of the poor. Roger finds her presence difficult and is suspicious of the herbal remedies, they smack of witchcraft—and Alice is not a regular church attender, she still has Catholic leanings.
When Judith, alone at home, gives birth to a stillborn baby boy the tragedy really starts to develop. Alice Nutter is banned from the Nowell household under suspicion of having caused the death of the child. Roger is distraught and throws himself into his work. Soon stories of witchcraft start to circulate. Jennet blows through the piece like a force of nature, seeing spirits, causing winds to blow the clouds and rains to fall. Eventually Roger Nowell interrogates Jennet, she fabricates wild and wonderful stories of gatherings, sabbats, spirits and visions. When pressed by Magistrate Nowell she lists names of people, dead and alive, and including Alice Nutter.
Alice Nutter denies all knowledge of and participation in witchcraft when interrogated by Magistrate Nowell but does let slip that she was at Malkin Tower, a grandly named hovel lived in by several generations of the Device family. Alice is arrested, interrogated further by Nowell and then sent with all the other accused to Lancaster Castle for trial at the King's Assize under judge Sir Edward Bromley.
Alice, Jennet and eight more were hanged following the trial under the terms of the 1604 Witchcraft Act.
Of course it wouldn't happen now, would it?
The cast of four were impressive, Nisa Cole must be singled out for her energy and vocal skills, she has a powerful singing voice that really complemented John Biddle's music. The simple and effective set was atmospherically lit by Brent Law. Direction is by Amy Leach.
Touring to Hoghton Tower, New Vic Theatre, Stoke, the Orange Tree Theatre, Richmond, Surrey and The Muni, Colne
Reviewer: Denis W McGeary