Sadler's Wells Sampled

Sadler's Wells Theatre
–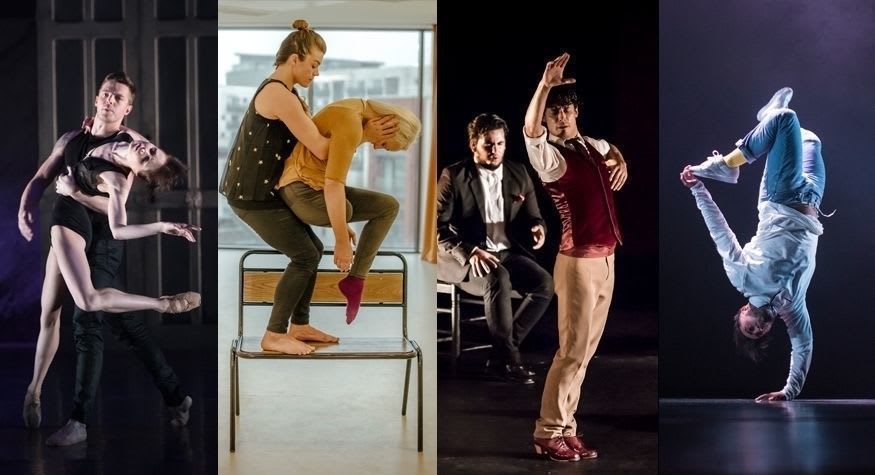 Every year since 2007, Sadler's Wells has mounted a festival showcasing the whole range of performance that presents: all kinds of dance from ballet to hip hop.
The front stalls are removed to create a promenade area where standing tickets cost only £5 and seats right through the house are only £20 giving new audiences a chance to get a taste of genres they may never have tried before at a price they can afford.
This year there was an exciting mix of classical and modern ballet, street dance, flamenco and an inspiring example of the work of Candoco, a dance company that mixes disabled and non-disabled dancers.
The screening of an interview with a performer in or choreographer of that work introduced each of the nine items on the packed programme.
Wir sagen uns Dunkles
Dutch contemporary dance company Nederlands Dans Theater 2 opened the evening with this work, which can be roughly translated as "we'll tell each other something dark".
Choreographed by Marco Goecke to music by Schubert, Schnittke and British band Placebo (and at 30 minutes the longest piece of the evening), it is full of frantic movement and driving rhythms. Its tension reflects Placebo's lyrics about the rat race, kicking addiction, waking up in soaked sheets.
Jerking limbs and swirling bodies move so fast it is like a strobe effect, suddenly slowness doesn't bring relaxation, an angular male and female pairing looks like agitated praying mantis, briefly two men share a strange embrace, a solo female laughs wildly turning into a scream. The dancers are expressing something painful but its energy is exhilarating.
Mass Effect
This duet was created by Harry Barnes, winner of the Street Dance category of the first BBC Young Dancer competition in 2015, for himself and Jodelle Douglas, winner in 2017, seen at last year's Grand Final.
Danced to Agnus Dei by Eskimo, it turns the angular spasms of the NDT2 piece into more flowing movement. Beginning as two spotlit figures who advance in diagonal opposition, competition becomes partnership: a pair with beautifully integrated movement and a great sense of humour.
Inescapable
Nafisah Baba, maker and dancer of this contemporary dance work, was another 2017 BBC Young Dancer winner and created it for the Grand Final.
Danced to Dan the Builder's Inescapable, it is a solo that explores the choice she had to make between pursuing dance or playing netball, moves with an imaginary ball set against dance steps and positions.
Kin
Ballet now with a pas de deux from Alexander Whitley's ballet to music by Phil Kline made in 2014 for Birmingham Royal Ballet, danced by Jenna Roberts and Mathias Dingan, principal dancers with the company.
Roberts's opening sequence is entirely en pointe, making a striking and elegant contrast to what has gone before but the lyric duet that follows mixes classical technique with more contemporary style.
Soleá Del Campillo
Representing flamenco, this extract danced by Jesús Carmona is from 7 Balcones, which he choreographed for his own company in 2013.
A Soleá is perhaps the most passionate and majestic style of flamenco and Carmona certainly brings both passion and presence to this piece. Already trained in flamenco, he became a principal dancer with Ballet Nacional de España and he brings a balletic awareness to this traditional style.
He brings a thrilling and dramatic precision to his fast turns and rapid zapateado, his authority secure without spurnful arrogance, he also allows himself to be graceful. The performance is greatly enhanced by the superb singing of Juan José Amador, singer, guitarist Daniel Jurado and Carmona's feet combined in the music.
Zero
Rudi Cole and Júlia Robert Parés founded Birmingham based company Humanhood in 2016 and created Zero together, a full-length duet from which they dance an excerpt.
They say their merging of sound, light and movement is inspired by Western physics and Eastern mysticism and even mention black holes but, though their choreography is full of swirling movement and atmospheric lighting, for much of this piece it is too dark to see any detail, only for a few moments of near stasis do the lights come up.
It looks as though something interesting is going on if only one could see it, perhaps closer up among the promenaders you can.
The Dying Swan
Mikhail Fokine made this solo for Anna Pavlova in 1905 to the Swan from Saint-Saëns' Carnival of the Animals.
Though only a few minutes long, it is one of the most iconic of ballets. Former Royal Ballet principal dancer Zenaida Yanowsky performs it with grace and precision, there is great feeling but no superfluous drama. I can't imagine it being danced better.
Dedicated to…
An excerpt from this work created by Caroline Bowditch for Candoco Dance Company to music by Zac Scott that, like all Candoco's work, celebrates the contribution of disabled artists in this integrated company.
Beautifully danced by Victoria Fox and amputee Welly O'Brien, it is a duet that explores trust and mutual dependence.
Yeah Yellow Sunshine
French hip hop crew Yellow Sunshine bring this work created by its founders Camille Regneault "Kami" and Julien Saint Maximin "Bee D".
A dazzling display of virtuoso technique is borne on a tide of joyous enthusiasm with lots of head-spinning, single-arm revolving handstands and bum-bouncing, from a b-boying team that somersaults in from every direction.
This high-speed action integrating individual talents demands split-second timing. The result is like fireworks exploding.
And more
Sadler's Wells Sampled isn't only on stage.
There is a live DJ on the Mezzanine where audience can join the dance complete with carnival cloaks and feathers, videos playing in the circle bar and in the Pina Bausch Room an opportunity to preview on headsets a soon to be released Virtual Reality performance called Celestial Bodies choreographed by Alexander Whitely and adapted from his 8 Minutes (which is currently touring after its première at Sadler's Wells last year).
Moving your head to catch dancers in your wrap-around vision, you can switch from live humans to digital figures created by motion capture technology performing the same choreography. Produced by Guardian VR in association with Sadler's Wells, look out for it this spring.
Throughout the second day of Sampled, the public are also offered workshops in a variety of dance genres, modestly priced at just £4 to make them available to everyone (and many sold out well before hand)—and that's not all.
In two weeks' time, on 17 February, the touring arm of Sadler's Wells Sampled in partnership with The Movement (The Lowry, Birmingham Hippodrome and Sadler's Wells in a producing partnership) will mount Dance: Sampled at the Lowry. It will include some of the same performances as in London with contributions also from Scottish Ballet, Gandini Juggling and Far From the Norm.
Evening tickets are £20 or £5 to promenade with the matinee only £6 and £3.
Reviewer: Howard Loxton