The Safari Party
Tim Firth
Library Theatre, Manchester
(2005)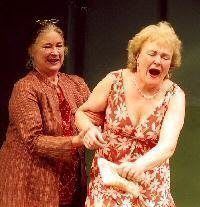 Tim Firth has become a very successful scriptwriter in every medium, from straight theatre (Neville's Island) to musicals (Our House), from TV plays (The Flint Street Nativity) to TV series (Preston Front) and has even now conquered the cinema (Calendar Girls). The Library's latest offering is his 2002 play The Safari Party, written for the Stephen Joseph theatre in Scarborough.
In the play, Daniel and Adam are young brothers struggling to keep their family farm going in Cheshire after their father shot himself. Lol and Esther are a middle class couple who have moved into the area (less than a mile from where they used to live, we later learn) to get an authentic experience of living in the Cheshire countryside in their converted barn with a modern conservatory - and they are prepared to pay plenty of money for anything with a hint of Cheshire history surrounding it. Daniel feels guilty for fabricating some family history to get more money for their kitchen table at a car boot sale, but when antiques dealer Inga makes up another story to sell it for much more, it sparks off a series of events that ends up forcing them all to make confessions to one another about secrets and lies.
The play is very funny indeed, and Roger Haines's production for the Library puts all of the humour across effectively. Occasionally the play seems to be trying to be a farce but does not quite achieve the pace, but then a play does not need a classical structure to be entertaining. The idea of the 'safari party' - where a group of people get together for dinner but have one course at each of their houses - is a clever (and very Ayckbourn-esque) device that sets up the structure of the whole play, giving a reason for setting each of the three acts in a different house.
The actors are all superb in their parts. Claude Close as Lol looks as though he is about to have a stroke at times when things are going wrong, and Sue Wallace as Esther is superbly snobbish and pretentious - sort of a 'Hyacinth Bucket' character, but with funnier lines. Drew Mulligan as Daniel seems constantly on the verge of exploding with guilt, while David Partridge as Adam and Lindsay Allen as Lol and Esther's daughter Bridget are the calm ones who stir up the trouble and then try to hold it all together - usually by making up more lies. The cast is completed by Jenifer Armitage as Inga. Judith Croft's design is, as ever, perfectly suited to the play's needs, and the stage crew does a great job of performing the massive scene changes between acts - despite a technical problem on the night I went that extended one of the two intervals by ten minutes.
This is a very effective production of a very funny play and is highly recommended for an entertaining night out at the theatre.
"The Safari Party" runs until 14 May 2005
Reviewer: David Chadderton