Safe
Zoie Golding
Zoielogic Dance Theatre
The Point, Eastleigh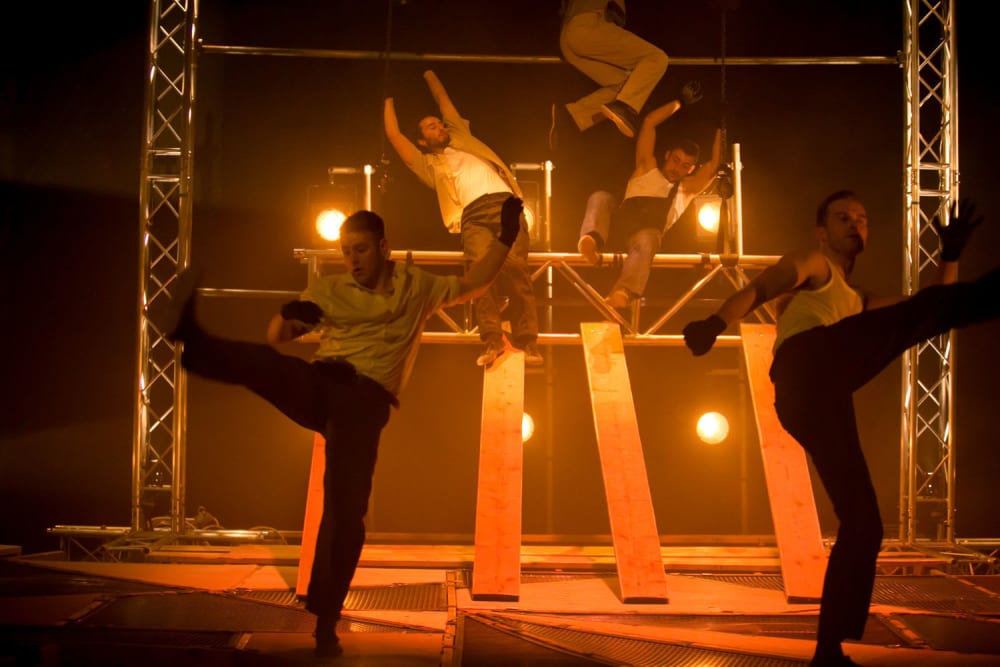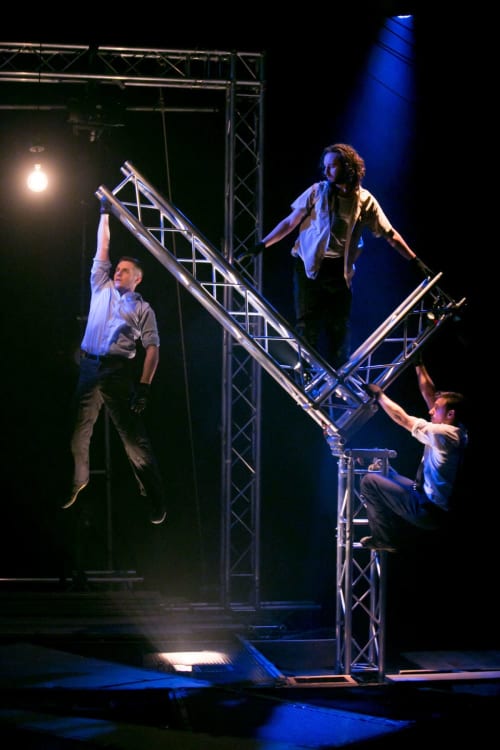 This new production, Safe, from Zoielogic Dance aims to explore male camaraderie and fragility by placing itself at the top of the Empire State Building during its construction in 1930s New York.
An all-male cast explores the relationships and tensions of this group of construction workers, risking their lives at great heights to build an iconic structure. The choice of imagined backdrop is an apt parallel to the company's aim to challenge images of men in dance, to break down stereotypes of dance for men and boys.
The Empire State Building is not only masculine in its shape and size, but dominated since it first began by the male patriarchal business and finance worlds, places that equally foster testosterone-fuelled, competitive brotherhood, often to the exclusion of others.
The piece starts slowly, with carefully placed contact movement and physical theatre, with a group of five male dancers moving together, sometimes as one unit, sometimes individually, about their set of steel and wood. These are dancers at play, exploring the space and testing all the ways in which they might move through it.
Some of the set folds, some lifts, and these moments provide fragments of the real danger that the construction workers would have been in. However, there is a real lack of actual threat in the piece, with most of the movement taking place on a large flat floor, we struggle to feel the fragility and peril of the situation, even when one construction worker is lost.
Scenes move quickly from one to the next, with gesture and mime used to explain the setting. However, there is no real character development, no individuals whose narrative we follow, for us to be gripped or engrossed in the story. The performers are strong, in particular Samuel Cook, who denotes his character with his hands clasped behind his back. However, any other characters are lost in the mix, and become hard to follow or invest in.
The performance is aptly named 'Safe' and this is how it feels for most of the time, not just in lack of risk-taking but in the sometimes tentative choreography. It gives the impression that it needs pushing to its furthest limits, and that the dancers, clearly with plenty of potential, also need pushing to reach extremes of movement and exertion, to reflect the setting that has been chosen.
With lines between circus and physical theatre and dance theatre merging more and more, audiences expect high-level physicality and risk taking, particularly from male performers. There is something refreshing about male dancers not relying solely on high level strength, leaps and lifts. However, there is a need for full extension of the body, of the choreography and of the theme that would come from stripping the very full piece back to basics.
To its great credit, and testament to the outreach work of The Point, the audience was full of young people, and not your typical dance theatre goers. This is invigorating to see, and hopefully the piece will have inspired some of those young people to take some risks of their own.
The show is now on tour until the 2 May.
Reviewer: Liz Allum