Saint Joan
George Bernard Shaw
Donmar Warehouse
Picturehouse, Stratford-upon-Avon and other venues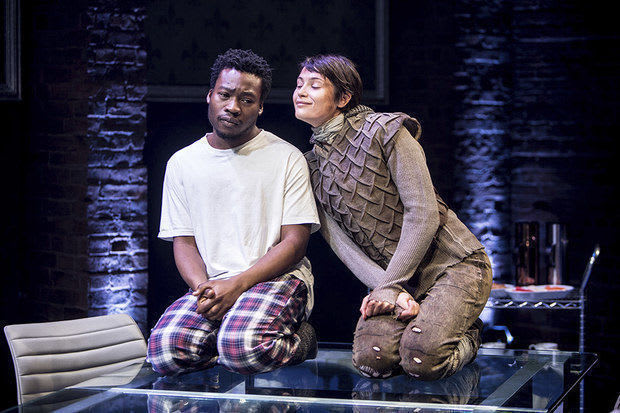 In Joan of Arc's ravaged France, the hens have stopped laying; across video screens, Bloomberg flashes charts about the rise in egg futures and the uncertainties in the milk market.
George Bernard Shaw's play may follow events of the 15th century, but in possibly the clearest exposition of his own views, they are presented with the penetrating scepticism of the 20th.
Fraud, coincidence or miracle? All are one to Niall Buggy's choleric Archbishop, provided they reinforce the faith—his faith, that is, in the Church Militant.
Listening to no voices but her own—whether from God hardly matters—Joan is fated to be the redeemer denounced as heretic, the saviour cast out as revolutionary. After she has won him the throne, Fisayo Akinade's weak, petulant Dauphin tells her: "my coronation is all your fault."
Director Josie Rourke takes the anti-establishment thrust even further, with every scene set around a modern boardroom table and against a projected backdrop of stock market quotations on the price of peas and suchlike.
It's understandable that Rourke should inject some action into the background, for the piece, typically for Shaw, is wordy, and the only battles are of ideas. Nevertheless, the inclusion of a supposed Evan Davis Newsnight report on off-stage events seemed a lame contrivance, and contextualising them within a frame of international capital was pushing things too far.
Beyond reproach, however, was the magnificent Gemma Arterton as Joan, seen praying with cross and sword long before the play begins. Just the power of her steely gaze seemed to pour ardour and determination into the empty vessels of the court.
In Shaw's even-handed way, the Maid's enemies are motivated by realpolitik not villainy. The play was written just three years after Joan's canonisation by the Catholic Church in 1920, and in a postlude Richard Cant as the formerly unmerciful priest de Stogumber mourns his part in her death. Was she a fanatic, a visionary, an accident of history? The play speaks eloquently for itself without the need to have her fall victim to a cabal of bankers.
The transmission itself was an excellent example of the virtues of live transmission. The Donmar Warehouse has only four rows of seats so the chances of getting a ticket for sell-out productions are slim. So what a blessing that this went out to 2,500 cinemas, preceded by a first-class introduction that the audience in the Donmar itself would never see. The smaller the auditorium, the better it works—another good reason for supporting your local community cinema.
Reviewer: Colin Davison