Saintly Sinners
Created by Leon Ancliffe, Kasper Cornish and Omar F. Okai
Above the Stag Theatre
(2008)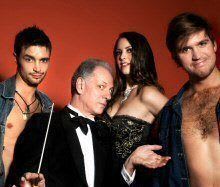 In contrast to the pantos aimed at kids of all ages that are mainly my lot at present, this show is one for the grown-ups, especially gay ones and straights who like things camp. Playing in a small 50-seat theatre space above what I take to be a gay-patronised bar lavishly decorated for Christmas, it isn't particularly seasonal but it does share with panto a bare-faced complicity with its audience - and that's not all that's bare. No, no, you never get actual full nudity - this is jokey titillation, not erotic entertainment, and very tongue in cheek (and that's not a double entendre!).
Saintly Sinners presents a series of burlesque-style numbers performed by Leon Ancliffe, Chloe Elizabeth Hunter and Jan Michael Hicks. They are interspersed with patter and songs from MC and musical director Martyn Niele at the piano, who does much to generate an appropriate ambience. With choreography by Caspar Cornish and director Omar F. Okai this is predominantly a dance show that draws much of its inspiration from the movies. It is a journey that takes the audience from Charlie Chaplin and Perils of Pauline melodramatics through to Brokeback Mountain by way of Clockwork Orange and Midnight Cowboy, which produces a number that briefly gives the evening a movingly serious twist though for the most part it is an evening that is gaily sending itself up.
The high-kicking choreography ranges from balletic tours to the splits and gives both the delectable Miss Hunter and the cowboys some risky (and risqué) lifts and there is a clever number that turns highland dancing into a strip-tease and becomes a running gag. The dancers fortunately still have breath enough to sing, while the audience get the chance to join in too for Mr Niele's numbers. Be prepared for a little more active participation as well, especially if you are sitting at the front. This punter found himself flourishing a water pistol.
Facing their first night an apprehensive cast did not seem to be having quite as much fun as the audience. Having got that hurdle over, able to enjoy themselves and be less self-consciously coy this should fly. Already at about 90 minutes (including interval) it left a happy house calling for more. The pleasure that this and other recent mixed entertainments give suggests that perhaps the time is ripe to bring back the revues that used to be a staple of the London stage.
Performances Thursdays - Sundays
Reviewer: Howard Loxton