Salome
Oscar Wilde
Theatre Lab Company
Hoxton Hall
–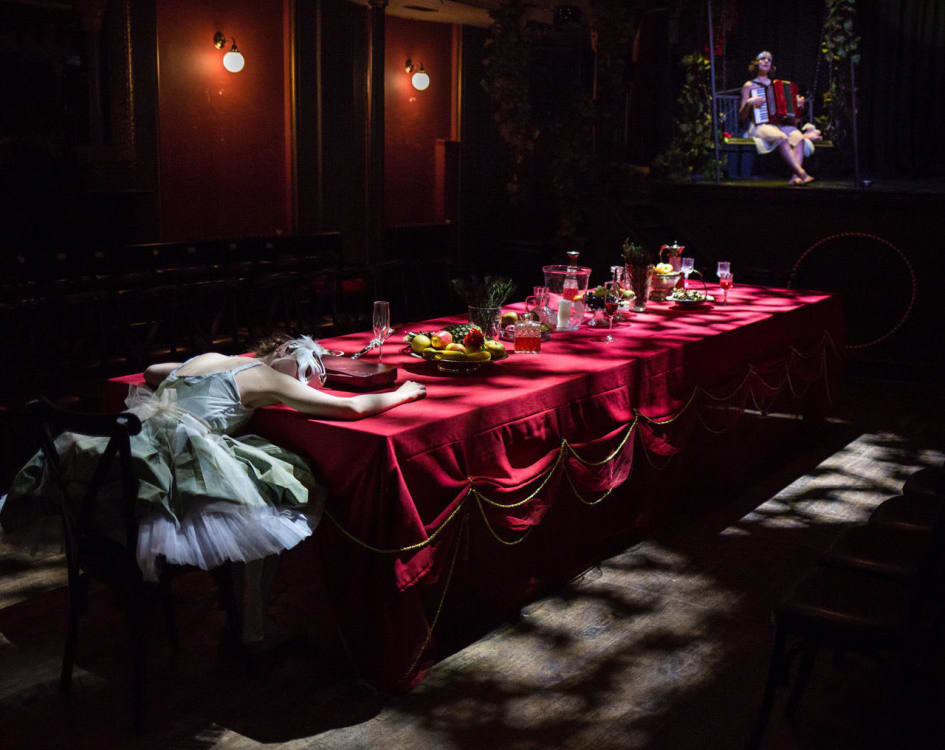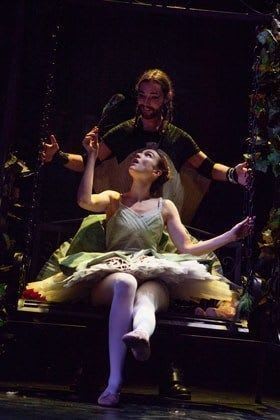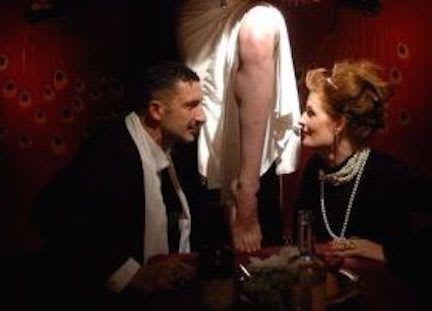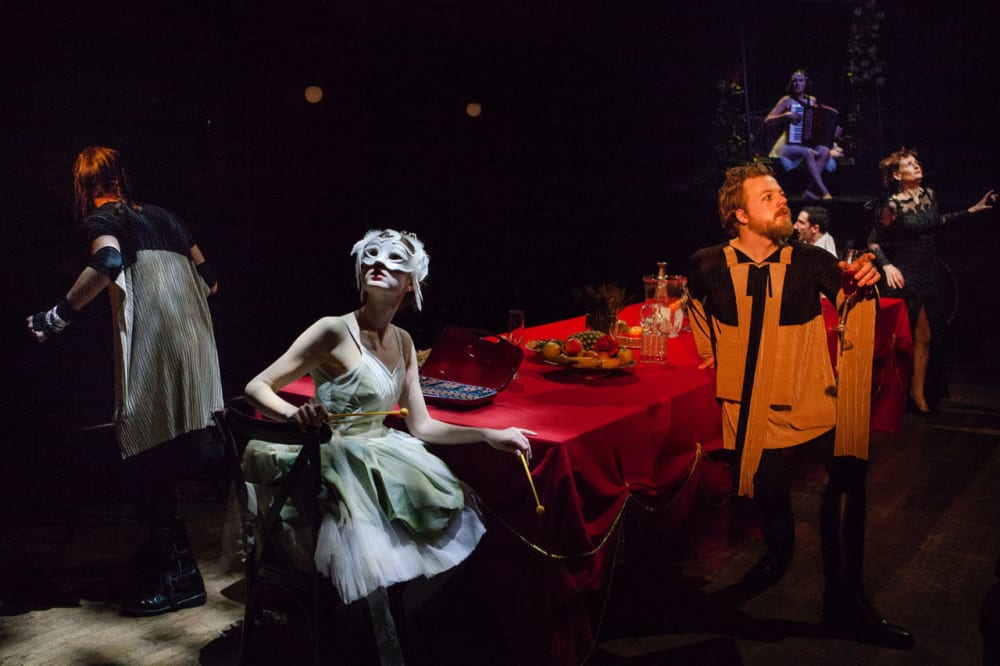 Anastasia Revi's presentation of Wilde's once-banned Salome was first seen in the intimate setting of the Old Cholmondley Boy's Club in Dalston. It has since played in Avignon, Thessalonika and Athens, reshaping its immersive staging for each specific location. It returns to London with Hoxton Hall as the setting where decadent King Herod is celebrating his birthday with a party.
A long banquet table stretches between an audience sitting in traverse, looked down on from the galleries. A girl in white tutu and a domino mask sits dozing over the table at one end. Opposite her, on the hall's end stage, an accordionist, also in white, sits on a swinging chair hung from an arbour. The first is Salomé (Denise Moreno), stepdaughter of the Tetrarch Herod (Konstantinos Kavakiotis), who has married her mother Herodias (Helen Bang); the other becomes the personification of the Moon (Annabelle Brown).
The production bursts into life with the entry of Herod and Herodias to a "Happy Birthday!" chorus, but this is a party that lacks guests; the audience must take their place. They witness both what is public and what takes place in private. Subsidiary characters have disappeared, lines have been cut and other roles absorbed into those of a young Syrian (Benoit Gouttenoire), newly made Captain of the Guard, and a man (Tobias Deacon) who at first replaces Wilde's page to Herodias.
The others disappear, leaving these two for Wilde's first scene. The Syrian can't take his eyes off Salomé in the next room, looking pale and beautiful; the other is fascinated by the rising moon, wan like a dead woman. From offstage, from his prison, comes the voice of Iokanaan (Matthew Wade) more commonly known as John the Baptist. The prophet has condemned Herodias's behaviour but now he fascinates Salomé who demands to see him.
The rich red covering of the table, the piles of fruit and wine in glasses sparkling under Yiannis Katsaris's chiaroscuro lighting create a decadent, exotic atmosphere but, though the physical creativity of Anastasia Revi is usually a highlight of her productions, this personified moon, who doubles as musician, felt wrong. Like Lorca's later, Wilde's moon is cold and controlling, turning red and full of portent, hiding behind clouds to plunge Earth into death's darkness, it is an all-embracing ambience not a character.
This ballerina Salomé at first seems innocently childish but Iokanaan provokes an awakening to both desire and horror. At first, her rapid delivery suggest a schoolgirl excitement and thoughtlessness but it needs time for thought and for reaction when she encounters Iokanaan and they are lacking.
That is a problem too with this powerfully played Herod. There is no sense of thought behind things, especially when self-questioning. He's too much the ranting melodrama villain. This isn't an easy text to play, especially when it is not your native language. Its reiterations can be very effective but risk monotony if not well handled. Wisely perhaps, part of one long speech enumerating Herod's treasures has been given to another actor but this production could revel more in its ripe language rather than indulge in melodramatic posing.
Iokanaan, instead of being hauled up from his cistern by guards, bursts through curtains. He is apparently unchained (though the red coils that are part of his costume may represent them). Having an actor gripping curtains is asking for ham acting; things improve when he is free of them.
The great confrontation between Salomé and the prophet is far too hurried to see the complex changes in her reactions as she handles surprising feelings and later, as Herod bombards her with requests to dance before him, we never see the moment when or understand why she decides to do so. When she does dance however—and there are no seven veils or gratuitous nudity to pander to the prurient—we see the change that has been happening as the girl becomes the sensual woman. While Herod becomes lasciviously comic, she revels in her sexuality and the dangerous power it gives her.
Anastasia Revi has her own way of handling the presentation of Iokanaan's head upon a charger (should we read it as suggesting that he too had been susceptible to Salomé's attraction?) and her ending could suggest another level to Salomé's experience. But is it valid? It is certainly one way of solving the play's final production problem.
Salomé always presents a challenge and, if this production does not entirely surmount it, it still offers a vibrant evening from a company that is not afraid to dare and dare again.
Reviewer: Howard Loxton