Salome
Richard Strauss
Opera North
Leeds Town Hall
–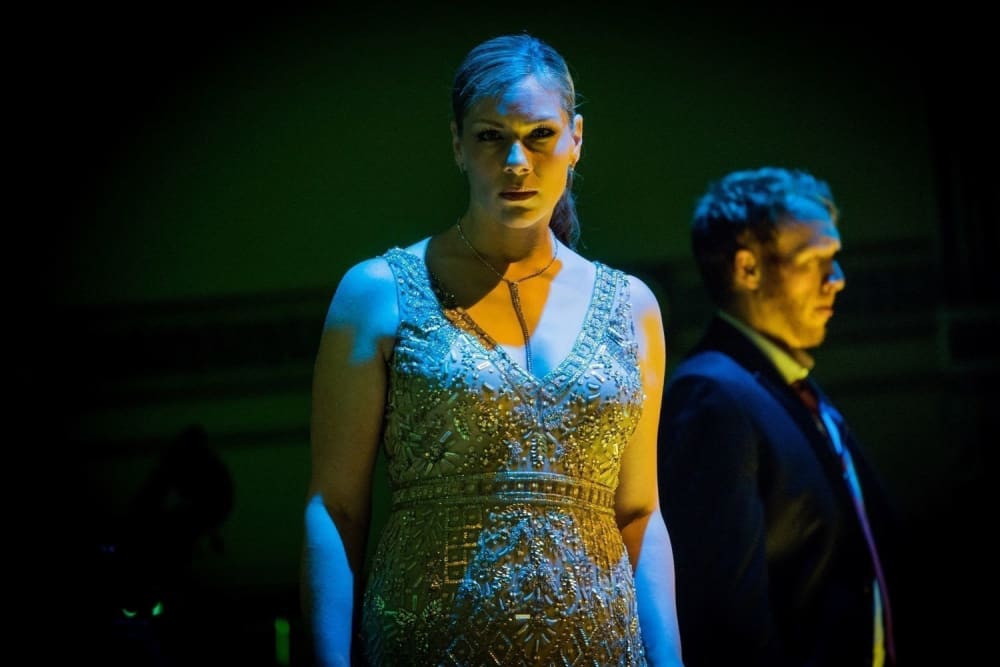 Opera North's series of operas in concert continues with Richard Strauss's scandalous and intense Salome, based on the Oscar Wilde poetic drama.
The concert format allows the company to play with full symphony orchestra, which would otherwise be a tight squeeze in their regular base at the Leeds Grand.
It also permits them to move relatively nimbly, touring this piece to a range of concert halls and arts centres round the country once it completes its three performances in Leeds's astounding Town Hall.
And aesthetically, the stripped-back staging permits a close focus on the musicality and drama of the piece, here bringing to the fore the incredible dynamics and contrasts in Strauss's score. Some minimal, well-chosen gestural work, excellent acting, and a simple lighting rig (designed by Jamie Hudson) all augment this to great effect.
In this famously lascivious retelling of the Biblical story, Salome (Jennifer Holloway), the beautiful young daughter of Herodias (Katarina Karnéus), is struck with passion upon hearing the voice of the imprisoned Jokanaan, aka John the Baptist (Robert Hayward). As he heralds the coming of the Messiah, Salome pleads with him for a kiss. When he refuses, she is driven to a vengeful rage.
When Salome's step-father Herod (Arnold Bezuyen) demands a dance from her she agrees—after extracting a promise from him to reward her with whatever she desires. Her demand is, famously, the head of Jokanaan on a silver platter.
Wilde's original play contains extravagances and repetitions, as the unstoppable force of desire meets the immovable object of religious conviction. Strauss distils and emphasises these, with Herod's passion, like Salome's, expressed through an escalating range of metaphor. Salome's response, "give me the head of Jokanaan", is unbending, albeit coloured differently each time through melodic and emphatic shifts.
Striking among a strong cast is American mezzo-soprano Jennifer Holloway in the title role. She tackles this demanding part with impressive power. At the best of times, this is a role which requires force, stamina and range, but even in the challenging heat of a sweltering evening, Holloway makes the technicalities of the performance look effortless.
Robert Hayward's Jokanaan performs the sections in which he's imprisoned in the cistern as an eerily disembodied voice (from my audience perspective at least)—which only adds to the mystery and drama of his pronouncements, and his eventual appearance.
The acoustic in Leeds City Hall augments the towering tragedy of the score, with the percussive 'beating of mighty wings' echoing round the space, and the superb playing of the full Opera North orchestra carrying beautifully. Never is the singing swallowed by the space, nor overpowered by this impeccably balanced orchestra, led by Sir Richard Armstrong.
This is a stripped-back, gripping performance of a compelling, quick-moving and multi-textured opera, in a sumptuous venue. At just over an hour and a half and with no interval, it is both impressive and accessible. Highly recommended.
Reviewer: Mark Smith