Salonika
Louise Page
West Yorkshire Playhouse, Leeds
(2008)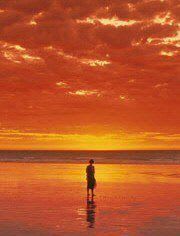 It's a quarter of a century since the first staging of Salonika at the Royal Court.
Writer Louise Page, in her programme 'discussion' with Swithun Cooper, states that, in the years between, everything has changed and nothing has changed. 'Twas ever thus and ever will be. She also says she saw no reason to revisit the script with a view to rewrites. A mistake I think. The script could do with a bit of editing and polishing.
It's a good story, well structured. Charlotte (Josephine Tewson) in her eighties, and daughter Enid (Lynn Farleigh) in her sixties, make a trip to the scene of the husband and father's death in World War One - the beaches of Salonika. There they find Peter (Daniel Bayle), lotus eating, living on a pittance from the war Graves Commission, bolstered by the sale of blood and semen. They also meet the long dead Ben (Paul Fox) - upright and uptight in his sea-soaked sand-encrusted uniform. Finally Leonard (Fred Pearson), Charlotte's would-be lover, turns up to plight his troth in all directions.
There are serious human issues here: the inevitability of aging and regret, third age sex, jealousy, war and peace, work and leisure.
Sadly the play gets off to a bad start. For some reason we are treated to a lengthy intro of cod 'northern' from Tewson and Farleigh (later to be topped by Pearson's by-gumming). The accent fits the actors like hastily grabbed, off-the-peg wedding clothes. It fits the text even less well. From the long dead Ben we get an accurately dated local pronunciation of 'water' - to rhyme with 'tatter' - but it's combined with grammar and speech rhythms more suited to a Kensington drawing room. Perhaps some lads in 1917 did say 'water' in sentences which (they would say 'that') included 'that which' and ' may' - but not many. Whose was the error - writer Page or director Foster?
Naturally this ill-suited accent is used to comic effect (sometimes the play seems to belong to the first half of the last century rather than the second). What jollies when, after the panto dame quips, the two ladies notice a naked man face down in the sand a few feet away from their act! Charlotte measures the sleeve of the jumper she's knitting against the sleeping arm and wishes its owner would roll onto his back, just so he could get an all-over tan.
The panto feel is maintained as Ben makes a Demon Prince trapdoor appearance, whooshing up through the sand.
Then, thank goodness, the play starts to get going, the plot unfolds, the accents become less intrusive, the fear that the audience will be not amused dwindles. And the sand gradually settles - who ordered the wrong sand and had the auditorium misty with its powdery substance - pity the actors working on that! Perhaps the emotional through-lines are ragged and tempers flare for no apparent reason becuase of dust inhalation!
However, five interesting characters, Charlotte and Leonard sadly stereotyped to the extent that Tewson and Pearson can rarely break free from cheap comedy and sentimentality - and it doesn't look like the actors' faults. But the implicit and explicit debates are sharp and involving.
Lyn Farleigh captures the hopes, dreams, despair of a sixty year old virgin who has devoted herself to her mother and work - in a shop. At times there is heartbreaking sensitivity in her performance. She drifts between brittle irritation and almost existential joy, between the ungainly and the faux sensual fluidity as she dances for her long dead father. There is promise in the air, or is there? Enid doesn't really know, neither do we.. but we do feel for her.
Paul Fox as the dead hero with a guilty secret is magnificent. The rawness and innocence of him (he'd been a farmer's lad, we learn) is so accurate and believable. His easy adaptation to tea bags as a source of fag makings, his choice of suicide rather than returning to the mindless war machine, his questions and answers, all reveal an intelligence, albeit untutored, not shared by the Donkeys responsible for the campaign and his death.
And a bouquet for Daniel Bayle's brilliant portrayal of the sun soaked, genial beach bum who, ever smiling, brings amoral logic into the mix. As Paul Fox, he is so good in this part you immediately want to see him in something else, just to be sure it's not a lucky break.
In fact the excellent performances of Farleigh, Fox and Bayle make Salonika worth a visit. With rewrites and sympathetic direction, the same could probably have been said of Tewson and Foster... and, given damp sand, the production as a whole.
Running until 16th February
Reviewer: Ray Brown