Saltimbanco
Cirque du Soleil
Trafford Centre, Manchester
(2005)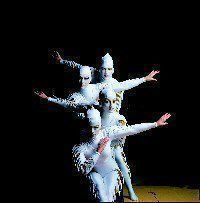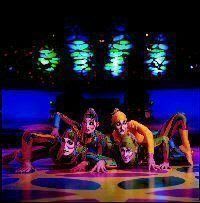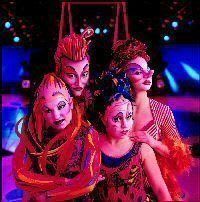 Cirque du Soleil, the French-Canadian circus company, has been around for over twenty years, but in recent times it has become a worldwide phenomenon. The shows tour with a small village including the big top (or 'Grand Chapiteau'), plus other tents, trailers, kitchens, offices, generators and even a school. It has become very fashionable to attend their shows, and the press releases list both local and international celebrities that have been to see them.
Saltimbanco - which is, apparently, an old Italian word for a street artist - is new to Manchester but is actually the company's longest-running show, having been on tour since 1992. It contains some very impressive acts, including twins on a high trapeze, a high wire walker who jumps between two wires at different heights and even rides a unicycle along one, a Russian swing that catapults people almost as high as the lighting bars and a beautiful aerial ballet by four performers on bungee ropes and trapezes. Traditional circus presents acts that demonstrate extraordinary feats of human skill, strength and daring, and Saltimbanco certainly includes these elements.
So what makes this different from other more traditional circuses? Rather than reinventing circus, as the title of one of their earliest shows suggests, Cirque du Soleil have redesigned and repackaged it. The acts are the same as they have always been, but the show has a more unified design concept from the scenery and lighting to the costumes and make-up. There is a specially-written score played by a live band running all the way through, and certain quirky characters keep popping up between the acts.
However these additions do not always add to the enjoyment of the performance. The design (set by Michel Crête; costumes by Dominique Lemieux) is wonderful and is the most important element that unites these disparate acts into a single concept. René Dupéré's music fits with the action, but by itself is a little bland and belongs very definitely in the easy listening category. The additional characters do very little most of the time and it is very difficult to see what exactly they are supposed to represent - they could have been given a story, but none is apparent. Some of the comedy links are quite amusing for a while but often go on too long, as does the excellent mime artist whose act eventually turns into a drama class exercise of miming taking different objects out of an imaginary box. Towards the end, the clown characters performed links that sent up the act that had just been on; these were the links that worked the best, showing off these performers' skills in physical comedy and acrobatics, and more links like these would have been welcomed.
The entrance tent is really a large merchandising shop, which contains a lot of very nice, but very expensive items - don't expect to find much for less than £20; many items are in the hundreds of pounds. The programme contains lots of very nice photographs, but, even so, £9 for a programme is the sort of extortionate pricing you would normally only expect at pop concerts and rock festivals. With tickets at up to £39 (plus booking fee) and popcorn at £3 a box, this could work out as an expensive night out for an average family.
Saltimbanco is certainly worth seeing for the amazing circus acts, incredibly skilful performers and the wonderful design. There is nothing fundamentally new or innovative about Cirque du Soleil's style; it is circus with a makeover rather than a radically new approach to the form. However the old circus acts have survived and are still capable of wowing audiences in the twenty-first century, however they are dressed up and sold to us.
"Saltimbanco" runs until 13 February 2005 in Manchester before moving to Birmingham
Reviewer: David Chadderton