The Mysterious and Fantastical Wartime Tale of the Salty Socks of Dunkirk
By Harry Long and Tim Bell
Shanty Theatre
Corn Exchange, Newbury, and touring
(2011)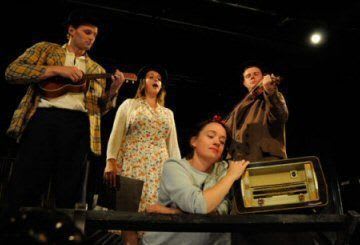 The multi-talented actor/musician cast of Shanty Theatre are exemplary "tellers of tales and spinners of stories." Their Mysterious and Fantastical Wartime Tale of the Salty Socks of Dunkirk was a sheer gem.
The multi-level set suggested an end of pier revue show with the affable Kate Adams as the master of ceremonies, ensuring a warm welcome for the audience and encouraging participation from the very beginning.
As the performance begins the audience are issued with safety goggles for the brick trick, all good fun that quickly established the mood with echoes of good old-fashioned music hall.
But this is a story with a much deeper content and the juxtaposition between humour and the seriousness of the outbreak of the Second World War adds poignancy to the piece.
The location of the play is a seaside town during the summer of 1939 (design by Trudi Molloy) where young 11-year-old Sid and his older sister Charlie are living out the joys of youth.
Theirs is a world of innocent childhood, playing out each day with pranks and letting their vivid imaginations run wild.
Samuel Martin superbly captures the mannerisms and exuberance of young Sid as he plays cowboys and indians or pirates and rings doorbells and runs away. But this innocent life is about to be shattered when it is announced on the radio that Britain is at war with Germany.
Amy Tweed is the voice of the BBC and Sid's adolescent sister who meets a stranger on the pier (Ben Tolley), who is clearing tangled nets and thinks he is a 'Merman'.
When the call to rescue the trapped servicemen from Dunkirk is announced Sid decides to take his small sailing boat that he names HMS Kathleen across the Channel to France to help in the evacuation of the troops.
Kate Adams sensitively portrays his worried and protective mother as she waits to hear news about Sid undertaking such a dangerous, epic adventure.
He manages to rescue a shell shocked, delirious soldier who turns out to be a deserter, strongly played by Ben Tolley, and so Sid brings him home safely and is acclaimed as the youngest hero but his life has been changed forever in what is a harrowing right of passage - "he sailed away so far away and came back lost."
Imaginatively directed and written by Harry Long and Tim Bell with original music by Stu Mcloughlin, this was a spiffing story told with zeal and warmth from a spirited versatile company.
"Salty Socks" is touring until October 15th
Reviewer: Robin Strapp