Same Same
Shireen Mula
fanSHEN Theatre
Lady-Led Season Oval House
(2011)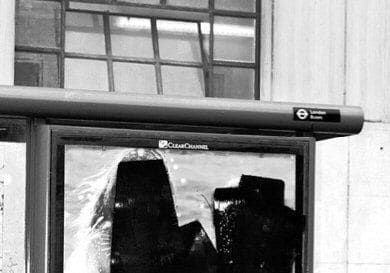 Same Same rests on your lap and gently strokes you; it's a vulnerable piece, and it needs you to look after it. It's uneven and feels very young at times, but it's a curious and engaging exploration of the relationship between a daughter and a mother and how we construct our identity as time goes by.
It's Asha's birthday today; she is 21. Her mother, Nid, is waiting on a platform at King's Cross station, recollecting the passage of time that has separated them and the decision she made all those years ago. Yet this isn't a play that lingers in its drama, but one that oscillates with care between the two characters, searching not for causes but for repercussions. Mula's text is a kaleidoscope of the possible outcomes of a decision and its emotional realities. It takes you on a journey of mentalities, of raw emotions and moments that have marked these character's lives.
The staging is potent in its simplicity; numbers counting up and down between two and twenty line the walls; a bed hides in the corner of the room. The rest is up to Nid (Bharti Patel) and Asha (Zoe Nicole), and, for a brief intervention, Ray (Joseph Radcliffe). It's the one, so absent from this timeline, that marks the central conflict of the play, and its absence both visual and narrative is a powerful one.
Patel embodies an impressive array of characters with such an infectiously warm smile and a skill to evoke, exploring motherhood in its entirety. She steps carefully and gently across the bare stage, and reaches out to the audience with an eagerness to share her narrative. Nicole is feistier, juggling her legs around the stage in frenzy, trying to appease the two halves of her which now seem so foreign.
Shireen Mula's text has an intriguing theatrical mechanic: it plays with time and character but without losing the scope of the narrative. As such, it's a journey through a myriad of perspectives, imagined and real, and, despite its complexity, its strength lies in the lyrical simplicity of its text. There are some narrative threads that don't really get carried throughout- the issue of the mixed gender daughter, the insecurity behind the mother's decision, and the rawness of youth.
At the same time, the piece journeys through so many delicately intimate moments, through characters' deepest fears, regrets and hopes, that Same Same can't help but be charmingly uneven and emotionally powerful. Its disrupted, jigsaw storytelling is symptomatic of a writer whose faith lies in the power of dramatic structure to suggest, playing with narrative lines and blurring time and space.
"Same Same" runs until 10th December
Reviewer: Diana Damian