Sammy - A Word That Broke an Empire
Partap Sharma
Waterman's Arts Centre
(2007)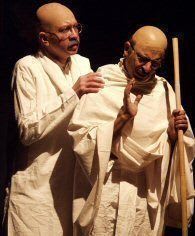 Gandhi's name is synonymous with India's independence and Satyagraha, non-violent resistance. He was an inspiration to millions in India and beyond, including some political giants such as Martin Luther King Jr. and Nelson Mandela, to name but two. It is therefore appropriate to mark part of India's 60th anniversary celebrations with a play which centres on his life.
The title Sammy carries some of the magnitude of the man who turned a slur into a triumph of strength. Sammy is derived from the word 'swami' which was used by South African's whites as a demeaning term for Indian workers. Gandhi, who was not spared that insult, succeeded in elevating the term.
Sharma's attempt to provide an insight into Gandhi's life is a very ambitious undertaking, particularly as films including the 1982 award-winning film Gandhi, an opera and plays have been written and produced about his life.
This play amounts to a zigzag journey into the life of the man that led India to independence and inspired movements for civil rights and freedom across the world.
The large and deep stage affords smooth scene changes which are marked by dimming lights. Supporting characters performed more than one role.
The drama created to convey something of the great man's achievement is turned to resemble a slide show rather than an evolving drama. There was an attempt to follow his life chronologically which led certain events being performed as disjointed episodes sandwiched between other episodes in the protagonist's life.
Gandhi (Joy Sengupta) traveled to the UK, South Africa and back to India. His transformation from the young barrister with half-baked ideas into a man with strong convictions evolves before our eyes in the course of the diffused scenes. Meetings, dialogues some of which come across as monologues from figures such as General Smuts and Jawaharlal Nehru (both parts acted by Zafar Karachiwala), Jinnah (Vikrant Chaturvedi), Lord Edward Irwin, the Viceroy of India and Lord Mountbatten (both acted by Denzil Smith). In consequence, they appear as an artificial implant in the patchy depiction of Ghandi.
Gandhi's conscience is personified by the creation of a character named 'The Mahatma' (the Great Soul), acted by Ravi Dube. The dialogue between The Mahatma and Gandhi communicates something of the process where conflicts and doubts are integral to fashioning his views and actions.
The domestic scenes are affectionately and humorously drawn. The young Gandhi's loving wife Kasturba is delightfully performed by Neha Dubey. Though illiterate, she comes across as wise and intelligent woman whom he could consult. His views on education and women's right are summed up in his comment to his wife: "I should have taught you to read and write and not merely had lust for you", to which she replies "lust?" and the word "love", on Kasturba's lips fleetingly, dissolved unuttered.
His aspiration for purity that led him to promote celibacy was pronounced as the adoption of Brahmacharya. In order to practice that philosophy he informs his wife that they ought to stop sharing the same bed and even avoid being left alone in the same room. These scenes generated roaring laughter from the audience on the night I attended the play.
The play, directed by Lillete Dubey, is stymied by being heavily at the service of adherence to chronological events rather than in developing characters.
Reviewer: Rivka Jacobson