Samsara
Aakash Odedra Company and Bagri Foundation
Aakash Odedra Company and Bagri Foundation
Northern Stage, Newcastle


Listing details and ticket info...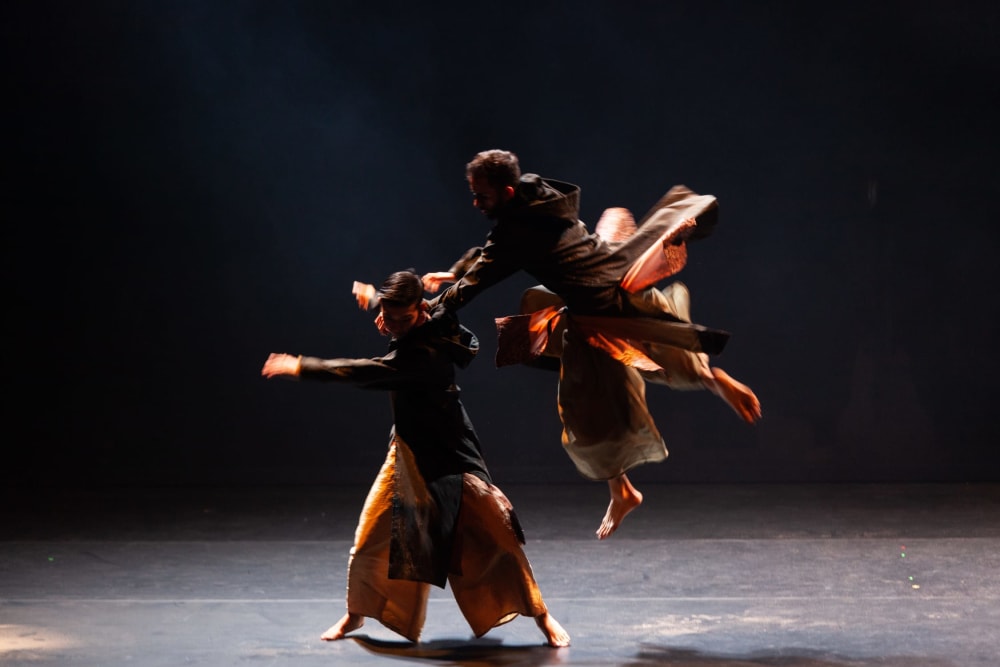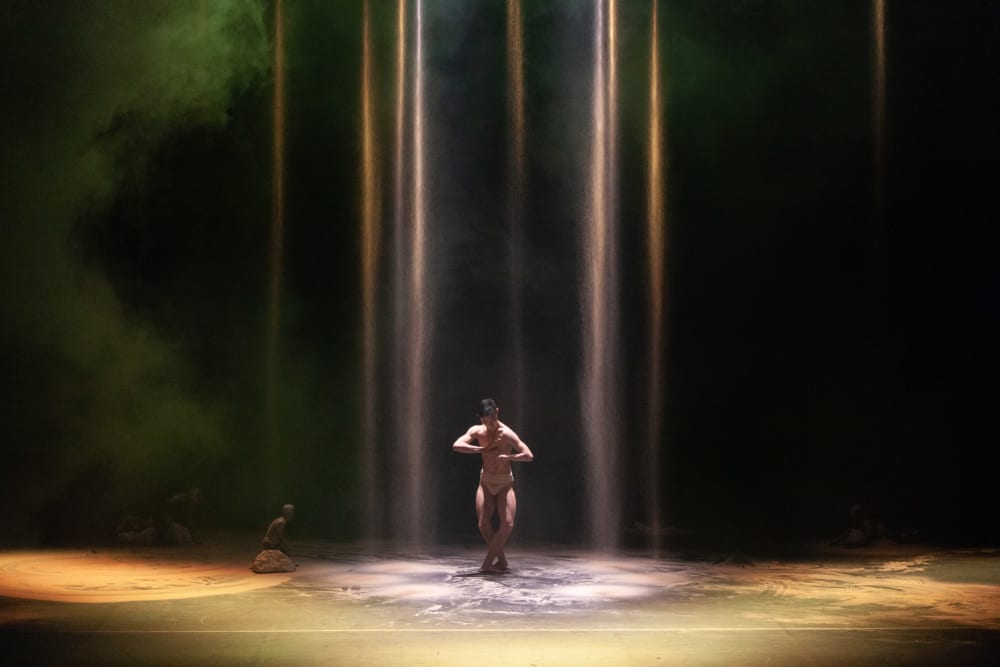 Samsara is a full-length duet by Aakash Odedra Company and Bagri Foundation. This is a formidable, epic and spectacular production with the two dancers, Aakash Odedra and Hu Shenyuan, complemented on stage by a thrillingly expert trio of musicians. With dynamic and sensitive lighting by Yaron Abulafia, an unusual and artistic set more like an installation by Tina Tzoka and costumes by K H Lee, this is a richly rewarding dance theatre performance.
Samsara is inspired by the 16th century Chinese novel Journey to The West and we first encounter solitary figures on stage that, surprisingly, turn out to be statues. Then dancer Hu Shenyuan, down-lit centre-stage, performs an exquisite, abstract, almost calligraphic solo, which he draws on again at the conclusion of the piece. As the work proceeds, Aakash enters, there's a real feeling of the journeying monks and their first encounters are at first hesitant and wary, then playful, building to a powerful dance, of which there are a number throughout the performance.
There is a middle point when, with only the musicians on stage, Nicki Wells, who is also the composer, sings passionately and movingly. It is really striking. Indeed, the music is exceptional, using different cultural sounds and performance styles, whilst bearing huge emotional energy.
Both dancers are compelling, Aakesh, with a background in Kathak, has a raw and fierce intensity, best seen in a solo in the second half. Hu Shenyuan has total command of a fully developed ballet and Chinese contemporary dance technique; his magnetic gaze held the sold-out audience. In fact, I could have wished for even more dance as there were quite long passages of mime-based movement and tableau, often emulating statues.
What is clear is the quality of all aspects of the work, the resources employed and the creative team itself; contemporary dance is so often underfunded, and this wasn't!
Thematically, the respect and love for Eastern spirituality and particularly Hinduism, was very strong and beautiful with dramaturgy by Lou Cope. I found the stage set particularly supported this, with the aforementioned statues and use of sand representing the earth and struggle, whilst evoking a mystical world. Ultimately though, it was the sheer charisma of the dance and the dancers that thrilled us all!
The tour continues to Sadlers Wells, London 17–18 October, Birmingham Hippodrome 23 October and Le Comete, France 6–7 April.
Reviewer: Dora Frankel