Samson et Dalila
Camille Saint-Saëns
Grange Park Opera
Grange Park
–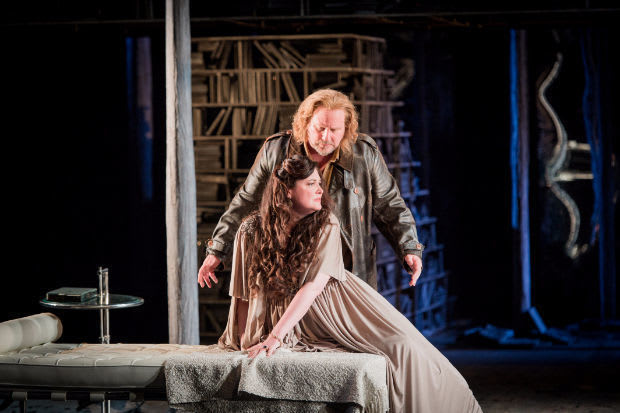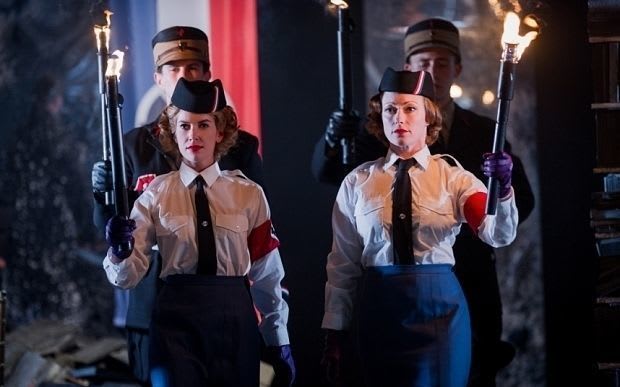 Charcoal-covered books litter the set in Grange Park's new arresting production of Samson et Dalila.
This well-known biblical tale has been set by director Paul Mason as a Nazis versus Jews fight. Though there are no swastikas, the uniforms resemble the Gestapo and this, coupled with red armbands, Heil Hitler style salutes and ceremonial burning of Jewish books, certainly intimates the connection.
Ashen-bound volumes rise up as pillars, balconies and podiums and from the gloom emerges an excellent young chorus of Israelites whose melancholic fugue "Dieu, Israel" is a spine-tingling start to the show. Samson (Carl Tanner) rallies his people with a rousing aria and Tanner certainly has the voice to rouse an army. This role fits like a glove and he easily sweeps us along with his powerful tone and soaring range.
Unfortunately, here is where my unilateral praise of the show has to end. As the name suggests, Samson and Dalila is a duet against a background of turmoil—at nearly all times one of the leads is on stage. Sadly, Sara Fulgoni's was not on form; her warm tone and easy vocal range was evident but this was over-shadowed by a lot of problems with tuning, wide vibrato and muffled diction.
The cast and orchestra are not aided by Gianluca Marcianò's weak conducting. This results in moments of disconnection amongst the orchestra and with the cast. Despite this, the Bournemouth Symphony Orchestra demonstrates some wonderful playing bringing out the great structure to Saint-Saëns work and the interesting instrumentation.
Unusually, a highlight of the night actually arrives when no-one is singing. A cast clad in black tie and divine satin gowns sit watching propaganda at a posh evening soirée.
Saint-Saën, like many of his contemporaries, was caught by the idea of the "Other" and this can be heard in the orientalistic touches employed in the ballet number—the Bacchanale in act 3 scene 2. The orchestra really shows off here, romping through the exciting score. Instead of a ballet, the chorus grabs our attention with its excellently staged reactions to the movie (imagined playing above the audience's heads).
The chorus was filled with vigour and dramatic imagination throughout, but this hadn't rubbed off enough on the principles. This is a beautifully staged production, with great feeling for pace and excitement, but it lacks heart. Mason hasn't manage to engage the performers enough with their characters and Sara Fulgoni is missing the charm and seductress side to her character.
Grange Park are brilliant at exploring the wealth of lesser-known repertoire alongside their more mainstream fare. Although musically this didn't always hit the spot, this production deserves to be snapped up by other opera houses as it's a great advert for this unfamiliar opera.
Reviewer: Louise Lewis