Sango/Iyanu (Miracle)
Sakoba Dance Theatre
Arc, Stockton
(2006)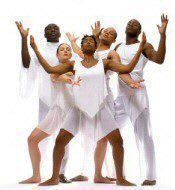 Bode Lawal, the choreographer, director and inspiration behind Sakoba ("New Dawn") Dance Theatre, is as committed to education as he is to dance and so it was fitting that the performance at Stockton's Arc should begin with three pieces from young people with whom the company has been working. They were from a local secondary school (Our Lady and St Bede Roman Catholic School), Stockton's Riverside College and Northumbria University. Arc's director Kevin Parker, who introduced the three pieces, refused to describe them as "curtain-raisers" for, he said, they were excellent works in their own right. And he was absolutely right. They were very impressive, particularly as the school children and Riverside students had only one day with the company.
Sakoba's work is based on traditional Nigerian dance but is strongly influenced by Western contemporary dance and even classical ballet. Lawal is, in fact, creating his own dance language which is true to the African tradition but influenced by a multitude of different dance styles which, in his own words, "can be made to complement each other, to enhance each other, in some cases to fuse, communicating with a wider audience ... across cultural differences."
The two pieces in the programme are very different. Sango (pronounced Shango and named for the Nigerian god of thunder) is based on ritual dance and remains very close to its origins. It is full of vibrant life and excitement, along with not a little humour. There is a fairly strong narrative line running through the piece which makes it very accessible, even to those who are unfamiliar with either African or contemporary dance.
Iyanu (Miracle) is a very different piece. It is more spiritual and contemplative - indeed, more abstract - and, although the African elements are still strong, the influences of Western dance are more apparent. There are mood shifts aplenty and the dynamic changes frequently, making for fascinating viewing.
The company of six (including Lawal) and three musicians are a very mixed group, hailing from Nigeria, Trinidad, Australia and the UK, and comprises both black and white dancers. They perform with boundless enthusiasm and energy and reflect the African/Western fusion of the dance.
The show tours to The Place, London (18th March, 8.00pm) and Bowen West Theatre, Bedford (25th March, 8pm)
Reviewer: Peter Lathan