Sans Object
Compagnie 111 - Aurélien Bory
Presented as part of the London International Mime Festival
Queen Elizabeth Hall, London
(2011)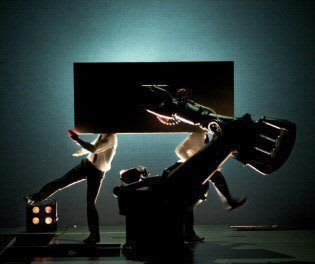 Aurélien Bory's fifth production to be presented at the London International Mime Festival is another fascinating theatrical experiment with object, space and puppetry. Whilst not as magical as other pieces (Les Sept Planches de la Ruse was a revelation), there are nevertheless some riveting moments.
The lights in the Queen Elizabeth Hall slowly illuminate a huge triangular shape centre-stage. A black plastic covering (not dissimilar to a thick bin-bag) is stretched to its limit and begins to be gradually twisted (nothing in Sans Objet happens fast) into different shapes. These shapes morph the colossal bin-bag into an alien-like creature, or a sweet giant peering at us innocently. The texture (beautifully lit by Arno Veyret) has a watery quality, which concurrently creates a sinister and shady atmosphere.
Dressed in sharp black suits and crisp white shirts, the shape is joined onstage by Oliver Alenda and Olivier Boyer. They strip it of its covering to reveal a clunky machine staring at them. It's difficult to imagine a show whose star is a 1970's automotive robot, but Sans Objet is exactly that. It's also difficult to imagine a show in which a robot can amuse us for over an hour, and unfortunately Bory's central 'puppet' is not the most theatrical of creatures and much of the performance is as heavy-handed as this protagonist.
The machine is incredibly strong. It lifts the two men into the air, and pushes them into holes in the floor. It clasps itself to the large planks of wood that make up the set and lifts them into vertical positions. The performers climb over him and find themselves hanging onto these planks of wood in mid-air. However, the incredibly slow pace undermines the fleeting moments of beauty created. There is no sense of danger or surprise throughout the performance - and after fifteen minutes of enjoying the novelty of watching such a powerful machine in a theatrical setting I yearned for a more exciting way of utilizing it.
The most stirring image of the evening comes with the hiding of this machine. The bin-bag material creates a giant, black, shiny safety curtain that covers the entire proscenium arch. Being pulled and pushed from behind, with lights creating pools of water and glimpses of shapes on its surface, the space is completely transformed. Suddenly, shots are fired from behind and holes are shot through the plastic, through which bright light (emitting from our robot friend) streams intensely. It is utterly compelling - I could have watched this, and a resulting drama, for much longer than the previous hour's robotic ambling.
Reviewer: Terry O'Donovan