Santa Claus and the Christmas Adventure
Paul Daniels
Ambassadors Theatre, London
(2011)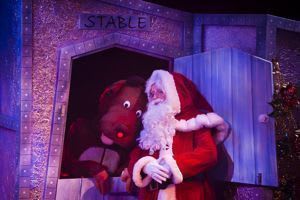 Aimed at younger children aged 3-7 and playing during the daytime while Stomp continues its usual evening and matinee shows, this is a forty-minute plus piece. It asks for pantomime-like co-operation from its audience in solving Santa's problems when fog seems set to stop him setting off on his Christmas deliveries to children around the world.
A bouncy little elder elf and his tall, thin lady elf companion rush around the stalls getting to know everyone before the show begins, trying to warm up the atmosphere of a house of parents, aunts, grandmas and tots who have only an empty set to look at with a border of what I suppose are meant to be icicles above it, and in the middle a map of the world with little bulbs showing where Santa's helpers are waiting ready to help him get his parcels out. This is part of the control system which is voiced by Lesley Josephs. Meanwhile, an unseen DJ plays records that don't always seem matched to the audience until we finally reach "Jingle Bells", and then one feels the show may be about to start.
When it does, our elves are up on stage continuing their interaction with the audience, but there is a problem: Cara can't see Charlie, only we can because he has drunk some invisible ink. We are now in the control centre of Santa's ice castle and the elfin double-act has gags like Cara asking Charlie, the "very silly elf", how he manages to do so many very silly things in one day (Answer: "I get up early").
When a jovial Santa arrives in traditional garb, it's time to find a solution to the problem of how to travel through the fog. Charlie has an idea: there's Rudolph the reindeer with the red shiny nose that's bright enough to see through anything. Cue for a "Rudolph the Red-nosed Reindeer" singalong. But where is Rudolph? The other reindeer have been bullying him so he has gone off to live in Croydon ("It must be really bad to make anyone live there"). No, actually he hasn't left—the fog you see.
Muffin, "a very silly bear" turns up (voiced by Ian Talbot). He's sent off to find Rudolph but comes back having forgotten about it. Meanwhile Santa shows off some simple conjuring tricks, devised by magician Paul Daniels. Another singalong produces Rudolph ready and willing. But now Santa has lost the key to the sleigh and the audience is asked to help search for it. With a lot of help from the elves, a little girl finds it beneath her seat and the elves escort her to give it to Santa. Loaded with presents, the (offstage) sleigh is ready to go, and with a countdown and a burst of dazzling light it takes off.
It is a very simple plot, straightforwardly directed by Carole Todd but played with enormous enthusiasm by its performers, and that seems enough to generate enthusiasm in the very young audience. It is the first Christmas children's show I have seen this year so I can't make comparisons but I felt I could have been at a Butlin's Holiday Camp entertainment some decades ago. It is fun in its way but it didn't capture the imagination in the way many of the shows designed for children I've seen earlier this year have done.
At the end, every child has the opportunity to visit Santa in his rather empty cubby-hole of an office and receive a present, but, given the ticket price, don't expect a lavish one.
"Santa Claus and the Christmas Adventure is at the Ambassodors Theatre until 31st December 2011. It is also being present with different live performers at the Fairfield Hall in Croydon 2nd – 30th December and at the Epsom Playhouse 7th- 31st December.2011.
Reviewer: Howard Loxton