Sappho... in Nine Fragments
Jane Montgomery Griffiths
Second Skin Theatre
White Rabbit Cocktail Club
–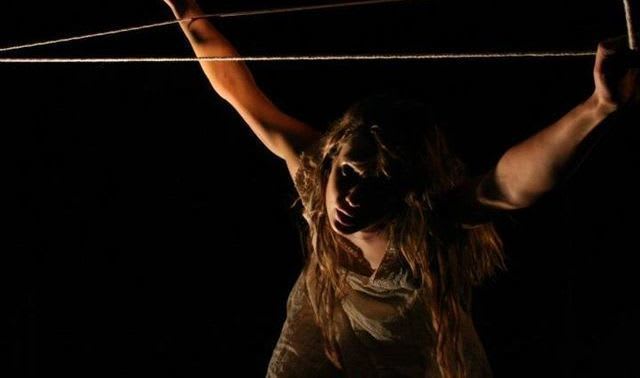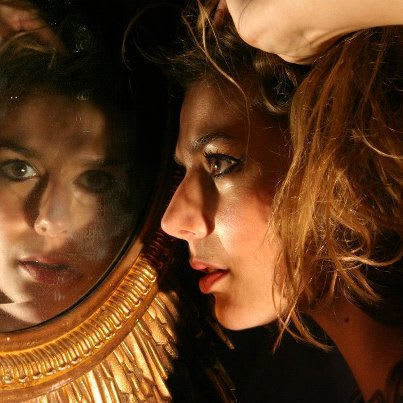 Sappho was a poet highly regarded by the ancients. Plato is said to have called her the tenth muse.
Although the great library of Alexandria had nine volumes of her verses very little has come down to us. Only one complete poem has survived through the centuries. Three others seem nearly all there but of the rest we have 200 or so fragments, some known only from quotations in other people's work. It is these fragments that are at the core of this play by actor, director and academic classicist Griffiths, inspired as much by what we do not known about Sappho as what we do.
Born in the late seventh century BC on the island of Lesvos (Mytilene), she was exiled for some reason to Sicily, anything more is largely conjecture. She was said to be a wife and a mother, some claimed she threw herself from a cliff on the island of Levkas, committing suicide over a ferryman, but though there may be clues in her poetry most of what later centuries have said of her may be invention.
What can't be denied is her fame as a poet and one who wrote about love, and often of her love for women to the extent that her name and that of her birthplace have been borrowed to describe same-sex love between women.
Griffiths gives us a Sappho who pours scorn on the way others have presented her, even as she builds her own image of Sappho inspired by her verse. It deals less in hard facts than it does in emotions, imagining a strong-willed woman who is not all sweet affection.
At first the performance is as shrouded in mystery as the realities of Sappho's life. Director Jessica Ruano and her designer Ana Ines Jabares present us with a scaffolding cube draped with pieces of cloth. Below the fabric one can see criss-crossed ropes and perhaps catch a glimpse of a hand, and when the lights go down to a phrase of music that sounds as though played on ancient instruments we hear a voice speaking Greek and fragmentary shadows appear on the fabric.
Once the mood is created and the language changes to English, then Sappho herself emerges and begins to rearrange the cloths to reveal a cat's cradle of ropes, a hint perhaps of the ships that took her off to Sicily and her other travels, a spiders web, a children's playground but in practice a support and suspension that enables the performer to achieve remarkable balances and acrobatic gyrations.
And what a performer! Victoria Grove makes this aerial choreography seem second nature as she plays not just one but two roles, or one could say three. Long-haired and bare-footed in an elegant pleated, blue-grey gown that even looks good when she hangs upside down she gives Sappho not only a sharp intelligence but a deep, mellifluous voice. As she explores her own image and her passionate emotions she introduces one of her lovers, a young woman called Atthis, and then becomes her.
This Atthis projects us out of the past into the present. She is a modern Atthis, a young American actress, bewitched by the star who is playing Medea, Sappho in twenty-first century reincarnation, and through this mirror of the past presents their tempestuous relationship.
This complex and multi-faceted script, its fast-changing feeling paralleled by its demanding physicality, offers more than can be absorbed at one hearing but in a bravura display of technique and emotion Victoria Grove holds an audience captive for some seventy minutes. Bravo!
Reviewer: Howard Loxton