Saraband
Ingmar Bergman, adapted and translated by Ulla Svahnström Kaplow and Jeffry Kaplow
Jermyn Street Theatre
(2008)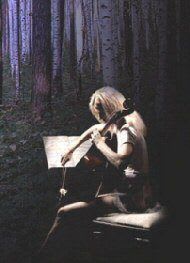 This is a stage version of Bergman's last movie, released in 2005, which was itself a sequel to his Scenes from a Marriage, a 1973 film and six-part television series (of which a version by Joanna Murray-Smith was staged at Coventry by Trevor Nunn last year). The first film was about the stormy marriage and divorce of lawyer Marianne and her academic husband Johan and here the story is picked up twenty years later. This 'sequel' stands up on its own; knowledge of the earlier part of the story may add resonance to the relationship but is certainly not necessary.
Marianne has had a second marriage, to a glider pilot who has disappeared into the blue. One of her daughters with Johan has emigrated to Australia; a second is being cared for in a home where she does not even recognize her mother. Johan has been on the staff of an American university but, inheriting money, has returned to a house beside a lake in Sweden with a family cottage nearby where Henrik, his recently widowed son from a marriage before that with Marianne, is living with daughter Karin. Most of this is explained in an opening exposition from Marianne. This is a play in which a number of episodes, especially those from the past, are described rather than enacted, sometimes it feels at too great a length, especially when most of the action is in a succession of compact scenes.
Marianne has felt the need to re-establish contact with Johan and, although he has rejected the idea, she comes to visit. Eileen Nicholas gives her a gentle tolerance with a hard-core unbudgeability that fits a lawyer specialising in divorce. This seems to be a woman who knows herself even when she claims she doesn't.
Jeffry Kaplow gives Johan a hint of an American accent picked up during his years in Minnesota. You can also see the likeableness that draws Marianne back to him, with a hint of the tetchiness that makes him a difficult partner and grows into full scale enmity when faced by his musician son who professes to hate him. Kaplow could perhaps show more of the insecurity which he disguises by his selfishness.
Philip Rham as Henrik touchingly shows his continuing hurt at the loss of his wife from cancer but doesn't quite suggest the unhealthy closeness of his relationship with his daughter, despite a scene when he rests his head upon her bosom.
Augustine Seymour as talented cellist Karin gives us a young woman as yet unspoiled by the world and it is her need to escape from the pressures of her family's conflicts and its self-interested investment in her that becomes the pivot of the story. The Sarabande of the title is a particularly difficult passage in one of Bach's suites for cello that her father wants her to play for a conservatoire audition and his music provides a beautiful underscoring for the play. Seymour has a delightful freshness but, in quieter passages, could learn from the clear articulation of the older actress.
Derek Bond's direction is unobtrusive, though James Perkin's set of closed blonde wood doors with suspended columns of chopped-up chairs is rather clumsily symbolic (of broken marriages and opportunities not taken perhaps?), at one point they open up - not to let in the world but to allow a bed to be lowered in for a scene, that seems to suggest that it is not sex but cosiness offers a solution to their problems. Rather than chopped up chairs I'd rather the actors were given something more comfortable than the box they have to sit on for some of their duologues.
Running about an hour and a half, without an interval, this left me wishing it was longer and gave us a more detailed look at these interesting people - but perhaps that would have meant expanding Bergman's text beyond what his film script allows.
At Jermyn Street until 16th May 2009
Reviewer: Howard Loxton