Satin 'n' Steel
Amanda Whittington
Nottingham Playhouse
(2005)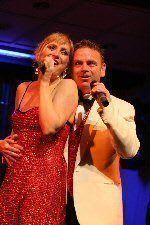 A play about a cabaret duo aiming to make it big but having to slog their way around working men's clubs sounds as appetising as the meat pies served up in some of those venues. But Satin 'n' Steel is a well-crafted, well-acted production that's a pretty tasty offering.
It's the story of singer Vince Steel, an entertainment veteran who teams up with rookie Teena Satin. On his own he's unlikely to get to the top. But he and Teena can become as big as Kenny Rogers and Dolly Parton.
Amanda Whittington has come up with a script packed with hope, emotion, love, jealousy and sadness.
It's a two-hander so it calls for actors who can hold a tune without sounding like some of the personalities who've been holed up in the Celebrity Fame Academy for the past week or so. Director Esther Richardson has made an excellent choice in Norman Pace and Sara Poyzer.
Pace has come a considerable way since being half of that other double act Hale and Pace. He's becoming a respected all-round entertainer: he played Amos Hart in Chicago on two occasions and last summer turned his hand to Shakespeare in the RJ Williamson open-air festival which stopped off in Nottingham.
As Vince Steel, Pace looks and sounds the typical club act who realises he's near the bottom of the ladder yet has the drive and yearning to climb right to the top if he gets a lucky break.
Pace has a reasonable voice, pulling off a decent rendition of Johnny B Goode and gyrating across the stage with movements any Elvis impersonator would approve of.
Poyzer is similarly impressive. You have no difficulty believing she's an overlocker from a working-class family who enjoys being thrust into the limelight and wants to make it big too until a couple of twists force her to reconsider her future.
Teena is initially totally lacking in confidence when she appears on stage alongside Steel. Her transformation is gradual until she takes over the act. Poyzer's voice is slightly stronger than Pace's, giving credibility to the plot lines.
Together they're a classy act in harmony who are also good at the bizarre, including an uptempo version of John Lennon's Imagine complete with robotic dancing and YMCA with Teena wearing a silly blue wig and false moustache.
Satin 'n' Steel is a collaboration between Nottingham Playhouse, Bolton Octagon and the Theatre Writing Partnership, set up to develop new plays across the East Midlands.
The Playhouse, which probably commissions more new work than any other theatre outside London, will no doubt have more success with Satin 'n' Steel than it did two years ago with The Day That Kevin Came. That was a tale about Kevin Costner coming to the East Midlands to star in a film about the Romantic poet Byron. But it was too parochial to have appeal outside the mining community in which it was set. Satin 'n' Steel has charm and intimacy which will engage with audiences outside the club circuit of the Midlands and north.
It's alluring right down to Helen Davies's set which features a stage on the stage complete with glitzy curtains and backdrop as well as tables and chairs for those sitting at the front of the auditorium.
The only weak part of the play was at the start of the second half when the duo sing Islands in the Stream by Rogers and Parton. Even though Teena is upset and going through the motions because she's tired of playing the same old gigs, it doesn't work. The song's a difficult one to perform and both Pace and Poyzer appear uncomfortable with it; it exposes a lack of range in their voices rather than their mood at the time.
Apart from that it's a clever production which should have you singing the praises of everyone involved in it.
"Satin 'n' Steel" runs at Nottingham Playhouse until March 12th and at Bolton Octagon from April 6th to 30th
Reviewer: Steve Orme