Satisfaction
Choreographed by Peter Schaufuss, music by the Rolling Stones
Apollo Theatre
(2007)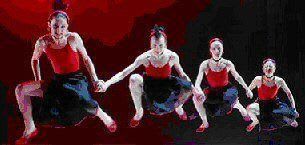 This isn't a biographical musical, and it isn't a tribute show. The songs are delivered by the Rolling Stones themselves, singing on their original recordings. Nor really is it what the posters call it - 'A Dance Concert,' for is very much more than a concert, though its staging uses some of the techniques of the rock arena. Peter Schaufuss, former ballet star and past director of London Festival Ballet (now English National Ballet), Berlin Ballet and the Royal Danish Ballet give us two hours (less interval) of continuous dance. As director, choreographer and designer of sets, costumes and lighting designer he has to take the credit or blame for pretty well everything. He didn't create the music, but he did choose the songs, and although he does not dance himself the dancers are his company from Holster in Denmark.
On a front cloth Schaufuss uses Ralph Steadman's satirical cartoons of the Stones; they reappear on the back of the all-black set, though kept for most of the show in darkness, and they set the mood for a witty and lively show: he dresses his company is bright and simple colours and bathes them lavishly with moving light. The dance does not illustrate the lyrics of the songs and, though Schaufuss says he has set out to tell a collection of short stories, I was rarely able to follow the narrative but his choreography is by turns both amusing and emotional. He doesn't call his work ballet: it ranges from pointe work to jive and break-dance, but it certainly demands dancers with a strong classical training. This his company have in buckets.
If any Stones's fans are put off by the description ballet, they need not be, for there isn't a tutu or a swan in sight and if you want to have a nostalgic time with these old numbers there is plenty of eye-candy in the colourful costumes, sprightly routines and a bit of sentimental wallowing which match the mood of the two dozen numbers that make up the show. They might not be so happy with the sometimes rather ropey quality of the sound. Were some of the old recordings really this bad? (With Bang and Olufsen as a sponsor it surely can't be the equipment!) Not quite a replacement for seeing the Stones live at O2 arena, I think.
Dance enthusiasts are more likely to be disappointed by the lack of any real originality in the choreography. It is workman-like and received enthusiastic applause but we've seen more exciting and more satisfying ballet treatments of pop from Bejart's tribute to Freddy Mercury to Christopher Bruce's Stones' ballet Rooster. Schaufuss's Red Rooster had an echo of that and was enjoyable enough but one can't help wondering what he is trying to do when Sympathy for the Devil has a black suited figure pushing around a near naked man in an wheel chair surrounded by white-masked, fetish-panted angels wearing metal bras - though there does seem to be some sort of story here with the occupant of the chair coming to life and continued a few numbers later with You Can't Always Get What You Want, with the 'Devil' turning himself into a an Angel.
The show starts with spotlights sweeping the audience as a voice introduces the Stones on a recording of an Albert Hall concert of 1966 and makes heavy use of what the technicians among you would know as MAC2000 intelligent lights (whose makers Martin are among the sponsors) and it's not the last time they are used an attempt to involve the audience. To make it an interactive show, dungareed-dancers open the second half in the aisles, checking out the house by the light with miner's headlamps (they reappear on stage soon after in The Lantern) and at the end of the show dancers are among us again to encourage dancing in the aisles.
The company has energy and charm; the boys especially get the chance to show of their jumps and turns. The sinuously long-limbed Caroline Petter focuses the attention, even if what she has to do seems uninspired, and if the more languid solos seem rather theatrically artificial there is a cheekiness, such as a string of four girls dancing to Paint it Black that made me think of corrupted Swan Lake cygnets, that I found engaging. At least it doesn't have the bad taste of Schauffuss's Prince Charles ballet, with its dancing tampons (though I haven't seen that and perhaps I would enjoy it) but I think Schauffuss can do better than this.
At the Apollo until 8th September
Reviewer: Howard Loxton