Saturday Night Fever
Adapted for the stage by Robert Stigwood and Bill Oakes
Bill Kenwright
New Victoria Theatre, Woking
–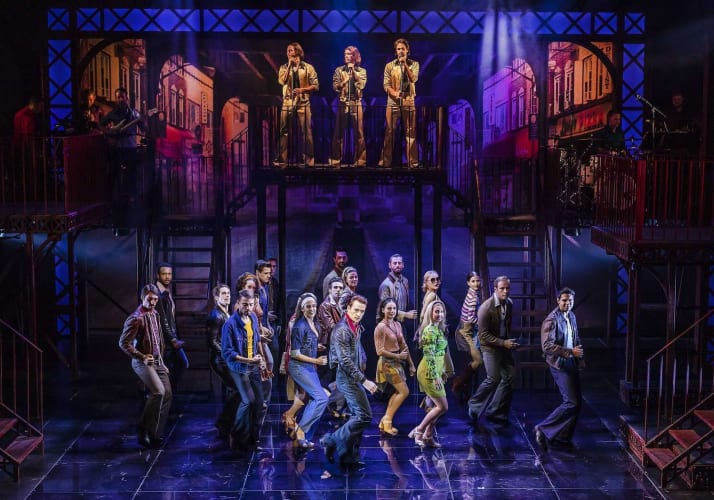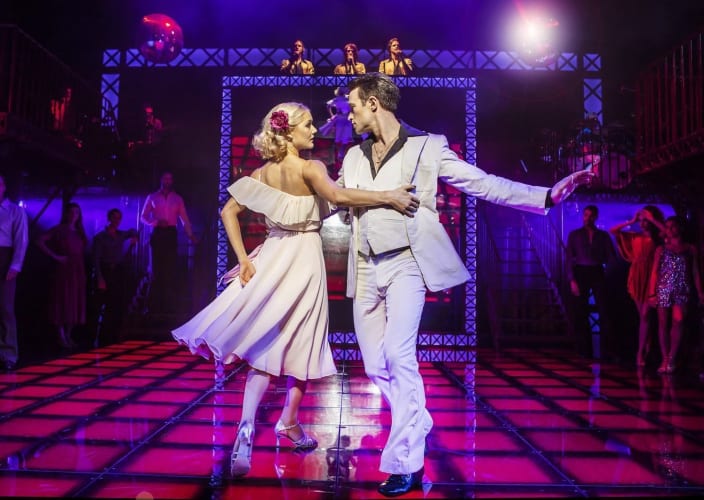 Saturday Night Fever is the latest stage adaptation to play at Woking, based on the 1977 movie starring John Travolta. Saturday Night Fever has been reimagined 40 years after it first hit screens, but with added live music, new drama and fresh choreography.
Cracking out the bellbottoms, Bee Gee falsettos and retro moves, we're artfully transported back to the '70s. Tony Manero works in a paint shop by day, but at night he comes alive, dancing at club 2001. At home, he is a disappointment, the limelight hogged by his priest brother, and the whole family endure their deadbeat dad's constant put-downs. When a dance competition offering a $1,000 prize is announced, he jumps at the chance to escape the drudgery of his job and up with the eye-catching but hard-to-get Stephanie Mangano (Olivia Fines).
Although the storyline is quite clichéd, this is an evening's entertainment which is better live than the script suggests. Richard Winsor plays the lead role of Tony Manero and, as he and his crew strut onto stage, their utter confidence and presence assure us of a great evening.
Winsor effectively conveys this young, working-class Brooklyn lad. With impressive dance moves and convincing acting, Winsor creates a Tony who Is both full of swagger yet lacking self confidence. Olive Fines dances beautifully as his partner and has just the right level of sass. The whole cast maintain excellent Italianate New York accents throughout, a nice touch to transport you to their world.
Largely, this is a show in which the ensemble dances to the backing Bee Gees, rather than singing themselves. Set centre-stage, crooning from the high balcony, Jake Byron, James Kenneth Haughan and Danny Knott provide strong vocals throughout. Alongside a lively band, the Bee Gee boys power through classics like "Stayin' Alive", "How Deep Is Your Love", "Night Fever", "Tragedy" and "More Than a Woman".
Bill Deamer's choreography captures the disco vibe of the decade. The whole ensemble dance with great energy and fantastic co-ordination.
Typical of many musicals, it isn't until the second half that the emotional numbers come, but then Saturday Night Fever gets too bogged-down in soulful, questioning numbers. In the normal format, the characters would usually rally, all would be resolved and we'd finish with another few huge numbers. Instead, this show stays with the angst to the end, boy doesn't get girl and he has lost his best friend. Although this is an interesting twist to the well-known musical format, it does result in some lack of momentum in act 2.
Saturday Night Fever is an upbeat evening of disco fever and flares, executed by a strong cast with oodles of energy and style.
Reviewer: Louise Lewis