Satyagraha
Philip Glass
English National Opera in collaboration with Improbable
London Coliseum
–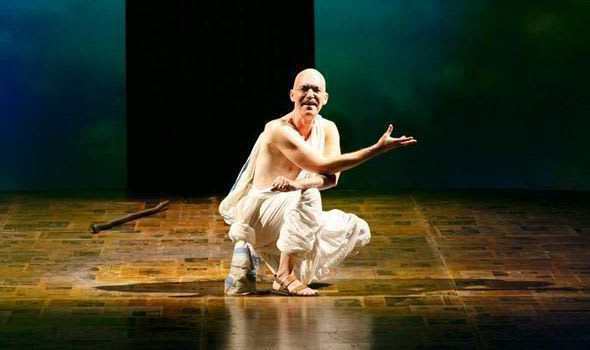 Satyagraha is an evening of breathtaking stagecraft, sprinkled with the sumptuous tones of Alan Oke's Ghandi.
This is the second revival since ENO first produced this Philip Glass opera in 2007, and sung in Sanskrit without traditional subtitles it's a striking contrast to the rest of their repertoire. Without a traditional narrative (Satyagraha is split into 7 episodic scenes) and at times long reflective passages, it's an opera that requires some work from the audience.
Satyagraha was a word created by Ghandi, translating roughly as truth force, a protest that is non-violent. Depicting key moments in Ghandi's life, the overall impression you get is the bravery required for Ghandi to place himself as a vulnerable, non-violent protester in situations where he was likely to be killed for his actions.
Phelim McDermott's innovative staging is exciting to watch develop, from initial newspaper play through to wielding twenty foot paper-mache style puppets. The work opens with a single tenor above a cycling arpeggio phrase—Glass's instantly recognisable style. This exciting beginning builds until there is a full chorus static on stage delivering a wall of sound, Glass making use of many unison vocal textures. At this point without McDermotts's intriguing Improbable chorus on which to focus, the repetitive minimalist score and no comprehension of the text, it's a hard slog to the end of act one.
Kevin Pollard uses distinct colour palettes for his beautiful costumes. A drab, brown, grungy aesthetic for the improbable 'skills ensemble' allows them to blend into the corrugated oval walled scenery. Removable panels in the textured walls enable exits when aerially lifted, on stilts and crawling across ground.
As Ghandi (Alan Oke) first declaims Krishna's advice, given to Prince Arjuna on the eve of an ancient battle, we see the opposing forces of oppressers and oppressed. The stage is divided between Indians in glittering, burnt orange saris and robes and the sombre hues of the Victorian-clad chorus. Ghandi repeats 'hold pleasure and pain, profit and loss, victory and defeat to be the same: then brace yourself for the fight. So you will bring no evil on yourself'.
Returning after the interval, the pace is re-energised and the Improbable troup delight wielding fantastical props, the ideas cleverly morphing from one to another and the visual treats coming thick and fast. Coupled with a buoyant, laughing motif and a nimble orchestra negotiating Glass's tricky score, this act is a feast for the senses.
With act three, a slower pace returns, but avoids the stuck feeling of act one by making use of long durational journeys. Philip Glass's music lends itself well to these drawn-out processes that McDermott explores, slowly unravelling ideas across twenty or thirty minutes. Moving with treacle-like quality, the whole cast creates a constant traffic, the idea of the Newcastle March symbolised.
Vocally, the male soloists triumph: Ghandi's co-workers (Nicholas Masters and Nicholas Folwell) and Prince Arjuna (Eddie Wade). All deliver this intricate rythmic music with ease, and inhabit their characters with real poise. Alan Oke harnesses the vulnerability of Ghandi, his strength only in his will rather than force.
Glass's writing for the trio of women played by Stephanie Marshall, Janis Kelly and Clare Eggington has haunting, repetitive motifs but the voices aren't ideally matched. The male chorus bears the large brunt of act two with taxing staccato ostinatos, and unfortunately the majority show the audience how hard they're working to sustain this.
Ghandi is rescued from this laughing mob my the police superintendant's wife (Sarah Pring), whose great bearing battles against the closing ranks of the men. This stage presence is not matched vocally; she produces a flabby sound which doesn't carry as required.
Saryagraha is full of innovative ideas, beautiful music and spellbinding solos from Alan Oke. Arrive early enough to thoroughly read the programme as some homework is needed make the most of the reflective tale, but it's certainly worth the preparation.
Reviewer: Louise Lewis